Lost Wednesdays: Revving Up the Engine
I was a bit concerned going into this week's Lost. Given the high satisfaction of last week's Desmond-centric episode, I was afraid that the pace would slow down this week with a lighter entry focused on Hurley, much like how this season's Kate and Sun/Jin episodes deflated the excitement from their previous weeks. But while "Everybody Loves Hugo" was no all-time classic like "Happily Ever After," it definitely kept the gas pedal down on the floor – and not just in Desmond's final scene.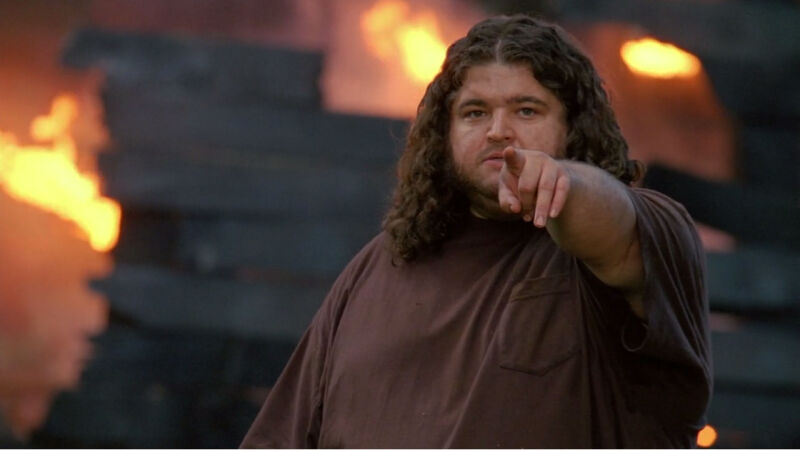 The on-island story moved forward, offering action, revelations, and key character moments, often at the same time. I quite enjoyed both Hurley and Jack mulling their leadership strategies, and both actors sold that conversation as years in the making. When they finally get to Locke's camp, I was impressed by Hurley's confident leadership that felt completely organic and in-character. And Hurley running away from the exploding Black Rock offered a nice variation of the "walking away from an explosion" shot.
Speaking of explosions, I anticipated that Ilana's casual confidence with the dynamite would yield poor results, but I was shocked by how quickly she turned into a pile of Arzt. We know enough about how Lost tells stories that we should expect to see her again, filling in the gaps in her story about a life of training in service of Jacob, but I'm still impressed by how willing the show is to kill off a character whom we expect to be a major player going forward – I guess like the island, they were done with her.
Libby is another character who was shockingly dispatched before her time. Fans have been clamoring for years to get an explanation of her presence at the mental hospital in Hurley's flashback – the producers have suggested that Cynthia Watros has been unavailable and/or uninterested in returning to the show, and chalked up the dangling thread as a casualty to the realities of serialized collaborative production. I felt her return in the sideways world completely paid off her character and her relationship with Hurley, making it the most satisfying aspect of the episode. The best returns-to-the-living cameos in the sideways episodes have been when the character's presence matters emotionally to the main characters, as with Alex in "Dr. Linus" and both Farraday and Charlie in "Happily Ever After" – Libby certainly falls into that category, as her presence transcends her function as a red-pill plot device to awaken Hurley.
A far less successful return was Michael's ghost communing with Hurley. Everything about those scenes felt forced, a shoehorned attempt to bring back a dead character for a victory lap rather than an organic storytelling moment. While I enjoyed needing to stop and think about when was the last time Michael and Hurley saw one another – at the ferry dock when Michael traded his friends for Walt and a one-way ticket to the mainland at the end of season 2! – the actual conversations between Michael & Hurley seemed to be contrived solely to give Harold Perrineau a little work.
The worst scene in the episode – and possibly the season of a whole – was Hurley's investigation into the whispers. For fans clamoring for "more answers!", this should be convincing evidence as to why some mysteries are better left untouched. First off, the highly contrived reappearance of the whispers seemed unmotivated except as to remind us that we cared about them once. Then we got the typically-frustrating Lost maneuver of a character claiming to know an answer but refusing to share it, but instead going off on his own to deal with it.
And then the answer – ghost whispering? really? – was underwhelming and seemingly inconsistent – the last time we heard the whispers was in the temple, and I felt that the mystery was basically answered: the whispers are some cool pseudo-mystical communication system used by The Others. I didn't need to know much more than that. But now we're told it's really ghosts getting ornery, which doesn't track much with either the reasons the whispers start in moments of suspense/peril, nor their relation to The Others, who've yet to display any clairvoyant abilities before. Of course, being Lost and all, this "answer" might not be quite as final as it seems, and we might learn more in the final hours that clarifies these inconsistencies – but this moment confirms to me that not answering a question is much preferred to answering one poorly.
And then there's the final moment, where sideways Desmond – who'd been poking around at Hurley to get him to question reality & pursue Libby – runs down wheelchair-bound Locke in the school parking lot. So are we to think that Desmond can share consciousness with the on-island world and this act was revenge for being thrown down a well? Why else would Desmond want to hurt Locke, who unlike the other characters seems to have already found true love in sideways-land? Where is he getting his marching orders? These are the type of questions that I definitely do want answered, hopefully in a more satisfying fashion than with the whispers.
Random favorite fanboy moment: in the opening moments over a black screen, I exclaimed to the voiceover, "it's Pierre Chang!" I wanted more from him in sideways land, but nice to hear him narrate another work of documentary exposition.