Lost Wednesdays: Everything in its Right Place
I imagine that a lot of people will gripe about "The Last Recruit" as a moving-the-pieces episode, as both timelines saw characters rearranged into new groups and locations. But to me it felt less like a table-setter and more like the first half of a two-hour finale. Perhaps it was the sailboat, which featured prominently in season 2's finale "Live Together, Die Alone." Or the musical score that reminded me of various tromping-through-the-woods-in-a-taught-manner scenes that are a staple of many seasons' finales. But the episode felt like it was building to something big – which we now must wait two weeks to resolve.
The episode definitely feels like the beginning of the endgame. On island, the sides have been drawn, with four teams in place. Team Widmore is out for blood, willing to blow people up and double-cross allies. Team Sawyer broke free of Locke, but traded Jack out for Claire, a risky move considering Locke's seeming focus on Jack as the titular last recruit. Team Locke seems in control despite being betrayed and bombed. And Team Ben/Richard/Miles is off rearming itself, forgotten about for the time being but certainly poised to return with a combination of grenades and sarcastic one-liners.
I quite enjoyed Jack's conversations with both Locke and Sawyer. While it's no surprise that Christian's on-island presence was Smokey, it was nice to have it quickly confirmed (although I'm still unsure about his appearance in season 4 off-island flash-forwards). I love UnLocke's contemptuous mockery of the old Locke, if only because it makes him seem like such a dick – and also undermines RealLocke's entire faith-based character arc. And now that Jack has taken up Locke's destiny-driven mantra, it's fun to see Smokey play on Jack's vulnerability.
Certainly the biggest emotional moment on the island was the long, long, long-awaited reunion of Sun and Jin. While the moment was heart-warming, it was almost undone by two distractions. First, the idea that Sun lost her English a couple of episodes ago simply as a plot convenience, with no significance beyond an attempt to heighten the stakes of the reunion, feels like an awkward waste of time. And more in the moment itself, seeing Sun & Jin run together along the sonic fence border made me (and many others on Twitter including this this cartoonist) cringe in fear of a brain-melting reunion – my wife exclaimed repeatedly, "Shut off the fence!", which was definitely a distraction from the romantic melodrama. I can't help but thinking that this was intentionally designed to produce this cocktail of sentimentality and fear, but after years of waiting for the moment, I wanted to be able to enjoy the reunion without fearing that one of them would pull a Mikhail.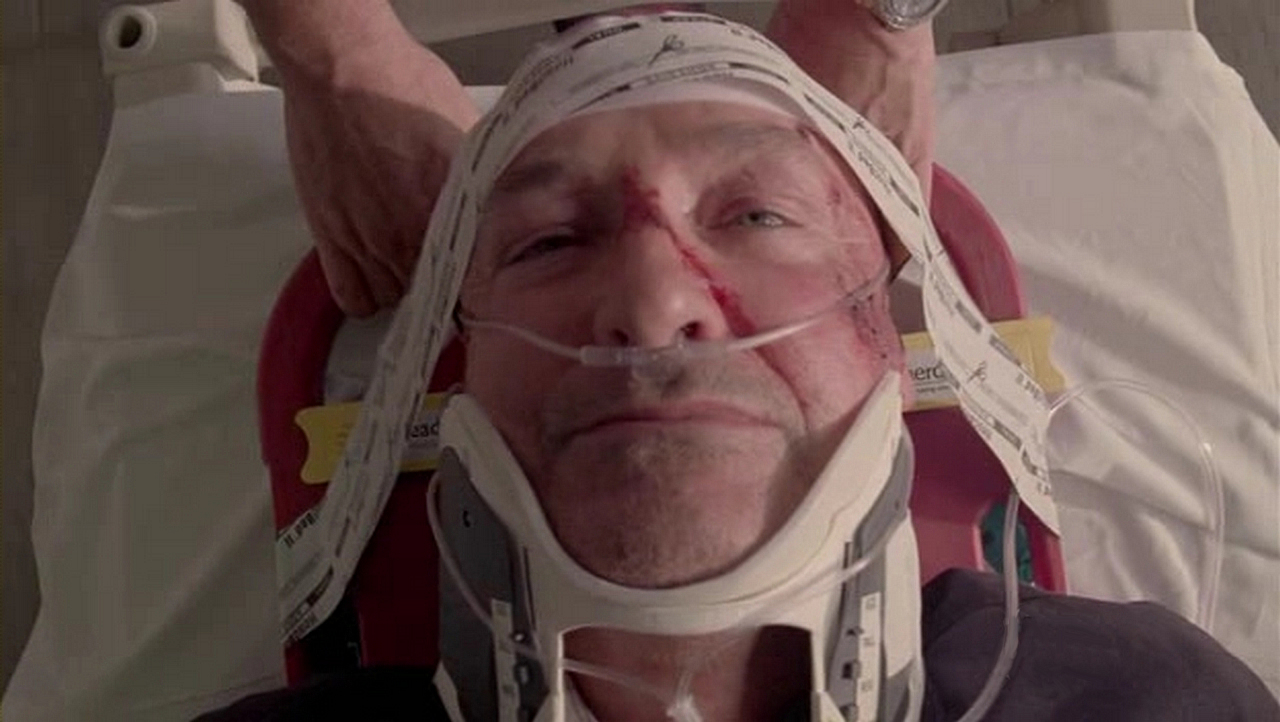 The off-island storytelling changed the pattern to create a further sense of acceleration, moving beyond the single-character flashback and focusing on bringing the characters together, both by Desmond's interventions and blind luck (or fate, if you're feeling Jack-ish). I'm still not convinced that last week's hit-and-run was just a ploy to get Locke & Jack in the O.R. together – and if it was, Desmond needs a better strategist, as it seems pretty risky. Based on Sun's reaction to her stretcher-side vision of Locke, I imagine that the post-enlightenment characters do see him as a major threat. Overall, I quite enjoyed all the players getting their moments, and I look forward to Desmond's motivational speech convincing them all to do… whatever it is they need to do. But we'll have to wait an extra week to find out!
Random favorite fanboy moment: Had the fence not killed the mood, I would play it sentimental and tag the Kwon reunion. But instead I'll give it to Sawyer's great quip about Lapidus stepping out of a Burt Reynolds film.