Is the Auteur All Wet? On David Simon's Adventures in Authenticity in Post-Katrina New Orleans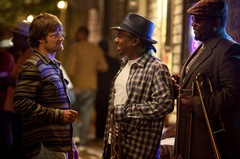 Approaching David Simon's Treme, my biggest concern was that, in a series in which 'place' as manifested in ambiance and setting has the potential to overpower narrative and characterization, the imprint of Simon's auteur-image may be too visible beneath the style and action. This seemed apparent in relation to the casting, which sees Simon depart from his practice of engaging relative unknowns in favor of a mix prominent TV actors and veterans of The Wire, with the odd guest star/icon thrown into the mix. Watching these players attempt to blend into Simon's reconstructed post-Katrina Treme storyworld, this viewer began to wonder whether the producer's post-Wire renown has undermined his ability to engineer the sense of perceived authenticity that defines his brand. Does the presence of recognizable stars like Steve Zahn, John Goodman and Khandi Alexander (who also played on The Corner) and guest icons like Elvis Costello and Allan Toussaint impinge upon the viewer's ability to become immersed in Simon's New Orleans?  What about Wire carryovers Wendell Pierce and Clarke Peters, who bring many of the same mannerisms to their new characters? Watching the pilot, these elements often prompted this viewer to reflect upon the program's strenuous efforts to construct an engaging New Orleans storyworld when I might have been exploring an apparently authentic fictional space.
These concerns were allayed in part by the program's second episode.  "Meet De Boys on De Battlefront" sees Treme find its feet by making authenticity its primary focus. Although some have accused the episode of being heavy-handed, I think that this approach is justified as it takes the series' sense of place and explores the characters' connection to it. With an emphasis on work and tourism, Simon and company work their way out of the authenticity cul-de-sac by interrogating the nature of geo-cultural belonging in a place that boasts myriad interconnected classes, cultures, and communities. The storylines concerning the Wisconsin tourists,  Zahn's struggling musician/DJ Davis McAlary, and Pierce's trombone player Antoine Batiste examine what it means to be 'of' New Orleans – to know it, to inhabit it, and to be provided for by it.
We see McAlary lose his DJ job as a result of a traditional New Orleans voodoo ceremony performed to authenticate his relocated radio station. After attempting to borrow money from his wealthy parents, he takes a job as a concierge at a Bourbon Street hotel, where his discomfort with his own relationship with his environment manifests itself in a conspicuous distaste for ostensibly phony tourists and an excessive eagerness to demonstrate his local knowledge to those he deems worthy. We see that McAlary is the ultimate tourist in his own town; sharing his local knowledge is the only way for him to establish a claim that he belongs, just as the hotel job is necessary for this would-be musician to survive. Yet this strenuous performance of belonging ultimately costs McAlary his post when he instructs a New Orleans church group to visit a bar in the Treme for a taste of the authentic New Orleans.  Even this does not deter him; encountering them in the street, McAlary cannot resist proffering one last bit of knowledge. He deprives himself of his own breakfast experience in his haste to direct the Wisconsin group to a great local spot.
McAlary contrasts with the character of Antoine Batiste here. Just about broke on the outskirts of town, the trombone player's partner exhorts him to get a real job, but he refuses. He is a musician, and is resolute that his city will provide that money if he only plays for it. He also ends up on Bourbon Street – accompanying the dancers at a strip club – but he will not admit to it. He is delivered when he pops up at Bullet's in the Treme, scarfing down a plate of pork with the Wisconsonites before jumping on stage to play with Kermit Ruffins. Batiste is barely making it, but he is making it through music; the implication is that he can do nothing else because he is who he is where he is. He is going to 'play for that money' and let the cards fall where they may.
Treme paints in broad strokes here and in the ancillary storylines concerning its characters. This could have been highly problematic if not for the explicit focus on authenticity and belonging. I recoiled when I saw Elvis Costello and Allan Toussaint materialize in a local recording studio, but the scene is redeemed when the African-American players invite Costello to check out Galactic after the session. Costello, who had been so enthusiastic about Ruffins in the pilot, expresses skepticism about the jazz-funk ensemble on the basis of their whiteness to which the trombone player replies that Galactic are legitimate and authentic players. Later, we see the players from the session jump on stage in a performance of racial integration that provides a dollop of nuance to the McAlary-Batiste comparison. Lest we want to think that this is all about race, the program invites us to consider the myriad other factors that make up our identities and position us within our places and communities.
This second episode still exhibits significant problems –the wholly unconvincing buskers who recalled Lost's Nikki and Paulo, the curious beatdown by Chief Lambreaux, the lethargic primary plotline concerning LaDonna's missing brother – but its meditation on authenticity and belonging provides viewers with something tangible and substantive to consider. Now, we need only hope that Treme's plotlines become more engaging so that we might come to care about those who inhabit Simon's post-Katrina New Orleans storyworld.