Lost Wednesdays: There Will Be Blood
We knew that there would be casualties. There's no way that a show like Lost would make it to the end without the island demanding more sacrifices. And I fully expected that Smokey's attempt to leave the island would result in blood spilled of characters not wearing red shirts. But I didn't foresee tonight's bloodbath, with four of our main characters, including three original Oceanic passengers, taken down at once.
I'm always excited when we don't get a "previously on Lost" opening, as it means that there's too much story to tell to waste time on a recap, although with last week's hiatus, I did start out a bit confused as to who was where and aligned with whom on the island. But we fairly quickly got the gang back together, with a brief detour in the cages that was just enough of a taste to remind us of the unpleasant time spent there in season 3. I was glad that Sawyer finally briefed Kate on her crossed-out status in the cliffside cave, allowing her to realize that she's simply an also-ran to Smokey. I do hope that there's a payoff in the end about her  inconsistent presence on the lighthouse wheel vs. cave wall – my optimistic theory is that Smokey turns out to be mistakenly assuming that the candidate must be male, and thus can cross off women at will, but in the end his fatalistic misogyny (stemming from his mommy issues?) will be his undoing.
The rampage and shootout heading toward the sub was quite compelling in Lost action mode, with Kate's shooting coming as quite a shock. I don't wish any real ill will toward Kate despite her shortcomings as a character, but I really hope that wound proves fatal – a shot just above the heart followed by failed medical attention and a frantic underwater rescue stretches the limits of plausible survivability, even for Lost. And as this week's episode makes perfectly clear, many of our heroes are going to have to die. But clearly my wish for sexist Smokey to be outplayed by Kate runs counter to my need for violence with consequences.
Sayid's sacrifice came first, after a nice callback to Jack and Richard's game of explosive chicken on the Black Rock. Jack's faith first failed to convince Sawyer, and then failed to save them all, so it took Sayid to reassert his humanity, seemingly shaken back to the top of his consciousness by Desmond, and anoint Jack as the chosen one before running off with the bomb. Sayid doesn't get the heartfelt death scene that most original cast members do, but he'd already died once during "LA X" and we'd long mourned for the old Sayid, so I thought it was an appropriate death for the noble torturer. And I don't think it's culturally unimportant to see a devout Muslim soldier blow himself up to save a band of mostly-white Americans – where else would you see that on TV?
Poor Frank Lapidus didn't get enough screen time in life or death this season. Bonked by a piece of debris during the flood, Frank seems to have drowned with the parting words, "Aw hell." This being Lost, he might not be dead, so I wouldn't be surprised if he washes ashore next week clinging to a floaty piece of submarine. But if he does come back, he better get to do something besides offer cheesy one-liners, because otherwise it's been a real waste of having Jeff Fahey in the main credits just to see him hanging around the crew.
And then there are the Kwons. We finally had a chance to see them together after three long years of story time (especially for time-traveling Jin) and two and a half years of screen time, and although their reunion was underwhelming (and Sun's bout with aphasia looks even sillier now), I still have a soft spot for Lost's first effective romantic couple. So their death paid off their tragic romance, as Jin's loyalty trumped his own survival in accepting the fact that he'll never meet his daughter in order to keep his bilingual commitment to stand by Sun. The haunting love theme from Lost returns as they drown, evoking memories of Charlie's season 3 demise.
However, their deaths lacked the finality and emotional punch of Charlie or other earlier deaths, as these characters live on in the sideways realm. Since we still don't know how these two timelines connect, can we truly mourn Sun, Jin, or Sayid? (Frank's absence in sideways-land is only slightly less noticeable than his presence on the island.) And depending on how the final episodes resolve, the sideways versions of these characters might live on in some way, in some timeline, or in some configuration. Maybe Ji Yeon can be adopted by the sideways Sun & Jin? The lingering uncertainty about the reality status of these timelines undermines the emotional impact of these deaths, as we know the characters will be back in some form or another. Although seeing Hurley breakdown on the beach was a masterful moment of driving home the emotional stakes, regardless of the larger temporal contexts.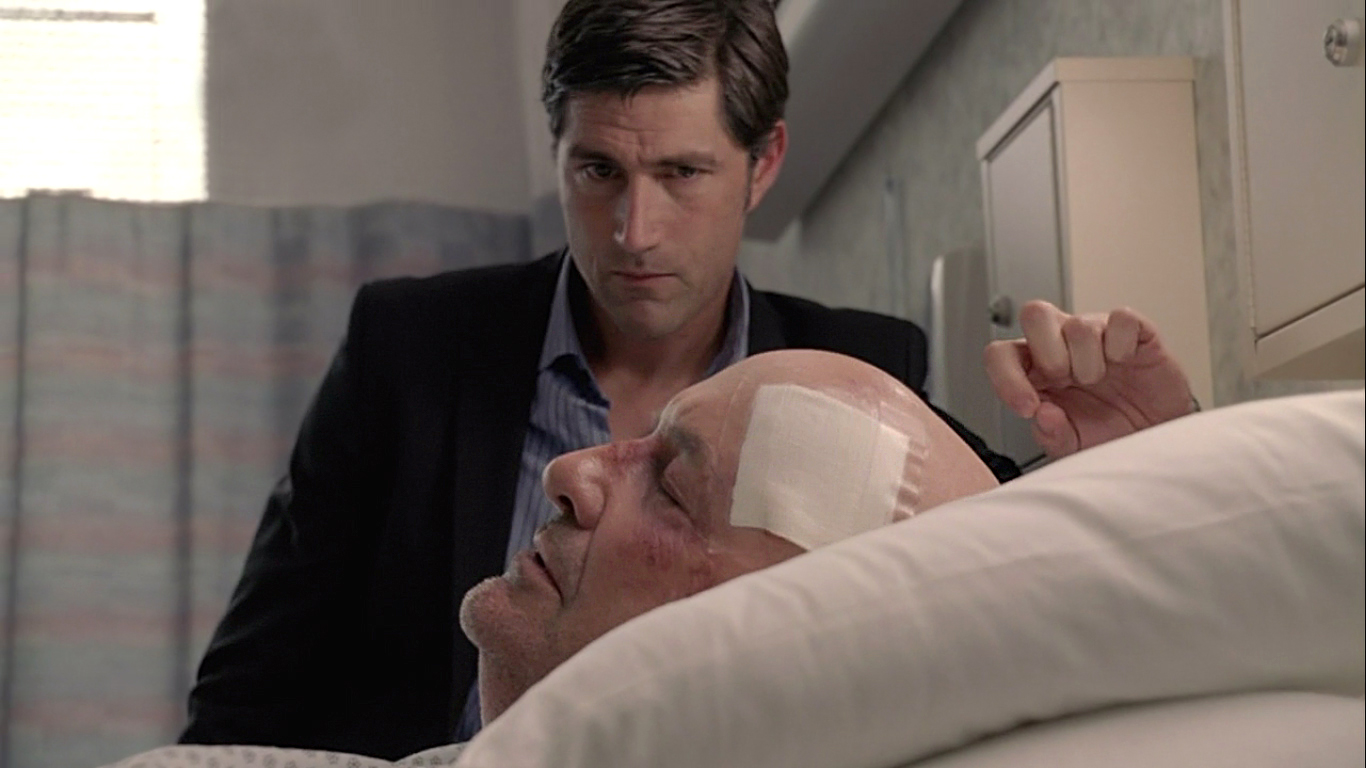 This episode solidified Locke/Smokey's role as Big Bad, as my own hesitation in accepting the seemingly simplistic take of good Jacob vs. bad Man in Black gave way to a clearer position of villainy. I'm still somewhat rooting for Locke though, as my allegiance to him as a character crosses his various incarnations – I hope in the end that somehow the Man in Black can be defeated by John Locke himself, as I don't want to believe Smokey's dismissive rants that Locke was just a deluded little man.
Speaking of Locke, my favorite moments were in the sideways realm, as we got great character beats between Locke, Jack, Claire, and Helen. The emotional payoff of Locke's relationship with his father being based in guilt rather than anger was fabulous, with the wink of the plane crash quickly giving way to the sincerity and depth of Terry O'Quinn's performance. Jack connecting with Claire and building a family out of the ruins left by his father was similarly satisfying, making the sideways realm enjoyable despite the persistent confusion of how the process of Desmond-inspired epiphany is playing out – did Locke see the island in his near-death experience? If not, why did Desmond run him over in the first place? And if so, wouldn't he behave somewhat differently toward Jack? A lot is still up-in-the-air with only a few hours left to go.
Random favorite fanboy moment: Bernard's appearance in the sideways world was a nice reminder of why I still want to see Rose & Bernard's island fate, and his apparent awareness of Jack, Locke and Cooper suggests that he too has drunk Desmond's kool-aid. Hopefully more to come from the good dentist…