What Are You Missing? Nov 21 – Dec 4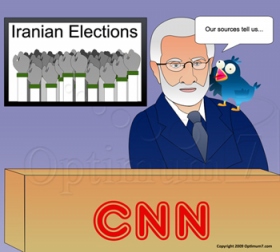 Ten (or more) media industry stories you might have missed recently:
1. Twitter's bidding value has reached $4 billion, pretty good for a service whose purpose its own CEO can't even pinpoint. Another Twitter exec said there are no plans to parlay Twitter into a news network, but Mathew Ingram says in some senses it already is one (and have you watched CNN?), as is social media in general. Twitter can also be used to crowdsource a story for Tim Burton.
2. We're finally (hopefully) done with two long, drawn-out movie studio stories: Disney has sold Miramax to Filmyard Holdings, and MGM can now officially relaunch itself anew. But we're not yet done with the long, drawn-out story of who will take over the MPAA. For a time it was said to be Democratic politician Bob Kerrey; now the name is Republican politician Tom Davis. And we're not sure what the future of the British film industry will be without the long, drawn-out Harry Potter series to rely on.
3. Awards season is shifting into middle gear: Winter's Bone is really cleaning up, winning at the Gotham Awards and the Torino Film Festival and leading the Independent Spirit Award nominations, which also had a few surprises; the National Board of Review liked The Social Network best; Sundance has announced its competitive slate (and the out of competition fare); the Academy has released the animated and live-action short Oscar nomination shortlist; and Roman Polanski accepted a Best Director award from the European Film Awards via Skype.
4. Blockbuster is hoping a new ad campaign ("We're not closed yet!") and a new pricing scheme ("Hopefully you'll return this late!") will rescue it. In contrast, the only thing rising faster than Netflix is the volume of articles on the rise of Netflix, which leads David Poland to offer his familiar "Wait a minute" perspective, while Dian L. Chu wonders if a crash is possible, and Paul Carr wonders why the studios don't like Netflix more.
5. Wii console sales have declined precipitously; at the Xbox's 5th birthday mark, there are no new consoles on the horizon; and Disney is shifting attention from console to online and mobile games. And why not, with games like Angry Birds garnering lots of money and new addicts.
6. Hard to keep track of all the piracy and copyright news lately: The US government has shut down over 80 websites suspected of piracy, Fox has gone after an online script trader, Viacom is appealing the YouTube case, Pirate Bay lost an appeal, prosecutors dropped a case against an Xbox hacker, the Supreme Court refused to hear an appeal by a 16-year-old illegal downloader, Google will try out new anti-piracy measures (which make Greg Sandoval wonder which side Google is on now, Team Copyright Owner or Team User), and China (Team China) is fighting intellectual-property abuse.
7. Google's looking to make a library distribution deal with Miramax, part of a larger plan to feature more long-form content on YouTube. Google's plan to acquire Groupon fell through, though, ending an already tough week that saw the company investigated for antitrust allegations by the European Union and having to respond to criticism that it helps corrupt businesses. But hey, at least it's not MySpace.
8. A UK court ruled that paid news aggregator services have to pay newspapers when those services feature newspapers' online content, even just headlines and short extracts, which could have significant implications (though the ruling will be appealed, of course). Something like Google News (and WAYM!) is ok because it's free and ad-supported, not subscription-based.
9. Half of the Grammy nominations went to indie artists and labels, but Leonard Pierce says it's more complicated than that. Spotify took a big financial loss last year, but Bruce Houghton says it's more complicated than that. Fergie won a Billboard Woman of the Year Award; I wish it was more complicated than that.
10. Good News for TV Majors links from the past two weeks: Ad Volume Standards, The Netflix Challenge, DirecTV May Drop Channels, Walking Dead Closes Writers' Room, Copps Criticizes Media, Good TVeets (#liesshowrunnerstellyou edition), Terriers Coverage, US Worried About Rep on Canadian TV, Net Neutrality Vote, Comcast Dispute, Attention Span Issue.