What Are You Missing? Mar 20-April 2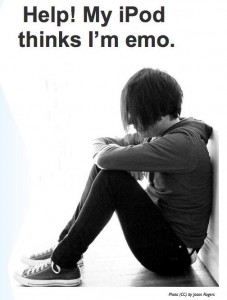 Ten (or more) media industry news items you might have missed recently:
1. Music recommendation engines have mostly flopped with users, and Google has pulled its music search feature to tinker with it. In the meantime, perhaps Google's new +1 button will help with music searching and recommending, while the music industry itself is freaking out about Amazon's cloud service, as labels are mad that Amazon hasn't secured licensing rights for this use (some of the same issues that have kept Spotify from coming to the US), and Apple and Google are keeping an eye on this for their own future cloud plans. A bonus for Canadian readers: Canada beat the US again in digital music growth! 01 Canada!
2. Blockbuster is shuttering more than 150 stores as it awaits auction this week, with Carl Icahn and Dish Network as possible buyers. Netflix is probably chuckling at that, as its shares went up and it nears a big deal to stream Miramax films. And while Netflix is concerned about data caps in Canada, enough to reduce streaming video quality there, it maybe doesn't have to worry about the Amazon cloud service, nor are movie studios as perturbed as music labels are by Amazon's cloud (yet).
3. The role of film festivals and arthouse cinemas is changing as online distribution grows in prominence. Also likely to grow is online movie ticket purchasing through services like Groupon; some wonder if differential ticket pricing would help grow theater attendance; and, as our waistlines continue to grow, at least we won't have to be reminded of the calories we're consuming in movie theater popcorn, thanks to an FDA ruling. But the biggest challenge theater owners have now is premium video-on-demand rentals, whose imminent launching angers the National Association of Theater Owners. The underlying message from studios to theater owners at the recent CinemaCon was basically "Quit yer bitchin' and get with the digital program," which is sure to go over well.
4. The Writers Guild and the Alliance of Motion Picture and Television Producers struck a contract deal, no strike needed, even though it doesn't offer everything the WGA wanted (note: Variety paywalled article), and some members, who still have to vote on it, think it's a bad deal (note: NSFW Kurt Sutter tweet). Meanwhile, Michigan has decided its film production tax credits are a bad deal, and filmmakers are fleeing as a result, while Georgia decided to keep theirs.
5. Nielsen has studied the placement of gaming consoles in the home, determining that the Wii rules the living room, while the Xbox dominates in the kids' bedroom. In terms of games, Guitar Hero 3 tops a list of best-selling games from this generation, and The Weinstein Company hopes to make future lists with video game versions of some of its library titles, mostly horror films like Scream.
6. Burma has banned Skype, while China's censorship of electronic communication continues to tighten, and Google is especially in its crosshairs. Google is funding development of technologies to detect such censorship, and the US government has given the BBC World Service money to help combat it. But lest we think censorship is only a problem elsewhere, we should take note that the ACLU is fighting to stop schools from blocking LGBT websites.
7. File-sharing music piracy in the US has declined, with 9% of internet users now using P2P services to download. Some point to the shutdown of Limewire as a direct catalyst for the decline; others disagree. Either way, a London School of Economics study claims that file-sharing isn't responsible for the record industry's collapse. From the film perspective, new MPAA head Chris Dodd sees things differently, saying that piracy is the single biggest threat to the survival of the movie industry, as DVD piracy in places like China is running wild. So the solution, I guess, is to demand IP addresses of individual downloaders and to totally get that one guy who uploaded Wolverine. Take that, China!
8. David Carr insists we need to recognize Google as a media company, and it's certainly made the WAYM links a lot lately. Here's more: Google has picked Kansas City as its fiber network test market, gotten probation for the bad Buzz, been accused of antitrust violations by Microsoft, and added the +1 button; Google Street View has been deemed legal in Germany and got fined in France; and Google Books lost a key court case, which further delays the dream of a universal digital library.
9. Some random internet bits: AOL is consolidating content sites, Dropbox is making money, Groupon is getting sued, Reddit is creeping us out, Firefox 4 is being downloaded a lot, LinkedIn has reached 100 million, and PayPal has new competition, plus check where your state ranks in internet access speed.
10. Some good News for TV Majors links from the past two weeks: Mad Men Agreement, TWC Fight & TWC Pulls Channels, Peabody Awards, Viewing By Race, Profanity Appeals Pause, Internet TV Standards, New Football Plays, Starz Delay for Netflix, Showtime Pulling From Netflix, Mogul Salaries, BBC Cuts.