DC Comics Goes All In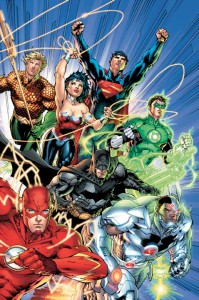 DC Comics' plan to "relaunch" its comic line in September with fifty-two #1 issues is a bold move predicated in part on the assumption that there is a large untapped audience for monthly comics.  Each component of DC's new publishing strategy attempts to broaden the company's readership while simultaneously avoiding the alienation of its loyal readers.
First, DC will try to attract younger readers by expanding its digital distribution system.  Each new comic will be released at the same time as its print counterpart, and after a month the digital versions will drop to $1.99 (vs. $2.99 for the print comic).  However, it remains to be seen whether static, non-interactive, "old media" like superhero comics will suddenly become attractive to the youth of America simply by virtue of their digitization.  Additionally, most contemporary comic art still translates poorly to the iPad's relatively small screen – splash pages, for instance, are practically illegible and need to be zoomed and scanned, which undercuts their impact.
DC is also trying to appeal beyond the conventional white male demo by introducing titles starring black characters like Batwing ("Batman of Africa") and Mr. Terrific ("the world's third-smartest man").  And the publisher hopes to hopes to shed the air of juvenile sexism often associated with superhero comics by dressing its female heroes in less-revealing costumes.  (However, only three of the 160 creators associated with the relaunch are women.)
The "new DCU" might appear to be born of desperation; indeed, because sales of the top monthly comics have shrunk from approximately 150,000 copies each in 2008 to about 100,000 copies today, it may seem as though the comic industry is in freefall.  In fact, due to price increases and the industry's long tail publishing strategies, overall sales have shrunk only modestly — sales in the direct market (i.e. specialty comic stores) were down 3% in 2010, and 2% in 2009.  The poor economy is a more likely culprit for these declines than a mass exodus by comics readers.
While DC surely looks to reverse these negative trends by attracting non-comics readers, a more immediate and realistic goal is likely the recovery of market share from Marvel.  Since 2007 DC has been dominated by its rival in terms of sales, with only about 30% of the market to Marvel's 40%.  By positioning September's titles as ideal "jumping-on points", DC courts Marvel readers as well as comics neophytes.  In the words of Executive Editor Eddie Berganza, "Everything is meant to be enjoyed and read without footnotes or looking up back issues."
However, by jettisoning the past DC eliminates one of its defining characteristics as a comic publisher.  More than Marvel, DC emphasizes the narrative continuity and history of its shared universe.  The very inaccessibility of the DC Universe that discourages potential new customers is a source of pleasure for die-hard DC fans, who accumulate subcultural capital through their mastery of obscure trivia or their ability to identify references to decades-old storylines.  These readers might consider September's "jumping-on point" as a perfect excuse to jump off.  To address this danger, DC has taken pains to explain that the relaunch will be a "soft reboot" that will retain select stories from the past (the less popular the character, the greater the changes, it seems)  — but it remains to be seen whether this will pacify longtime readers.
Finally, although some retailers are concerned that DC is flooding the market in September, the relaunch of so many titles should help DC in a key weakness – the midlist of the sales charts, where Marvel utterly dominates.  Marvel has fostered a number of successful publishing franchises, including the Avengers, Spider-Man, X-Men, Iron Man, the Hulk, Deadpool, and Captain America, all of which have multiple monthly titles in the top 100.  (Nineteen of the top 100 titles in May 2011 were X-Men related.)  DC's Batman and Green Lantern franchises are strong, but none of its other characters sell particularly well.  By revamping two underachieving properties (Justice League and Superman) and making them part of a line-wide relaunch, DC might be able to generate interest in C-list characters like Blue Beetle or Firestorm, both building the publisher's market share and creating new valuable multimedia properties.  If the poorly-reviewed Green Lantern film flops, DC will need those second and third-tier characters if it hopes to compete with the Marvel Studios juggernaut.