To XFinity and Beyond… The Missing Smart Living Room TV Interface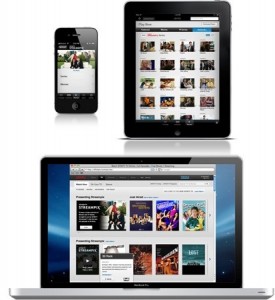 As a Comcast subscriber, I greeted the recent announcement of the Streampix service with some curiosity. I have not joined the Netflix nation and, since my monthly Comcast bill just went up $20, felt some added value appropriate. I began to thumb through the new offerings last night, simultaneously pleased, befuddled, but increasingly irate.
I demand a moratorium on breathless distribution announcements from cable companies until they upgrade the user interface. We all know the technology exists. It was all on display at the Cable Show last June. The BBC iPlayer has been in homes for years now.
But when I go looking for content on my supposedly most-high end Comcast HD DVR, I get this.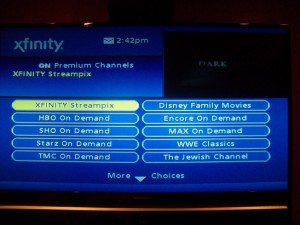 Select Xfinity Streampix and get this.
Select TV, get a choice of alphabetical suboptions that I'll spare you, but select O-S and get this.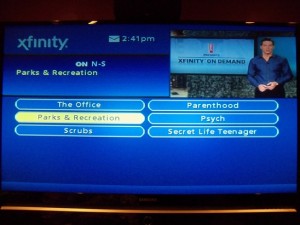 I select Scrubs and get this.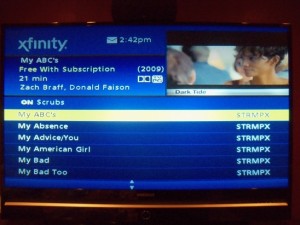 I do acknowledge that if I choose to watch Streampix on an iPad tablet, the interface looks more like this. (and that is where the top pic was intended).
Hmm. I've always thought it would be great to watch all the episodes of Scrubs in alphabetical order, that way any ongoing storyline would make absolutely no sense. Even better, include absolutely no episode numbers so that I could at least sort them out myself since this is apparently too giant a leap for your technological interface. Come on. Yeah, I'm frustrated, maybe even angry.
And that is cool, but I watch TV at home. And when I do, I want to watch on the ridiculously large and beautiful screen that adorns my TV cave, where I can sit on my fantastically comfortable and unstylish reclining sofa. I'm not alone. New numbers from Nielsen on the "State of Media: U.S. Digital Consumer Report" (Q3-4 2011) tell us video consumption on PC or mobile phones (not sure where tablets figure) is a whopping 4 minutes per user per MONTH, which pales some to the 146:45 minutes spent on "television."
While I'm obviously not suggesting this number won't continue to grow and that such screens will be an important part of the television future, I am astounded by the lack of attention cable companies have afforded to the interface of the primary screen. It is this frustr-anger of the experience of the above screens that explains why I (and likely others) continue to dream of the potential that the new Apple TV might bring, even though I know full well that the arrangements with content providers that would be necessary for Apple TV to be a game changer remain most unlikely. Why are industry analysts and trade journalists endlessly willing to speculate on the tiniest bit of news regarding Apple TV, Netflix, or Google TV? Because these companies have figured out that it doesn't matter if you have content if you have the most ridiculous, cumbersome, and counter-intuitive way to sort through it.
Comcast Streampix is a good idea and clearly indicative of the further disruption of economic models and distribution that will continue over the next decade. But this array of offerings will be meaningless unless it rolls out an interface for the living room screen that is as good as the one for tablets/phones/PCs. The first company to have both content (with a sustainable economic model) and an interface might just win this. Quantity of industry press, tweets, and blogging to the contrary, this is still the Comcasts-of-the-world's battle to lose, but its willingness to bring Streampix to the market without a new cable box interface suggests they just might manage to do so.