Is It a Camel? Is It a Turban? No, It's The 99! Marketing Islamic Superheroes as Global Cultural Commodities
DISCLAIMER: This post is part of a larger project analyzing the global circulation of brands created in the "developing world." The expanded essay delves into the paradoxical manner in which these brands are marketed and positioned for global consumers. In the excerpt below, I try to identify a couple of key tensions that emerge in trying to reposition Islam as a global brand.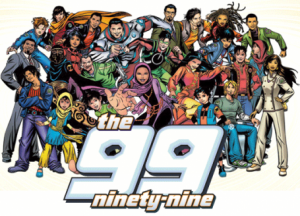 At the 2010 TED Global conference, an annual event that brings together innovators and entrepreneurs in the fields of technology, entertainment and design, Dr. Naif al-Mutawa gave a 20-minute presentation on The 99, his global superhero franchise inspired by Islamic archetypes. Published first as a comic book by al-Mutawa's Kuwaiti-based Teshkeel Media Group beginning in 2006, by 2010 The 99 was well on its way to becoming a global cross-media brand designed to reach Muslims around world through theme parks, social media, merchandizing and a television series co-produced with Endemol Entertainment.
Toward the end of his talk, al-Mutawa explained his motivations and aspirations for the project while expressing frustration with a popular trend amongst some Muslim families to dress their children up as suicide bombers as a form of protest, which he linked to the absence of positive contemporary Islamic heroes for kids to emulate. Choking up slightly, al-Mutawa argued that by linking enough positive things to the Koran, Muslim children would begin to take pride in a different set of representations and embrace the shared universal values that Islam already advocates, like kindness and generosity, rather than being taught to revere its more fanatical and fringe elements. Or, as al-Mutawa explained, "an entire generation of young Muslims is growing up believing that Islam is a bad thing. They are put in a situation to defend the indefensible. My thinking was, how can I expand the boundaries of what Islam is, talk about stuff that all human beings share together, and not allow people to sabotage and hijack Islam."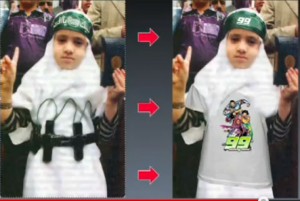 To prove his point, al-Mutawa juxtaposed two photos: one of a young girl dressed up in a white robe, a green headband bearing Hamas' Shahada emblem, and a mock bomb belt holding a Koran in one hand and gesturing to the sky with the other. The other was photo-shopped image of the same little girl, with her headband now branded with The 99 logo and her bomb belt replaced by a t-shirt featuring a selection of The 99 superheroes. Tellingly, she is still depicted holding the Koran – as opposed to a copy of The 99 comic book – while gesturing skyward.
In al-Mutawa's vision, The 99 is a transformative brand that normalizes Muslim youth by inaugurating them into the realm of consumer capitalism. As such, it is part of an effort to repair and redefine Islam's reputation through branding and marketing, but also through the marketization of Islam. Or, to quote Al-Mutawa, "someone had tarnished the name of Islam, and I wanted to go in and help rebrand it." While The 99 are marketed as new role models for children to emulate, al-Mutawa is repeatedly positioned as the ultimate prototype for the new Muslim superhero, whose entrepreneurial powers inspire new forms of investment in Islamic identity.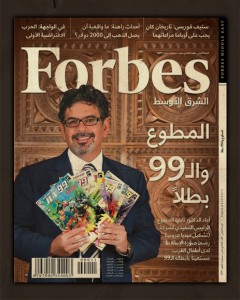 In some ways, al-Mutawa's approach to repackaging and repositioning Islam for Muslims seems very much in the spirit of development paradigms that the West has been promoting for decades. He seems to be a cross between a modern-day version of Daniel Lerner's (1958) "grocer," enthralled with consumer capitalism and eager to spread the gospel of Western entrepreneurialism, and a proponent of Everett Rogers and Arvind Singhal's (1999) entertainment-education thesis, which argues that modernity is best taught through popular rather than didactic means. Indeed, al-Mutawa is a self-professed social entrepreneur who wants to build a better world through capitalism. He has gone on record that he believes "Entrepreneurship is based in the United States… in Kuwait, education is free and food is subsidized. The State takes care of the population, but by doing that they don't force the population to take care of itself. That becomes the biggest impediment to entrepreneurship." His efforts to rebrand Islam through The 99 have earned him numerous awards and recognitions, including the United Nations Alliance of Civilizations Marketplace of Ideas Award and the 2009 Schwab Foundation Social Entrepreneurship Award. President Obama gave al-Mutawa and The 99 a special shout out at the 2011 Presidential Summit on Entrepreneurship in Washington DC for their super heroic work promoting tolerance. Meanwhile, Forbes Magazine recognized The 99 as one of the top twenty hot trends of 2010.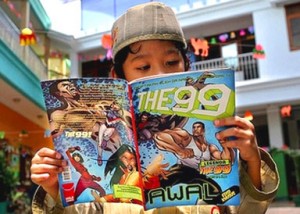 With such positive credentialing, one would think that al-Mutawa's efforts to build The 99 into a global cross-media franchise would be welcomed as evidence that Western values are being positively inculcated in the Middle East. Yet, attempts to bring The 99 animated TV series to US audiences have been met with accusations that al-Mutawa is attempting to indoctrinate non-Muslims into Shari'a law. In 2010, The Hub acquired the US rights to The 99 animated series, which offered the brand potential access to 60 million households. Almost immediately, conservative organizations began a campaign to have the series removed, accusing it of foisting "sinister Muslim values" on non-Muslim children in an attempt to "Islamify youth." One critic asked, "Will children learn about democracy, modernity, tolerance, Enlightenment, women's and gay rights from these 'Islamic' figures?" while ignoring how US cartoons rarely offer children much insight into these issues either. Ultimately, al-Mutawa's efforts to rebrand Islam by emphasizing the positive and pro-Western attributes of the religion were dismissed as forms of "Dawah proselytizing" by critics who insisted that The 99 should have been critical of Islam, rather than celebrating its archetypes. According to this logic, the only good Muslims are the self-hating kind. The pressure critics placed on the Hub was sufficient to cause the cable network to indefinitely postpone the series' debut.
American resistance to The 99 reveals both the limits of consumer capitalism as a great equalizer and some of the incompatibilities of brand marketing with correcting misconceptions about Islam.