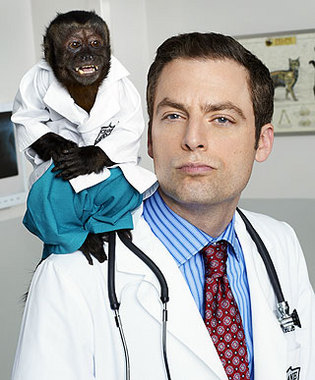 I present to you an A to Z of who is getting their own show in the 2012-2013 US television season, as decided at this year's network upfronts.
Accents – Jonny Lee Miller's Sherlock in Elementary would lead the way in any other year, but Made in Jersey doubles down with a promo trailer ever-so proud of Janet Mongomery's transformation from her native British to Jersey (aw, it's so cute that Hollywood just discovered the existence of voice coaches).
Bows – Hot off their co-starring role in summer blockbusters The Hunger Games and The Avengers, bows will appear in The CW's adaptation of The Green Arrow, Arrow.
Crazed beasts – From Do No Harm's Jekyll and Hyde tale to Beauty and the Beast's noble, Kristin-Kreuk-saving beast, beasts are in.
DJs and radio hosts – Perhaps nostalgic for the early days of radio when they actually had an audience, NBC has two new shows (Go On, Next Caller) with radio hosts. Don't tell Louis CK, but the latter stars Dane Cook.
Executive Producer of GI Joe – Anyone see that movie? Anyone like it? Zero Hour boasts of this famed auteur in its advertising, perhaps because "a bland Da Vinci Code wannabe" doesn't sound as good?
Fava bean aficionados – Hannibal starts mid-season, and with Bryan Fuller behind it, I'm intrigued. If Fuller's signature magic realist whimsical style proves an odd fit for the franchise, FOX also aims to cover all your psycho stalker serial killer needs with The Following.
Gay friends – The New Normal sees a gay couple hire and fall in love with a single mother who offers to be their surrogate, while CBS' Partners focuses on best friends and business partners, one of whom is gay (and while the trailer isn't promising, wouldn't it be nice if CBS could convince their audience of 60-something men not to be scared of gay men?).
Housewives, desperate – You thought the show was over? And that it had spawned enough failed copies already? Think again, as I introduce you to ABC's Mistresses.
Investigations – 'Cause there just aren't enough of these already on TV, Elementary, The Following, Zero Hour, Red Widow, Made in Jersey, Hannibal, and Revolution will all feature bold acts of getting to the bottom of things.
Jack Black wannabe – 1600 Penn recasts Bill Pullman as President, but far from his heroic, alien-killing Independence Day-self, he's now pudged out a bit and is plagued by a college-age son trying so very hard to be Jack Black.
Kid named Butt-Kiss – ABC's The Neighbors features a kid named after Dick Butkus, and hence pronounced "Butt-Kiss." Apparently it was written by the two 11 year-old boys on my bus home the other day who spent the entire time thinking up names for farts. And Butkus is an alien. I present to you the runaway winner of next year's Emmys.
Locke – Imagine if Season 6 Locke from Lost owned a fancy yet haunted apartment building in Manhattan (not in De Forest, WI, as Google suggested when I typed the show title in just now!), and there's the premise of 666 Park Ave. However, the trailer suggests we'll need to wage through lots and lots of scenes of Rachael Taylor getting changed before we get to see Terry O'Quinn.
Mysterious monochrome monitors (and yes, I get 3 points on Scattergories for this one) – Speaking of Locke, his favorite sidekick appears to be back in NBC's Revolution. A JJ Abrams / Eric Kripke / Jon Favreau (gee, I wonder if it'll have a built-in fan following?) production set fifteen years after the world loses electricity, apparently someone in this world still has their Commodore 64 up and running.
Nuclear submarines – For most original premise for a television show, I'm giving some cred to The Last Resort, ABC's show about a nuclear submarine that refuses to fire on Pakistan and instead goes rogue and sets up a principality on a small island, while facing down the US that gave it the orders.
Operating rooms – it's American primetime, so there must be doctors, and lots of them. More on Animal Practice in a second, The Mindy Project gives the titular Kaling her own vehicle, Mob Doctor is kind of self-explanatory (albeit perhaps with less ORs and more dark parking lot operations), Do No Harm has a doctor with a double life, and Emily Owens, MD wins the "most out of my demo" award for its interest in how hospitals are just like high school (wasn't that Grey's Anatomy?).
Primate surgeons – … but isn't it time that primetime TV had a monkey who scrubs in? Poor Justin Kirk, finally and deservedly gets his own show only to be doomed to be upstaged by a monkey.
Quirky families – I bet you've never seen one of these on TV? Lucky for you, there's Family Tools, Malibu County, The Neighbors, Mistresses, Made in Jersey, Mob Doctor, Ben and Kate, The Goodwin Games (trying to be The Royal Tenenbaums meets Running Wilde), Save Me, The New Normal, Guys with Kids, and How to Live with your Parents and Have a Title that's Way too Humanly Long for Any TV Critic or Fan to Ever Bother With.
Re-Reba – Reba was cancelled, yes, but ABC's market analysis clearly suggests that all that was missing was palm trees, since it's back, in Malibu County. Supposedly the premise is different too.
Snuglis – Guys with Kids is one of the most aggressively not funny trailers of this upfront season. And I even watched it wearing my baby in a Snugli. So I should like it, right? No.
Tami Taylor – We all need more Tami Taylor in our lives. She's now an aging country singer who is forced to tour with the annoying Hayden Pannettiere. There is nothing about the plot that interests me. But it is Tami, so I will watch Nashville. All hail Connie Britton.
Unhappy people – Go On sees can't-find-a-new-show-that-sticks Matthew Perry leading a support group with Chandlerisms and bracketology. Many of these shows, though, will create even more unhappiness in the world.
Very well-toned men – Pecs and six packs are out in force. The trailers for both Chicago Fire and Arrow remind me how very unfit I am. Maybe I should watch 1600 Penn instead?
Westerns set in old Vegas – It's like Mad Men meets Bonanza! CBS's Vegas aims to look at early Vegas, with Dennis Quaid as the horse-riding sheriff trying to instill justice, and Michael Chiklis as the East coast mobster on the other side.
X-treme measures – People pushed to the edge. What will they do? Tune in to Revolution (fighting The Man), Red Widow (with an avenging Widow who isn't Natasha Romonoff), Vegas (see above), The Mob Doctor (trading appendectomies for protection), Arrow (super hero by night!), 666 Park Avenue ("what's Evil Locke doing to us, honey?"), Last Resort (see Nuclear Submarines), Do No Harm (fighting the beast within), and Infamous (a Revenge wannabe) to find out.
Young Carrie Bradshaw – At first I thought The Carrie Diaries was a CW spinoff of The Vampire Diaries with an even scarier supernatural beast at its core, but apparently it's actually about Carrie in the Eighties.
Zealots – Prepping us for November's next wave of Tea Party candidates, network tv is giving us cults (Zero Hour, CW's Cult) and people who speak to God (Anne Heche in Save Me).