Report From the TV Academy Faculty Seminar (Part 1)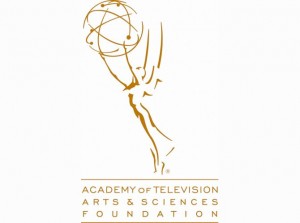 Every fall, the Academy of Television Arts & Sciences Foundation invites twenty Media Studies and Production faculty members out to Los Angeles for a week of panels and studio visits hosted by TV industry insiders with the intention of fostering ties between the industry and academia and offering professors relevant information to pass on to students who hope to build careers in the entertainment industry. Across two Antenna posts this week, six attendees share some impressions from this year's seminar, which was held on November 5-9. Part One offers teaching takeaways from the week.

Matthew J. Smith, Wittenberg University:
Curatorial. It's a curious word that I must admit I don't recall having used myself to describe anything that I do as a teacher of media, but it's one a number of the presenters involved in the Faculty Seminar used to describe their roles in selecting and presenting materials for and about television. I had never thought of the work of television producers as likened to the informed discretion of museum and art gallery directors, but the usage makes perfect sense now. Each selection in terms of what goes into a finished television production is borne of that curatorial sensibility, as producers make paradigmatic choices among a host of alternatives and exercise their insight to achieve a product that—when at its best—proves to help storytelling reach its ideal impact.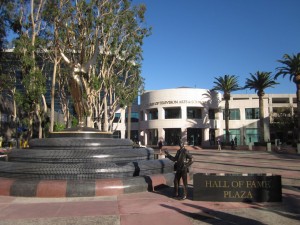 As I thought more about our week, curatorial also seems to be a perfect term to describe the avocations of many elements of the experience. When we arrived at the Academy headquarters at the start of the seminar, our first stop was the "Hall of Fame Plaza" where statues, busts, and reliefs of some of the most potent figures in television history were thoughtfully laid out over an acre of North Hollywood real estate. We also met employees of the Academy whose job it was to preserve the history of the medium. Karen Herman heads the Archive of American Television, a phenomenal oral history project whose fruits are online and available at the click of a mouse. There was John Leverence, Vice President of Awards, who has coordinated the primetime Emmys since the early 1980s. He introduced us to the history of the statuette and the awards program. And then there was our trip to Warner Bros. Studios, where our guide, production designer John Shaffner, gave us a tour of the historic studio. Outside each sound stage hangs a plaque commemorating the individual television series produced therein, including one where Shaffner had designed the sets for Friends.
Although much of our week was focused on how television is produced and where it might go next, I was gratified to encounter a good deal of the history of how we got to this point. I'm happy to curate such experiences into my own teaching of the medium and its history henceforth.
Todd Sodano, St. John Fisher College:
Over the last decade, storytellers have flocked to HBO, Showtime, Starz, and Cinemax, not merely because of premium cable networks' inherent freedom to use strong language, sexual content, and brutal violence. Rather, their freedom to tell a compelling story on those platforms is paramount. Jenni Sherwood, senior vice president of development and production at HBO, said on a panel focusing on HBO's Game Change that decisions at her network are made based on a script: "Where is the intelligence in this? [Where is] the creativity? How is it going to be received?" Neither she nor anybody else who works in cable and who spoke at the Faculty Seminar yearns to offer nudity, language, or violence simply because they can. Greg Yaitanes, showrunner of the forthcoming Cinemax series Banshee, said these elements "come from a place of character or story." HBO painfully learned more than a decade ago (see The Mind of the Married Men – actually, don't see it) that having four men speak candidly about sex and relationships wasn't a recipe for instant success just because it mirrored the spirit of Sex and the City.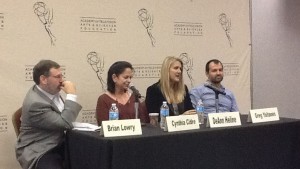 Variety's Brian Lowry, who moderated the showrunner panel discussion with Yaitanes, Cynthia Cidre (TNT's Dallas) and DeAnn Heline (ABC's The Middle), acknowledged that writers boast how the best part of working in pay cable is not having act breaks. In advertiser-supported television, the tail (commercials) wags the dog (programming); conforming to this traditional structure can challenge and frustrate the writer. Yaitanes, who used to run Fox's House, said that, as a writer, eventually "you start thinking you're there to fill in the spaces between the ad breaks." The ability to pursue narratives that avoid the six-act structure is strong incentive for storytellers. Starz CEO Chris Albrecht (formerly of HBO) told Lowry that the absence of the ad breaks was the most important freedom on his old network. Perhaps one of the most important lessons to pass along to our students who are pursuing careers in film and television is to understand storytelling and structures. Cidre declared, "Structure is key. Who wants what, and who's keeping them from getting it? This is the basic structure of everything."
Randy Caspersen, Northern Illinois University:
Each of my visits to Los Angeles becomes more bittersweet than the last. I lived there for nine years where I worked in television production. My best friends still live there. While I was making new friends and learning a ton about television biz at the Academy of Television Art & Sciences Foundations Faculty Seminar by day, I moonlit with friends at night. One, a big producer on the biggest new competition show on television, launched me into the audience of a live taping. Another friend, a make-up artist for the highest-rated show in syndication, recounted her recent staph infection from breast expanders after her double mastectomy. My oldest friend, a beloved roommate from college undergraduate days, told me about how he has been unemployed on and off and just borrowed $300 from his parents while standing in front of his bookcase which uses two of his three Emmys as bookends.
When I returned to Northern Illinois University, I prepared my lecture for my Introduction to Studio Production students with two slides. The first is a "Greetings from Los Angeles" postcard circa 1940's which shows the city name in block letters with the city's famous buildings illustrated inside each letter. The second slide, a modern re-imagining of the same, filled the letters in with cartoony portraits of a drug bust, police chase, an overdone plastic surgery victim, an overcrowded freeway and a prostitute on Hollywood Boulevard. I launched into my lecture about the great things I saw during the Academy's seminar—the showrunners, the above- and below-the-line job panels, the tours of studios and special effects houses, the fever surrounding emerging technologies—along with the caveat that there is a dark side to this land of dreams.
We got a lot of advice to bring home to our students from the very talented industry professionals. Internships are a great start. You must start at the bottom, work your way up through the ranks and hold out for a decent job for at least a ten-year period. The key thread to everything—whether you are the production designer for The Big Bang Theory or the showrunner for Dallas or the DP for American Horror Story—was that everyone is storyteller at heart and that television is no longer cinema's simpler, uglier sister.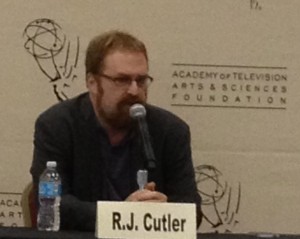 My students still wonder: what is that "dark side of LA" and "how am I going to make it?" I wonder that question, too. I left the city because I never saw myself "making it" even though I was a producer on a hit show. Maybe the greatest lesson of the seminar came from Nashville executive producer R.J. Cutler who said, crude paraphrasing here, that the people who make it aren't the geniuses but those who are willing to stick it out over time and work the connections they made when they first came to town. He said genuine curiosity into how human beings behave continues to drive him toward creating non-fiction and narrative media. Oh, yeah, and if you make it, there is big money in that creation. I guess the dark truth of LA is that it will always be looking for how it can monetize all creative media pursuits. And so it is nice to visit Los Angeles and also nice to leave.