On Radio: FM Campus Radio and Community Representation
In recent years a number of college radio stations have been closed, some of which have moved to an exclusively online format. In January 2011, the University of San Francisco's KUSF was sold to a classical public radio network and can now be heard online. The closing was justified by highlighting the viability of online broadcasting for smaller, or "alternative" radio stations. A New York Times article from the same year profiled American college stations that had moved online. In the article, students at Yale University's WYBCX referred to their station as a "global entity" with shows "designed for audiences beyond Yale," defining the station in opposition to the local and community-based mandates of many campus and college stations.
While online broadcasting can effectively carry local sounds to distant places, my research into the Canadian campus radio sector highlights the importance of licensed FM broadcasting in terms of representing the cultural and musical interests within a station's broadcast range. By broadcasting exclusively online and abandoning space-based FM or AM broadcasting, stations run the risk of losing the community-based focus that has been integral to the programming and operations of the campus and community radio sector. In Canada, FM regulation has aided campus stations in realizing their goal of community representation through increasing their reach and relevance, which, in turn, has increased inclusivity and diversity in many instances. The following example shows how one station in Winnipeg, Manitoba, increased its prominence in the community when moving from closed-circuit radio to FM broadcasting, shedding light on what might be lost if stations were to move entirely online.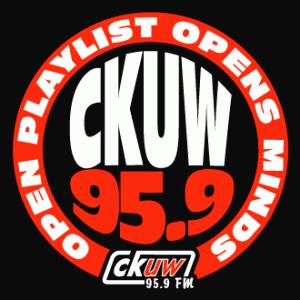 Before acquiring a FM license, CKUW at the University of Winnipeg operated as a closed-circuit station, broadcasting to speakers set up in different buildings on campus. Long-time station volunteer and staff member, Ted Turner, recalled getting involved with the station in 1990. Turner decided to check out the station after hearing so much about it. "And it was a big deal to go in there," Turner reflected, "because you were very intimated because there were a bunch of cool people in there, right?" In those days, according to Turner, CKUW was "more of a hiding place… where these amazing records would come from Chicago and other places." The station "had this magical mailbox where these really amazing underground records would show up and you could play them to a group of people, of which maybe a handful were ever listening."
In order for the station to eventually receive its FM license, a number of factors had to coalesce, including mobilization towards better organization. Turner recalled that the station had to lose its connotation as a "boy's club," especially in the eyes of the university's student association and administration. In 1992, Nicole Firlotte became the first woman to be hired as station manager. Turner explained that Firlotte acquiring the manager position was a critical point during the years leading up to CKUW's FM license. He was careful to state that Firlotte was "a lot more than just the first woman to manage the station," but that her role as manager certainly contributed to dismantling the image of the station as a boy's club. Firlotte "brought a whole different energy, and a sense of organization and professionalism" to the station at the time.
Many of the comments made in reference to each station's pursuit of an FM license illustrates that the full potential of these stations was not being realized when contained by campus borders. In a 1994 issue of Stylus, CKUW's sibling publication, Alec Stuart asked, "How does it feel to know that Winnipeg is the largest city in Canada without a campus radio station?" Stuart explained that the station had begun work towards eventual broadcasting, but help would be needed. He said that financial donations were greatly appreciated, and for those that did not have the "cash to toss around," even for a "worthy cause," Stuart implored readers to come and see one of the many shows that the station organized that year. "If you own a business," he said, "or work in some such place, write us a letter of support. We need a whole pile of letters to hand in to the [Canadian Radio-television and Telecommunications Commission] when we finish the application."
In the December 1998 issue of Stylus station manager Rob Schmidt explained that a "CRTC license is only one of the components needed for a successful radio station…. Equipment, volunteers, and training all have to be in place before we can even hope to begin broadcasting to the community." The license application was approved in October of that year, and in the application CKUW "promised to create programming that is diverse musically and yet has a strong focus on urban issues and concerns."
CKUW's successful license application involved the collective drive of students and community members who, at a particular point in the history of their campus broadcaster, felt that it was time for the station to expand beyond the confines of the campus, and reach a greater number of listeners within its locality. A small, secluded closed-circuit station can act as a private space for individuals to hide away and play records, especially if not many other people are listening or paying attention. However, as stations worked toward the goal of going FM and broadcasting to a wider listenership, the private/public ratio is renegotiated. These were public efforts, as students and radio practitioners justified their stations to other students and university administrators, asking for support that ranged from financial contributions to simply asking other students to give the station a chance and tune in. There came a time when the scale and scope of the station could not be contained by a low-range broadcaster, when students felt the need to put their connections to the wider cultural and musical communities of their city or town into practice.