A Remediation Meditation: The Aca-Media Podcast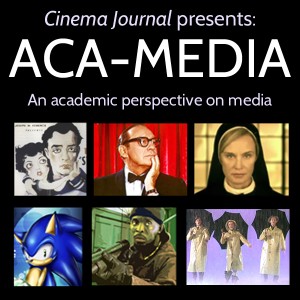 It's the kind of delicious irony that we broadcast historians relish:  in order to move boldly into the future and expand on the cutting edge of communications technology, Cinema Journal has started a radio show.
Aca-Media (officially:  "Cinema Journal Presents Aca-Media") is a new monthly podcast covering current media studies scholarship, issues in the media industries, questions in pedagogy and professional development, and events in the world of media studies. Believe it or not, nothing quite like that existed yet.  The terrific (and soon to be late great) Critical Lede podcast had become an invaluable way to keep up on communication scholarship, but its strong focus on rhetoric made it always slightly tangential to the concerns of film and media scholars.  Industry-themed podcasts like The Business and Tech News Today are good for news and exploration of current issues, but don't have the specific academic perspective that Aca-Media seeks to offer; ditto the "media critics" type podcasts like my new favorite, NPR's Pop Culture Happy Hour.  Finally, one wants to like Toby Miller's Cultural Studies podcast, but his (admirable) commitment to a transgressive aesthetics usually makes the show, for me at least, unlistenable.
That left a hole in the podcast universe—if I've missed a good one, please let me know in the comments—at the same time that CJ's new editor, Will Brooker, took over with the goal not necessarily of exploding the traditional limitations of print-based scholarly publishing but certainly of finding new ways to overcome them.  The best word here is remediation, in both senses: correcting a deficiency and transporting content across media.
Cinema Journal will continue in its venerated form, but Brooker's aim is to have it anchor an array of non-print outlets for media-related scholarly discussion:  online extensions of the journal, of course, but also blogs including this one, hybrid blog/magazine platforms like Flow, experiments in publishing like In Media Res, and now the Aca-Media podcast.  The formality and officialness of such relationships will vary from case to case, but the goal is a relatively coherent network of academically minded media studies scholarship: a "CJ-verse," as Brooker puts it in our first episode.
What is remarkable to me is how many of the elements of a media studies aca-sphere are already in place and working well—if you peer through the technological superstrate, you find a vibrant network of media scholars who are doing qualitative, critical, and culturally minded film and media studies, and who are already well connected to each other through a range of listservs, Twitter, conferences like SCMS, Facebook pages like "Teaching Media," etc.  It is tremendously exciting to see the energy and the dynamism of this space, and if there is perhaps a danger in such a community becoming too insular, the advantage is a lively conversation that is able to remain legible even as it multiplies and proliferates and remediates.
Aca-Media's role in this conversation, as it is emerging in these early days, is to speak to the needs of film and media scholars across their professional lives:  keeping up with scholarship and currents in the media industries, exploring issues in pedagogy and professional development, and providing an outlet for discussion of events affecting the community (for example our coverage of the tribute to the late Alexander Doty in our first episode).  The producers (Christine Becker, Michael Kackman, Todd Thompson, and me) are striving towards professionalism (relative amateurs though we may be at this point—I've already had to republish episode 1 on the iTunes feed due to a rookie mistake), but we also want the podcast to be inclusive and community-oriented with correspondents, vox populi segments, and guest hosts.  (In fact, click here to find out how you can participate as early as episode 2.)
We also aim to augment Cinema Journal with those qualities that radio is especially good at providing: the immediacy of the human voice, the personality of spoken conversation, the "intimate publicness" of individualized address to a community of scholars that, we hope, will embrace this venture.