Berlinale 2013 Report: Part Two

This post is part of an ongoing partnership between the University of Wisconsin-Madison's Antenna: Responses to Media & Culture and the Society for Cinema & Media Studies' Cinema Journal.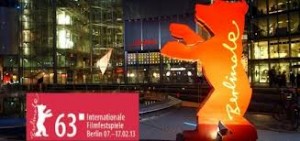 I'd like to continue my discussion of aspects of 2013's Berlinale begun in an earlier post with the Ivorian film, Burn it Up, Djassa shot rapidly and very cheaply on the streets of Abidjan and directed by first-timer, Lonesome Solo which employs the Nouchi dialect and an on-screen narration by storyteller and local celebrity, Mohamed Bamba. The pace and rapid dialogue join with the on-the-fly shooting to produce a sense of excitement as the filmmakers strive to give a sense of ghetto life. At the opposite extreme, Reaching for the Moon, Bruno Barreto's biopic on Elizabeth Bishop is a lush, extravagant, but effective melodrama, powered appropriately by witty dialogue and sumptuous images. The Look of Love is another entertaining, well-wrought biopic from the prolific Michael Winterbottom and favored actor, comedian, Steve Coogan, who is excellent as smut-king, Paul Raymond. Much of my attention was drawn to the detailed recreation of a period Soho, while the story emphasizes Raymond's relationship with his daughter and the ultimate emptiness of his life despite wealth and all the trappings of glamour.
Korean cinema was, unsurprisingly, well-represented: White Night (Baek-Ya) is a low-key gay revenge movie, set over the course of a single night, with a slow pace that gradually draws the viewer in, and some fascinating shots of night-time Seoul. E-J-yong's Behind the Camera, on the other hand, is a thoroughly self-reflexive story of a film directed over Skype by a director who may or may not have been in the country. The film features many Korean film celebrities as themselves and is ultimately about its own making. However, the film can be as frustrating for audiences as for the cast and crew who have to make do with a director who controls both too little and too much. It played with Busan film festival founder, Kim Dong-Ho's rather self-indulgent short, "Jury", about a dysfunctional festival jury, which also features Korean stars and directors as themselves–along with Tony Rayns, who does not like any Asian films and would rather just eat!
A few more formally-challenging, experimentally-minded discoveries from the Forum section of the festival will likely prove the most personally significant works I saw in Berlin. I had not previously known the films of Buenos-Aires-based Matías Piñeiro. His 65-minute Viola, records the performance of and rehearsals for a performance of excerpts from Shakespeare, and a couple of surrounding events in the lives of cast-members. Described in the catalog as "playful" and "spirited" I watched it only because it fitted into my schedule. Magnificent use of the close-up, often in conjunction with long takes, draws out not only the relationship between performance and everyday life but also between words and images, emotions and actions. While Piñeiro threw further interesting light on his film in discussion, the same could not be said for João Viana, who evidently wanted his The Battle of Tabatô (A Batalha de Tabatô), shot in black-and-white with occasional red, to speak for itself. It did so powerfully as it recounted a man's return to Guinea-Bissau for his daughter's wedding and his inability to erase memories of his wartime experiences there. Sound and mise-en-scène are used effectively to suggest states of mind and a fascinating balance between dream and reality. African traditions of agriculture, good governance and music, described at the opening of the film, infiltrate the story, and my yearning to hear more of the music for which the Madinka town of Tabatô is renowned was eventually satisfied. Viana also presented a short, "Tabatô" based on the same events, an elliptic version of the longer film, but apparently shot first.
Meanwhile "Cuba" (Filipa César) drew on material from the Guinea-Bissau film archive, as it poetically illustrated Amílcar Cabral's work as an agronomist and leader of the Guinean liberation movement. The material in the archive, mostly raw footage shot during the sixties, has recently been digitized in Berlin and we can expect further samples to be released. "Cuba" was appropriately screened alongside Octavio Cortázar's classic post-revolutionary short, "For the First Time" ("Por Primera Vez," 1969), a moving record of the mobile cinema movement. Several aspiring directors from Guinea-Bissau worked with mobile teams in Cuba, learning a trade that reflected Cabral's call for art not arms to fight colonialism. Another famed documentary short that has long been hard to find, Syrian Ossama Mohammed's "Step by Step" ("Khutwa Khutwa," 1978) also screened, providing a dramatized commentary on how the hard country life is swapped for an urban experience that offers few ways to escape poverty other than joining the military. Although purely experimental work is unusual in the main shorts program, I did get to see newcomer Masihiro Tsutani's "Between Regularity and Irregularity." Appropriately described in the program as a "sea of images and sounds," it was a rare privilege to see such a non-narrative visual and aural feast in the excellent facilities of Berlin's Potsdamer Platz. Tsutani trained as an engineer and first became fascinated with sound, represented here mostly by atonal industrial music without harmony or melody to accompany images somewhat reminiscent of Stan Brakhages's non-representational work.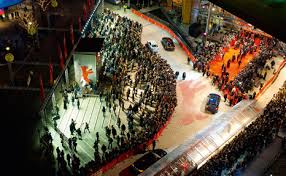 To conclude a word about the Berlinale classics retrospective screenings, which readers may want to look out for: the new digital 3-D version of Dial M for Murder (1954) had its European premiere, as did the restoration of On the Waterfront (also 1954). There was an international premiere for the restored Tokyo Story (Tokyo Monogatari, 1953), accompanied by a screening of Tokyo Family (Tokyo Kazoku), a new film from Yoji Yamada that celebrates Ozu's classic. Finally The Student of Prague (1913) in a reconstructed version form the Munich Film Museum was screened with a new musical accompaniment.