#1ReasonToBe and Many Reasons To Still Worry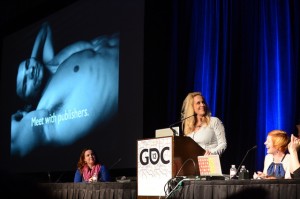 The 26th annual Game Developer's Conference recently met from March 25 through March 29, 2013. As it has in the past several years, the GDC met in San Francisco's Moscone Center, spilling out into surrounding events, parties, and satellite unconferences (such as this year's Lost Levels). As the industry's largest event, GDC brought together over 23,000 developers, journalists, marketers, academics, and fans. Unfortunately, I was not able to attend this year's GDC, but as I viewed the events from afar, a number of major themes seemed to develop through the blog coverage and ongoing Twitter conversations.
One of this year's key stories seems to be regarding how the industry deals with difference and inclusivity, both for developers and for the industry as a whole. The games industry has rightly been accused of failing to accommodate perspectives beyond those of the young men that have stereotypically been seen as the industry's primary consumers. A potential watershed moment during this year's conference was the #1ReasonToBe panel, featuring developers including Brenda Romero (Wizardry, Jagged Alliance), Robin Hunicke (Journey, Glitch, Funomena), Kim McCaullife (Microsoft Studios), Leigh Alexander (journalist for Gamasutra, Kotaku, and others), Elizabeth Sampat (Storm8), and Mattie Brice (independent game critic/journalist).
The panel cleverly pushed the devastasting #1ReasonWhy hashtag into new territory, incorporating both problems facing women in the games industry and "reasons for women to be" in the games industry. Presenters recounted horror stories of both casual and explicit sexism within the industry, while aspiring to start a larger conversation in the industry on issues of gender. The #1ReasonToBe hashtag on Twitter is still ongoing, albeit with less of the vigor that typified the #1ReasonWhy hashtag.
How much of this represents a real and significant shift in the culture of game design? For some, it seems clear that the industry is undergoing significant change on several fronts — The New York Times summarized GDC 2013 as the year the indies "grabbed the controls." As quoted in the Times piece, game designer Eric Zimmerman has decided to end his annual, provocative Game Design Challenge (won this year by Jason Rohrer, for the second time in three years), explaining that "The idea of doing strange, bizarre, experimental games is no longer strange, bizarre or experimental." Perhaps, in this context and in this particular moment, panels such as #1ReasonToBe may gain significant traction in the industry.
Unfortunately, even while there was a concerted effort by attendees and regular GDC organizers to reframe who the "games industry" is, some of the events surrounding GDC were still problematic. The International Game Developer's Association came under widespread criticism for scantily-clad women dancers at their professional conference party. This drew the attention of the aforementioned Brenda Romero, who on the same day she was awarded a Women In Games lifetime achievement award very quickly resigned as co-chair of IGDA's Women in Games special interest group (along with other IGDA resignations, including outgoing board member Darius Kazemi). On top of this, the creators of Minecraft, Mojang Specifications, threw a party that several developers alleged included women who were paid by the company to socialize with (predominantly male) game developers. Mojang has denied these accusations.
So, how do we come to some sense of where the industry is going? Was 2013 a breakthrough or just a case of an industry that's moving to address its problematic gender culture while thousands of other attending developers were fine with business as usual? The discussion of gender and inclusivity at GDC2013 included very little from the Nintendos, Microsofts, Sonys, Capcoms, Activision Blizzards, Valves, and so on. In this regard, perhaps Zimmerman's statement about the shift toward experimentation and change was correct; though the era of the AAA studio has not necessarily passed, AAA products and AAA studios were certainly not the story at this year's conference. Rather than feature rollouts of new gaming consoles or prodcuts, the industry focused on deep discussions regarding its own culture and ways forward.
In-conference discussions of inclusivity and difference are just the tip of the iceberg, however, as the struggles with these very issues in the male-dominated, party-centric culture around the conference may indicate. How do we bridge this gap?