Beyond the Nominations: The Emmys and Representation
During last year's Emmy Awards ceremony, Kerry Washington was feted by Diahann Carroll as a beacon for diversity in an award show dominated by white actors and actresses, particularly in lead categories. The nominations for categories like Lead Actress in a Drama Series, where Washington competed for her role on Scandal, are typically where this discussion takes place when engaging with the diversity of award shows.
However, this discussion truly begins in the months ahead of the Emmys. The numerous roundtable interviews and photo shoots organized by trade publications and wrestled over by publicists are where the politics of representation of awards season begin to form, while the Emmy submissions themselves offer a subsequent space in which such politics are negotiated.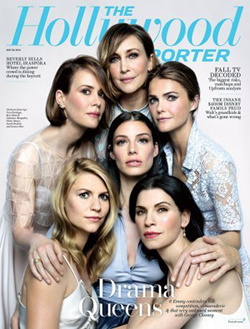 This is particularly clear this year, given that Washington was notably absent from early Emmy campaigning, despite having been part of roundtables for both The Hollywood Reporter and Variety the previous year. This led to a Hollywood Reporter cover featuring the year's top actresses, all of whom were white, and a Variety roundtable featuring six different lead actress contenders, all of whom were also white. Washington's absence—likely tied to the fact she gave birth to her first child earlier this spring—offers a stark reminder that if not for Washington, there would be no women of color competitive in her category.
This is not to say that there are no other women of color submitted in the category: the official Emmy ballots revealed six, including Being Mary Jane's Gabrielle Union, Sleepy Hollow's Nicole Beharie, Elementary's Lucy Liu, Nikita's Maggie Q, and The Fosters' Sherri Saum and Cierra Ramirez. Eliding for a moment the depressing statistic that only seven of the fifty-six women in the category are women of color, there are other reasons these women have been less visible than their counterparts. Issues of genre, network/channel branding, and cultural hierarchies of taste all make series like these less likely to draw Emmys in a dramatic field dominated by prestige cable dramas or network dramas with prestige cable auspices.
However, this does not necessarily exclude these women from participating in roundtables with major trade publications, provided their publicists—either associated with the network, studio, or the actress herself—work hard to get them there. Features like the Hollywood Reporter cover are competitive by nature, a coup for a publicist working hard to prove their worth to their client. But if you don't have a publicist or agent who has played the Emmy game, or if you're part of a show on a cable channel like BET with limited experience Emmy campaigning, there's a good chance you will not be represented. And even if Gabrielle Union's publicist had pushed for her to be included in one of these roundtables, would anyone have taken Union as a serious contender, given the low cultural standing of BET compared to the networks and channels dominant in the roundtables?
As Dear Black Woman reminds us, these realities do not render these situations ideologically neutral, because the optics they create are real, and offer a stark reminder of the state of diversity in not only the Emmys but in television more broadly. Rather, such considerations highlight how the Emmy nominating process functions as the intersection of multiple spaces of industry practice, each equally disinterested in confronting issues of diversity in a meaningful way unless someone like Washington emerges who fits the other requirements—a successful series, a reputable network, a strong publicity team—dominant in those spaces.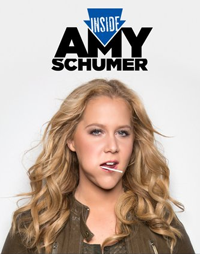 We can extend this into the submissions process itself. Transitioning to issues of gender, three examples stand out among the series and performers submitted for consideration. In the case of Amy Schumer, star and executive producer of Comedy Central's sketch comedy series Inside Amy Schumer, she's forced to compete in the Supporting Actress in a Comedy Series category due to rules surrounding variety series. Although she is unlikely to garner a nomination in either category, the optics of the ballot push her into a supporting role on a show based around her comedy, and which in its appeal to female viewers signifies a meaningful shift in Comedy Central's brand identity.
In other cases, Emmy campaigns reinforce broader readings of a series' gender politics. HBO's Silicon Valley focuses its satire on the male-dominated technology field, and in its short first season featured only one supporting female character in Monica, played by Amanda Crew. And although the show drew significant criticism for its engagement with gender, HBO nonetheless chose to submit every other credited actor in the series for Emmy consideration without submitting Crew, making it their only series without an acting submission from each gender. The chances of Crew being nominated are slim to none, but the optics of not even submitting her don't seem worth the money saved with one less submission among their extensive slate.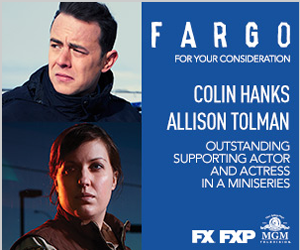 In the case of FX's Fargo, broader channel strategy intersects with gender in problematic ways. Although Allison Tolman has been cited as the series' lead actress in interviews with its creator, she is submitted as a supporting actress, a category she won at the recent Critics' Choice Television Awards. There is an awards logic to this decision: Tolman is a newcomer without the name recognition of those likely to compete in Lead Actress, plus FX has a better shot in that category with American Horror Story's Jessica Lange. And yet this strategy marginalizes Tolman to a lesser category (which was nearly eliminated last year), and pitches Fargo as a show with two male leads (Billy Bob Thornton and Martin Freeman), which is notable given how some critics felt the finale worked to marginalize her character.
While the ideological dimensions of Emmy campaigning are made visible in trade publications, the same dimensions in Emmy submissions need to be excavated, and depending on the nominations may never make it past the ballots. However, exploring these questions reinforces that our understanding of the politics of the Emmys is not only driven by who is nominated or wins, but by how issues of race and gender are negotiated in the processes that lead to those results.