Author:
Jorie Lagerwey
Jorie Lagerwey (University College Dublin) studies representations of religion and gender on American TV and teaches courses in TV history, TV genres, and Cultural Studies. She can be followed on Twitter @jlags3.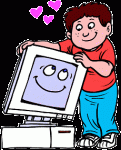 Using Google+ for student assignments in a TV genre class would, ideally, link learning with social technologies students are already using, and spur students to consume social media more critically. As with all experiments there was some success and some failure.
This piece begins a series reflecting on the trials and tribulations of digital pedagogy.