What Are You Missing? February 14-28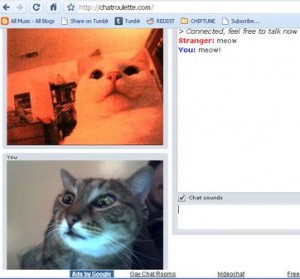 Ten (or more) media industry stories you might have missed recently:
1. I doubt that anyone who wanted to read it missed this, as I saw it linked everywhere, but I wouldn't want even one person to miss out, so I'll include it here anyway: a highly affecting profile of film critic Roger Ebert in Esquire. Plus, some of you might have missed Ebert's response, as well another journalist's praise for the quality work from Esquire's reporter. The Independent also has a fascinating story about Ebert getting his real voice back (sort of), which you can hear Tuesday on Oprah. Finally, if you're not following Ebert on Twitter, you're really missing out.
2. The latest social networking platform to freak us out is Chatroulette, invented by a 17-year-old Russian. If you haven't tried it out yet, first check out this video explanation by Casey Neistat (note: some NSFW language, but no naughty images). Many have tried it out, including The Office writer Mindy Kaling, who tweeted, "Chat Roulette is horrifying. We just used it in our writers room. It was naked guys or guys in Jigsaw masks." Also, you might unexpectedly come across Ashton. But not everybody is freaked out by it, and some even say if you hate it, you hate the internet. Of course, as a perceptive Slate article notes, we're always afraid of new media technologies, and besides, without Chatroulette we'd never have gotten this awesome tumblr site: Cat Roulette. Bonus article: a history of social networking.
3. YouTube just celebrated its fifth birthday, and while its co-founder says that from the start they envisioned the site as the people's voice, NewTeeVee calls BS on that and claims that wasn't a factor until the people themselves pushed the site that way. One result of such a push: a prestigious George Polk Award for the video of the murder of Iranian demonstrator Neda Agha-Soltan. The NYT's Brian Stelter has background info on the video, including an interview with the anonymous uploader. But the WSJ's Evgeny Morozov reminds us that we can't idealize the power of the internet and social media, and the band OK Go's frustrating experience is a reminder of who's most often really in control online. Something very much worth reading in that regard: a simple guide to Net Neutrality.
4. The Oscars are coming up next Sunday. To bolster your Oscar ballot cred, you can read some reviews from people who have actually seen the documentary shorts and the animated and live-action shorts. Also, when the ads come on during the awards broadcast and you have to actually talk to your fellow Oscar partygoers, you can use one of these handy conversation starters: hey, didja see that list of the 50 most deserving Oscar winners of all time; the story about Oscar's anti-comedy bias; the "preview" of James Cameron's Oscar speech; what the Academy does with Oscar night revenue; that rude email from the Hurt Locker co-producer and the outcry about it, which is only one part of the backlash against Hurt Locker that's suddenly cropped up, though it probably won't hurt its chances anyway; and that Variety apparently takes bribes? If you can't make a friend with one of those, then there are no friends at that party to be had.
5. Studio news: MGM is dead broke but carries on for now. Warner Bros. is dominant. Disney's not about the stars anymore, it's about either the toys or the cheap but also the boys. The Wrap summarizes Hollywood's for sale signs, while Vanity Fair gives us Hollywood's top earners.
6.  The kiosk DVD distributor Redbook came to an agreement with Warner Bros. on a 28-day delay window for new releases, and some analysts see dark days ahead for Redbox, while studios are in a tough spot too. Mashable says it's consumers who will lose. Winners? TechCrunch says piracy. And video rental stores like Blockbuster could benefit, if they live long enough. In a related issue, Disney wants to shorten the Alice in Wonderland DVD release window, which the Guardian sees as nothing less than a future-of-cinema issue. But rather than go read all that, you could instead just watch the very first version of Alice in Wonderland (1903) that the BFI has posted online.
7. The Wrap says the video game industry desperately needs innovation, including the possibility for "video games controlled solely by the mind." Two other video game stories that caught my eye: the LA Times breaks down where the $60 you  spend for video games goes, and Gamasutra writes about the art of creating video game characters.
8. Some women and the media questions: Can social media bring opportunities for women? Where did all the angry rock grrrls go? And a preview excerpt from Susan Douglas's new book: where does girl power stand today?
9. Avatar has put "virtual actors" on everyone's mind: Forbes (with a whole series of features), the LA Times, and film scholar Kristin Thompson chime in. But how about making the animated (Buzz Lightyear) look human?
10. Finally, some of my favorite News for TV Majors links to links from the previous fortnight: pilot previews, the BBC overhaul, the ABC News overhaul, indecency complaints tallied, the lure of reality TV stardom in India, problems at Lifetime, Alec Baldwin = Jack Donaghy, interview with John Wells, and the future of serials.