What Are You Missing? March 14-27
Ten (or more) media industry stories you may have missed recently: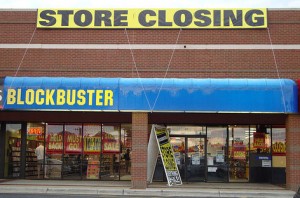 1.  It's estimated that News Corp. will end up pulling in upwards of $400 million in profit from Avatar, and Hollywood Reporter has the amazing numbers on how many different versions of the film were distributed globally to maximize different viewing situations, such as 52 subtitled versions on film and 58 in digital 3D format and even different prints for different light levels in theaters. The 3D boom Avatar helped to kick off is going to start costing theatergoers a lot more, though, as 3D ticket prices just went up; Josh Tyler calls this price gouging.
2. Blockbuster begged the studios to offer it some financial deals to help stave off bankruptcy,  and Warner Bros. just agreed to feed Blockbuster its new releases 28 days earlier than Redbox and Netflix get them. But all signs point toward Blockbuster's bankruptcy anyway. Chuck Tryon gave some thought to the more local and individual, rather than corporate, implications of this impending failure, and Jenni Miller says she'll miss the brick-and-mortar experience once online services put video stores under.
3. In the ever newsworthy world of film criticism, Kevin Smith got pissy with critics who didn't like Cop Out. The downside of publicly fighting with critics is that they're professionals at writing sharp judgments of others, and they have a very public platform to support that. Accordingly, Keith Phipps advises Smith not to take reviews so personally, Kim Voynar tells him to grow up, and Dustin Rowles says he's most disappointed that Smith seems content with having made a movie he himself admits is unambitious at best. In other film criticism embarrassment news, Variety continued its plunge into ignominy by commanding the studios to not give scoops to other outlets, an absurd request which resulted in public flogging from David Poland and Patrick Goldstein and a hearty "screw you" from Nick Kreiss.
4. It seems like every media corporation right now is either involved in a high-profile lawsuit or a high-profile buyout (or both). The juiciest lawsuit going is between YouTube and Viacom, with all sorts of corporate details emerging in court papers, including the dollar figures behind YouTube's founding. Also locked in a court battle is Disney, which is trying to defend its newly purchased Marvel properties against ownership claims by a late Marvel artist's family in a lawsuit that could substantially impact copyright and intellectual property law. And then there's buyout madness with Miramax, MGM, and Lionsgate. Disney has extended the deadline for Miramax bids, so you still have until the end of the month to jump on that. Time Warner, focusing on the value of MGM's movie library, has emerged as the leader to acquire MGM, after Lionsgate appeared to have dropped out. Richard Siklos says this deal is a sign of the greater problems vexing Hollywood. It might also be a sign of the greater problems vexing Lionsgate, as Carl Icahn is trying to acquire Lionsgate against the studio's will; Peter Lauria has the details of Icahn's hostile takeover maneuvers.
5. Mashable has a cool infographic covering Twitter's path over its four years of existence, while Peter Kafka reminds us how easy it is to send hoaxes down that path. Also, while companies might think it's easy to use social media to spread their brands, Nestle's sobering experience with Facebook marketing should make them think again. One of the more entertaining threads on their official Facebook page includes such brand-errific comments as, "Kit Kats killed my father, and raped my mother!" In other news involving social media and the viral (literally), it would appear that Facebook causes syphilis. Even worse, Twittering causes Justin Bieber.
6. A headline that, unfortunately, I could seemingly put in every post: video game sales were down last month. Despite (or because of) these struggles, gamer Carl Cheng says the industry needs to take more risks with innovating new games. There were also some interesting pieces on women and video gaming recently, including Katharine Fletcher's discussion of women gamers, Fruzsina Eordogh's response to Fletcher's essay, and Jane Pinckard's assessment of the role of women in game development. Finally, here's a podcast on storytelling in video games and a compelling personal story of videogame addiction.
7. Most of the indie news of the fortnight was tied to South By Southwest in Austin. A collection of summary SXSW posts: Ann Powers' high points of the festival, Todd Martens' overview of the music scene at SXSW, Hiddenworld's SXSW Why?, 15 journalists' reflections on SXSW, and a post-SXSW timeline of indie. One of the key issues coming out of the festival is how indie bands can keep the flame of interest burning: some are turning to online music videos; some are exploiting social media; and some are (well, one is) recording their next album in a music gear store, free recording in exchange for store publicity.
8. In vaguely connected stories about acting and actors, Botox and plastic surgery are causing some problems for expressive acting; Monika Bartyzel is saddened by contemporary beauty trends among actresses and celebrities; a WGA panel of writers, producers, actors, and activists discussed the challenges of portraying and employing African-American lesbian, gay, bisexual and transgender people in Hollywood film and TV; Montgomery Clift was damn fascinating, and Steve McQueen was super-cool.
9. In vaguely connected stories about animation, CGI, and comic book adaptations, Ben Parr looks at Pixar's success at meshing art, technology, and entertainment; Josh Tyler and Katie Rich boldly argue that DreamWorks does some things better than Pixar; Roger Ebert defends the integrity of original film texts and tells Spielberg he better not screw around with "updating" the special effects of Jaws with CGI; and Fail Whale was put on high alert when the trailer for Edgar Wright's adaptation of Bryan Lee O'Malley's indie comic books Scott Pilgrim Vs. the World came out and set Twitter afire.
10. My favorite News for TV Majors links to stories from the past two weeks: Big Love Big Mess, David Simon Profile, CW Ad Double, At the Movies Canceled, Cable is Doomed, Retrans News, Three-Screen Usage Report, Affiliation Death, Prime-time Drama Economics, FCC Broadband Plan.