For Worse and For Better: My Bill Simmons Weekend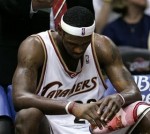 The paradox of following sports abroad is that even if you're hours ahead, you still find out everything late.  And so I woke up Friday morning a few thousand miles east of Boston in desperate need of two pieces of information.  The first was simple:  Did they win? Had the Celtics, my home team from back when I had a home, pulled off the upset and eliminated the heavily favored Cleveland Cavaliers? Yes, they had.  I experienced an odd emotional cocktail: one part glee, two parts regret.  But the latter two parts were really small.  Yes, I felt a little left out, having missed the fun like a little leaguer whose mom failed to check the team schedule before calling the orthodontist.  And yes, the loss made it considerably more likely that LeBron James, the likely ascendant to Tiger's famously vacated world's best athlete throne, would leave Cleveland this summer as a free agent.  (I'm strongly against this possibility, although I can't quite articulate why.)  But overall I was thrilled.
Next question:  Had it worked? Had ESPN's Bill Simmons, champion of all things Boston, succeeded in organizing a series of live fan-chants during the game?  It turned out that he had, at least in part.  Via his twitter account "CelticChants," Simmons suggested three taunts that the Boston crowd might hurl at the visiting Cavs.  The first one, "New York Knicks! New York Knicks!", aimed at Lebron James and his aforementioned free agency, had in fact taken hold.   As the superstar took his first free throws, much of the crowd shouted in unison, an act the announcer Mark Breen described as "creative."  Simmons' other two suggestions were met with middling results.  But, unquestionably, the first one was a hit.
My reaction to this result is unambiguous. I don't like it for a gamut of reasons ranging from the aesthetic to the (mildly) philosophical.  For one, it strikes me as kind of lame.  There was a sense of corporate supervision in the suggestions, with the second chant of "Rondo's Better," being particularly uninspired.  Yes, I'm somewhat relieved that the previously mentioned idea of yelling "Precious, Precious" at the terribly overweight Shaquille O'Neal didn't take hold in a Boston crowd whose racial sensitivity is sometimes questionable.  However, to me, if there's an essence to crowd activity, it's organicism, or at least home-grownness.  I'm not interested in anything that Robert Iger has potential say in.
Secondly, if the experiment is to see if such a thing can work – if new media can succeed in stirring this brand of collective action – then, well, it's not a very well controlled inquiry.  Simmons, with access to all the mass audience Disney can muster, isn't much of a test case.  It reminds me somewhat of Kim Jong-Il heading out to the golf course with an army of assistants to see if the game's as tough as everyone says.  What do you know, beginner's luck.  This isn't the end of the world, but it strikes me as both a blurring of lines and really vain.  I'd feel better if Simmons had skipped the ESPN.com promotion of the idea or, even better, if a true "everyday fan" had given it a shot.
That said, Simmons and his unique power to turn commentary into real life action did bring me a great deal of joy this weekend.  I finally picked up David Halberstam's The Breaks of the Game, a book that had been out of print for ages and still would be, were it not for Simmons' repeated recommendations.  It's a fantastic, truly important sports book that thousands would be missing out on if not for the Sports Guy.  So perhaps I'll give him a pass on the chant thing. But my weekend certainly brings into sharp relief the power of an Internet star and some of its potential abuses.