Brit-Lit Fantasies and Their Fans
Watch the full episode. See more Masterpiece.
Masterpiece Theatre is premiering new mini-series Downton Abbey tomorrow night on PBS.  Produced for ITV in Britain, the show first aired there in October, 2010 and is available for viewers in the UK on iTunes and DVD. If, like myself, you have not been able to procure a copy for yourself, all that is available until tomorrow night is the PBS preview (embedded above) replete with long establishing shots of a large British country estate, long, corseted frocks, and Maggie Smith as a vexed dowager.  Possessing all the characteristics of a typical British period piece mini-series, Downton is not based upon a piece of literature. Rather, it is created and written by author and film scribe Julian Fellowes, whose films Gosford Park and Young Victoria, along with his books Snobs and Past Imperfect, all centered around the subject of British aristocracy, usually from the perspective of an outsider. Thus, though Downton Abbey seems to participate in the genre of British literature period-piece mini-series, it has been entirely crafted within the perspective of our contemporary neoliberal political environment. I haven't seen the show myself, but I anticipate that it will have implicit feminist, post-colonial, and social class sentiments.
Downton is the latest in a long history of popular British mini-series exports to PBS, such as 1967's The Forsyte Saga, 1981 's Brideshead Revisited (famously starring a young Jeremy Irons) and 2001's The Way We Live Now, to name a few of the more popular ones. I focus this post on British period piece mini-series because it is my impression that, for the most part, their popularity often outweighs film versions. This is, at least in part, attributed to the constraints of a two-hour format to fit in long novels, and the para-social relationships viewers establish tuning to episodes of a mini-series. I may be off on this last point: I have not done any formal research, but the latest mainstream film adaptation of Pride and Prejudice faded from popular conscious as quickly as it left cinemas, while the 1995 BBC mini-series continues to be extremely popular. This is not to say that Brit-lit period piece films do not continue to be popular – but it is my impression that long-term fandom remains decidedly the domain of Brit-lit mini-series.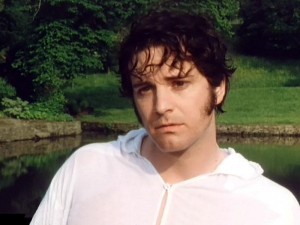 I remember waiting with baited breath for each installment of the BBC's 1995 Pride & Prejudice when it aired on A&E in 1996. I taped the second and third installments of the three-piece series (in the UK it was six-episodes), and watched them over and over again on VHS.  This incarnation of Pride & Prejudice was highly successful, winning a BAFTA and an Emmy, and continues to be widely admired. It has a large following on Facebook (which is baffling, considering that it was released in a pre-Facebook era) and was recently remastered for a DVD released last April, which, according to fans, allows you to see the drops of water on Colin Firth's chest during his infamous bathing scene. That fans are still blogging about a 15-year old mini-series points to its continuing role in shaping viewers attitudes and actions.
We see this materialize as a large base of fans attempts to recreate or participate in customs presented in these period pieces. I see this fandom as different from sub-cultures like Steampunk in that it romanticizes and attempts to reconstruct a precise historical era and way of life, instead of constructing alternate histories or incorporating science fiction/fantasy. That is not to say that period-piece fandom is not entirely fantastical.
Fans of the Regency era gowns in 1995's Pride and Prejudice can order patterns online, and dance at the Bal Masque at the annual Jane Austen Society of North America.  There is a large selection of online clothiers who sell period piece costumes, such as Gentleman's Emporium, and I've observed that these sites seem to mainly offer Regency and Victorian apparel, the usual setting of these period-piece mini-series.  I am not suggesting that this is mutually exclusive (mini-series fans are not all buying costumes and having Victorian tea parties). However, they are certainly related, especially considering that fans' primary visual acquaintance with this lifestyle has been via constructed representations of television mini-series and films.
The market for period costumes, patterns, and other paraphernalia (etiquette books, or ephemera, etc.) is based solely of fans, among which I must include myself, who attempt not only to recreate a past unavailable, but nonexistent. These mini-series construct variegated representations of white, primarily heterosexual, aristocratic life. And though narratives include feminist implications when we see the entailment of estates away from females to male cousins and the like, the dominant patriarchal structure is relatively unquestioned. Tomorrow night's Downton Abbey program has been such a huge success, that ITV has contracted a second mini-series to air in the UK later this year.  Which begs the question, as Downton Abbey's first series is about to premiere on U.S. television, why do these fantasies of bygone eras continue to capture our imagination?