Report From London: Documentary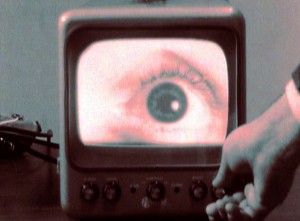 Bridging from last week's theme, another scheduling issue that fascinates me about Britain's primetime weeknight television is the range of genres offered. Whereas American TV nights bring a predictable mix of reality TV, sitcoms, and drama series, you can find all that and more on the main British channels, including soaps, short-run and one-off dramas, sketch comedy, chat shows and panel discussions, cultural features, movies, and every stripe of documentary. As Cathy Johnson, author of a must-read forthcoming book on US and UK channel branding, discussed in a visit to my British TV class last week, the "mixed program schedule" helps to fulfill a public service ideal of reaching different audiences with different needs, and it encourages all viewers to experience types of programming they might not have purposely sat down for.
I'd particularly like to focus on the prominence of documentary programs in primetime for the rest of this post, because I'm quite taken by just how many you can see in one week on the five terrestrial channels (broadcast networks, in American terms). For all intents and purposes, documentaries do not exist on US network television, with the only programming coming remotely close being news magazine shows (which primarily focus on doctors who murder their secret second wives). By contrast, on Monday of last week here, every show in the 9pm slot – the most important hour of primetime – fell into the so-called factual category.
The most compelling of these shows aired on BBC2, as Adam Curtis's poetically titled All Watched Over By Machines of Loving Grace offered the first episode of a three-part series on the dangers of over-reliance on computers. This complex, non-linear hour (more an essay than a documentary, one viewer tweeted) interwove everything from Ayn Rand's objectivism to Monica Lewinsky in arguing (somehow) that the West was driven to financial ruin not just by greed but also misguided trust of computers. Curtis has earned a reputation for such polemical documentary-collages, the likes of which would never pass through the revolving door of an American television channel's corporate headquarters. Of course, this program airs on BBC2, a channel devoted to special interest fare, where its small 5.6% viewing share for the hour is acceptable, even expected.
BBC1's 9pm offering indicated that it's not all erudite, intellectual fare here, as Supersize Ambulance introduced us to a service that transports extremely obese people to the hospital. It wasn't too far off from a TLC-type actuality show, but it was a more thoughtful, informative hour than one is familiar with from commercial TV. Supersize Ambulance earned a 14% share, but it was outdrawn by the 21.6% share for ITV's Strangeways, the final episode of a three-parter investigating life in Britain's largest high-security prison. Channel 4 got a 4.6% share with the third episode of a four-part Gordon Ramsay travel cuisine series, while The Hotel Inspector, with the sixth episode of an eight-part observational doc about renovating rundown hotels, garnered a 7.5% share for Channel 5.
Such factual entertainment remained prominent across the week, highlighted by BBC1's Crimewatch (a sort of Britain's Most Wanted) on Tuesday; Channel 4's 24 Hours in A&E (an emergency room observational) on Wednesday; BBC1's Inside the Human Body and C4's Cutting Edge: Breaking a Female Paedophile Ring on Thursday; and BBC2's Wind Farm Wars (a four part series; four episodes on wind farms!) and Paul Merton's Birth of Hollywood (featuring the career of DW Griffith; DW Griffith!) on Friday.
While public service mandates explain much of this (for instance, ITV is required to air at least thirty-five primetime hours of current affairs programming annually), tight budgets and channel branding also play a role. Post-Big Brother, Channel 4 is known as the home for "fixed camera" observational docs, and as my go-to UK TV expert Faye Woods pointed out to me, Channel 4 has also essentially branded certain time slots, with 8pm for lifestyle or current affairs docs and 9pm for more high profile docs. I'm also intrigued by how Channel 4 treads the line between education and exploitation – and increasingly crosses it, according to its critics – with series like the very popular My Big Fat Gypsy Wedding, the upcoming Bums, Boobs, and Botox (I'm so there), and the pedophile ring show (which was actually more understated about the topic than, say, Dateline NBC would ever be, offering a starkness that I found more chilling than anything Chris Hansen could ever bust in on). Referring to the tendency to include graphic images in shows like Embarrassing Teenage Bodies, a Facebook friend described Channel 4's typical directive to me as, "Under the guise of documentary, we're going to show naughty bits."
Naughty bits also fall under the category of things you won't see on American network television (a topic for a future post), but it's the virtual absence of documentary programming, even the more pedestrian fare which outdraws the Adam Curtis sort here, that truly indicates cultural impoverishment and commercial dominance on US broadcast networks.