Impressions of masculinity in "The Trip"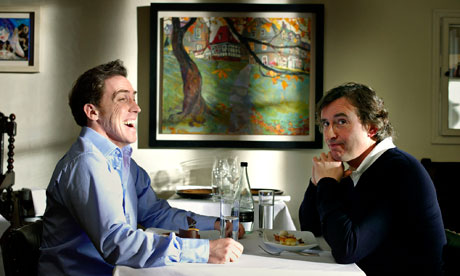 British comedians Steve Coogan and Rob Brydon play somewhat fictionalized versions of themselves in The Trip, a six episode comedy series which aired on BBC2 last fall. If you've been following Christine Becker's reports from London here on Antenna, you'd know that BBC2 is the "special interest" station. IFC Films is releasing an edited version of The Trip as a film next week, and the program will head to the U.S. venue for British special interest high-brow comedy: the local art house movie theater. Michael Winterbottom has said that he always had a full-length feature film in mind for this project, and certainly this is one way of remediating The Trip across the global mediascape. Winterbottom is now able to edit out the more local British cultural references that foreign audiences might not get, which will make for an easier transition across international screens. The Trip has been sold to distributors across Europe, in addition to IFC Films in the U.S., and it will be interesting to see whether this scheme will pan out.
Coogan's and Brydon's relatively unknown status outside of Britain may also been a factor in changing The Trip into a film for global audiences. They are both prominent television fixtures in the UK, and have had successful careers built upon a foundation of stand-up comedy stardom. Hardcore anglophiles and comedy fans might know them from some of their television series', such as Coogan's show I'm Alan Partridge or the program Rob Brydon's Annually Retentive, as these series have small cult followings in the U.S. You may also recognize Steve Coogan from his short appearance in Night at the Museum or Tropic Thunder, and if you are a regular at local art house movie theatre, you have probably seen him in Tristam Shandy and 24 Hour Party People. He is also known for an affair he had with  Courtney Love, but I'm not sure that makes him more distinguishable.  I think it is fair to say that Coogan is virtually unknown beyond the art house and anglophile cult TV scene, while Rob Brydon is most certainly an unknown entity. In teasing out the cultural significance here, it is also important to note how British media possesses a mythic elevated cultural status in the U.S., which is by no means rigid (thank you Amy Winehouse), but nevertheless powerful. Thus, as The Trip travels from Great Britain to America, it transcends taste cultures and national significance as it goes from being a TV comedy starring two nationally renowned comedians playing buddies to an upscale art house farce with obscure actors.
Yet, even as the program changes mediums, some aspects will remain less mutable. Clearly The Trip engages with several elements at the heart of television comedy stardom, namely the unique nature of comic stardom and the intersection of British masculinities and nationalism. The show's premise finds Coogan embarking on a restaurant tour for British newspaper The Observer to cover six restaurants in the film,  (or one restaurant per BBC episode).  He is scheduled to travel around the scenic English countryside and after his girlfriend leaves him, Coogan taps his best friend, Brydon, to accompany him. Hilarity (as well as a barrage of celebrity impressions) ensue. Their character's names are "Steve Coogan" and "Rob Brydon," which points to the unique realm of comic stardom that often involves creating or playing characters based on oneself. As Brett Mills has suggested here, comic stardom is unique because the comedian, often also author, can play "themselves" across a multplicity of texts.  Much of the dialogue is improvised, which makes it impossible to delineate where the characters begin and the actors end.  In The Trip, we understand who Coogan and Brydon's characters are through various meaning drawn from their public personas, and their star text is conflated with the characters they play.  For those unfamiliar with these two men, the story sets them up a bit so that we have an idea of their relative media celebrity.
The film/TV series follows Steve and Rob as they drive through the Lake District and stay at fancy inns, recite poetry and impersonate Al Pacino, Arnold Schwarzenegger, Woody Allen and other famous male celebrities. I cannot quite put my finger on how the celebrity impressions function overall in the narrative, but they seem to act as intertextual markers of masculinity. As Rob and Steve compete with each over who does a better Michael Caine or Sean Connery, their performances both bolster hegemonic masculine icons, as well as themselves. Over and over the banter descends into relentless competition, whether it be singing ABBA or spoofing historical dramas. Physical prowess is exchanged for comic acumen, and The Trip is ultimately a journey into the ethos of male rivalry. Rob and Steve traverse mahogany trimmed dining rooms, green moors and ancient graveyards on a foodie voyage through the lush British countryside while driving a Range Rover. Through witty banter and whiteness, they both exhibit attributes of the quintessential aloof British gentleman. Rob, who plays the beta-male, is also Welsh, so we get some what of a sense of a hierarchy within British masculinity. And as they explore the UK, they also become emblems of British heritage. Yet their heritage is not fashioned from their own experiences, but through their impersonations, it is a post-modern amalgamation of their media savvy and comic expertise. Rob and Steve are performing male drag, really, as they frequently oscillate between performing "self" and performing a famous actor's masculinity.  I imagine that these impressions of well-known celebrities are one reason that The Trip's filmmakers are banking on the success of overseas distributions. Judging from some reviews, however, it might have been better to leave it as a TV show.