What Are You Missing? August 14-27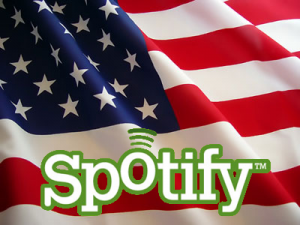 Ten (or more) media industry news items you might have missed recently:
1. Remember how I said in every spring post that Spotify was coming to the US and it never came? Well, wouldn't you know it, while WAYM was away, Spotify finally draped itself in the Stars and Stripes! Not surprisingly, Spotify has started out strong, is on track for its very first profit, and could pose a threat to iTunes. Meanwhile, Pandora says Spotify's launch hasn't affected its service, which despite posting losses is growing in revenue, and Pandora's ad rate potential is even getting into traditional radio territory.
2. Lots of lawsuit and negotiation news in the music biz lately, including a Village People singer suing for copyright credit, artists like Bruce Springsteen getting a shot at reclaiming ownership of recordings from labels, music publishers dropping a suit against YouTube, and AFTRA working on a new contract with labels. The most potentially impactful case for the future of music services came down last week, when a judge ruled in favor of EMI and against the online service MP3tunes but at the same time affirmed the legal foundation for music locker services like the ones Google and Amazon are fostering. The judge decided these services don't violate copyrights, but Peter Kafka says this mainly keeps the status quo for consumers. If you want to see status that is not quo, check out this pie chart animation of recording industry revenue from 1980 to 2010.
3. Another big event WAYM missed on hiatus was the new Netflix plans, and despite a lot of grumbling from consumers, James McQuivey says Netflix is still doing fine. Additional developments at Netflix include a kids' section, rumors of a VOD rental option, and future expansion into Britain and Spain, a country which others have stayed out of because of struggles with piracy. We know DVD sales are plunging, but digital downloads and rentals aren't doing so hot either. Amazon is touting new digital movie deals, but Wal-Mart's Vudu has zipped past it in market share, and Miramax is trying out Facebook, which is now ranked third as an online video destination.
4. The lineup for the Toronto Film Festival, which runs from Sept 8-18, has been released, and indieWire highlights some of the surprises among films that won't be there. This summer's specialty hits included Midnight in Paris and Senna, while The Worst Movie EVER! turned out to have the most prescient title ever, at least box office-wise. Unfortunately the economy doesn't bode well for indie filmmakers, so the Weinsteins are looking to Broadway to make more money, and you can check record stores (if they still exist in your area) to find David Lynch.
5. A Disney executive admitted that studios don't care at all about story when it comes to tentpole films, which makes it extra hilarious that Disney's Lone Ranger reboot with Johnny Depp has been shut down because of a sky-rocketing budget. Same deal with Universal's Ouija Board film. Just a thought: Maybe shooting for a good story would be cheaper. If those projects get cranked back up again, the writers might want to consult Sean Hood's essay about what it feels like to have your film flop at the box office. And apparently the Chinese don't care about story either, because Hollywood is really making a push into that market.
6. According to Nielsen stats, older people are increasingly using tablets and eReaders. That has to be good news for Reader's Digest, which is now on the iPad. It'd be great if the olds would read digital comics too, which are now available via a digital storefront initiative. While some fear that the book's days are numbered, Paul Carr argues that eBooks are helping to make this a Golden Era of books, and he also doesn't see books suffering from piracy issues. eBooks may suffer from over-pricing issues, though, as a class-action lawsuit against Apple claims. But if you want to over-pay for good old-fashioned magazines, there are plenty still on shelves.
7. Big computing news in HP dropping out of the tablet business, which led to a TouchPad fire sale. Plus HP might spin off its PC business, which Erica Ogg sees as a sign we're at the end of the PC era, and others see as a sign that HP is a poorly-run company. Most companies involved in mobile device manufacturing are busy suing each other over patents, while mobile phone users are busy texting and picture-taking, and nearly a third of young adults are busy pretending to have phone conversations so as to avoid talking to nearby humans.
8. Google+ is the new social media service on the scene, which Facebook claims not be worried about, especially since it saw record traffic in July. Some say Facebook really should be worried, as it's in danger of losing even more rich suburban parents. At least it's got the millionaires over Twitter, and the celebrities still haven't found Google+ yet, but all social media still has about 50% of America yet to get on board for anything. Just don't ask all of Germany to get on board with the "Like" button.
9. Video game sales were way down this summer, with July bringing the lowest sales numbers in nearly five years. Sales are about to get even worse at GameStop, which has angered some consumers by yanking a coupon from sealed game boxes after determining it favored a competitor. And a planned videogame museum is on the ropes. At least Xbox Live seems to be doing well, and Angry Birds is headed for 1 billion downloads and even better gameplay.
10. Some of the finer News for TV Majors (@N4TVM) links from the past two weeks: Louie's Magic, RIP iTunes TV Rentals, Summer Viewing Up, TV Ad Problems, British Timeshifting, Fox Defending Wall, TWC Uses Slingbox, Shorter Seasons, Doctrine Gone, State of Network TV, Future Trends, Real Housewives Tragedy, Google Buys Motorola Mobility, Breaking Bad Renewed/Ending.