What Are You Missing? January 15-28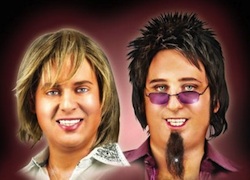 Ten (or more) media industry news items you might have missed recently:
1. One analyst is telling the Hollywood studios to defy exhibitor objections and make early video-on-demand releases of theatrical films happen. Funny or Die likes that idea so much, it's making Tim and Eric's Billion Dollar Movie available online even before it hits theaters. One theater chain has boycotted One for the Money not because of distribution objections; they're mad that Lionsgate made a Groupon deal for tickets. (Just when you thought Lionsgate might not make an appearance in WAYM for once, boom, there it is.)
2. Distribution deals at Sundance have been modest but steady, as buyers forge on despite few of last year's deals paying off. A partnership between a digital exhibitor, Cinedigm, and a veteran distributor, New Video, looks to make possible multi-platform deals for indie films, and there's even now an automated way to submit indie films for distribution consideration. (Bonus link: Sundance awards were handed out last night.)
3. Independent films snagged 60 Oscar nominations (though you'll see in the comments section of that article a debate over what qualifies as independent), but the French indie film Declaration of War got snubbed. Given Fox International's new strategy of investing in foreign films made for their local markets, it seems the major studios could horn in on the foreign language film category someday soon. Once again, there won't be many women at the Oscars for producing, directing and writing awards, as 2011 was a dismal year for female employment behind the camera. The imbalance is even worse in trailer voiceovers.
4. Tablet and e-reader sales are soaring, and about one-third of Americans own some form of e-reader now. And while e-book sales growth has been slower than many predicted, e-book lending is surging. While this seems to spell death for bookstores, some indie bookstores are growing, and African-American independent bookstores in particular illustrate that relationships with the local community are crucial to survival.
5. Musicians are increasingly objecting to streaming services carrying their music, though a Sony exec insists they don't hurt download sales. Either way, we may end up seeing distribution windowing of music soon, and it will also be interesting to see where the RIAA's lawsuit against ReDigi will go, as ReDigi insists it's legal to buy and sell pre-owned iTunes music files.
6. Nintendo's got some challenges ahead: Wii-related sales are plunging, the 3DS isn't selling, and no one seems to know what the Wii U even is, plus the next Xbox will well surpass the Wii U in performance. Meanwhile, Microsoft managed to make a whole theme park out of the Kinect.
7. McDonald's' attempt to encourage #McDStories on Twitter went awry, but the #littlestories campaign has apparently gone smoother. More profoundly, an homophobic hate group's anti-gay hashtag got brilliantly hijacked. Soon, the power of hashtag trending and hijacking will be available to right-to-left language users.
8. Comcast is tops in broadband speed, but has given up on the wireless business, while telecom companies are dumping DSL. A "Super Wi-Fi" network now exists in North Carolina using old analog TV spectrum (thus it's technically not wi-fi) to send signals across a further range, but its future prospects are in question thanks to the spectrum bill in Congress.
9. Google seems determined to violate its traditional "don't be evil" standards lately: the company has been accused of poaching Apple employees, conspiring with Apple and other companies to keep wages low, facilitating illegal pharmaceutical websites, misrepresenting its privacy policy and trampling on privacy rights, and detrimentally limiting access to the Google Maps platform.
10. Some of the finer News for TV Majors posts from the past two weeks: Social Growth, NAB Criticizes TWC, Stealing Downton Abbey, Leno Complaint, Netflix News, More Netflix News, Defending Episodic Viewing, Live & Streaming Audiences Diverge, TV Nudity Clause, Modern Family Placement, Fans Affect Revenge, TV Everywhere Revenue, Piracy Fight, Prime-Time GH, Letterman Booker Fired, NBC's Flaws, New TV Analysis Site.