What Are You Missing? Feb 12-March 3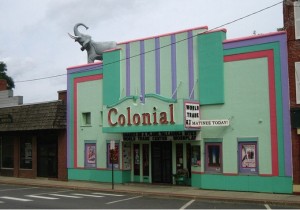 Ten (or more) media industry news items you might have missed recently:
1. There have been a flood of articles the past few weeks about how the conversion to digital projection threatens the future of small, independent theaters, historic movie houses, and drive-ins, and it's been most interesting to see the local news stories about how individual theaters will cope and what the loss of a theater might mean to a local community, in an era when it's already tough to get people out to theaters.
2. Because I skipped a week here, this is old news by this point, but still worth making sure you saw it: Joe Biden helped to negotiate a new deal with China that will allow more Hollywood films into the country, and even independent filmmakers got some bonuses from it. And you know what, I didn't think I was going to get a Lionsgate reference in this time, but while googling for more info on the China deal, I saw that Lionsgate has signed a video-on-demand deal in China. Thanks to Lionsgate, the Chinese will get to see Dirty Dancing whenever they want!
3. Hollywood foreclosures are up, a consequence of new technologies, says Greg Sandoval, and there could be even more empty homes in LA in coming days as new laws requiring condoms are prompting the porn industry to threaten leaving the area, plus porn stars in particular are struggling financially.
4. Netflix has resurrected the Qwikster idea again, offering a DVD-only monthly plan, but unfortunately we don't get to laugh at the dumb name this time around, as it doesn't have any special name. Peter Kafka still sees this as Netflix not really caring about DVDs; indeed, CEO Reed Hastings keeps saying streaming is the end goal. Meanwhile, Blockbuster stores are just about at their end, period.
5. While Netflix is all about streaming, Warner Bros. is looking more to the cloud and to downloadable content. Wal-Mart is looking to help out the UltraViolet system with in-store instruction. And Facebook is looking to start a trend of social cinema by hosting movies on its site.
6. Spotify is still struggling to convince some musicians that their service is financially advantageous for artists, but music label chiefs are starting to be won over. Google Music isn't working out as hoped yet, though, and we're still waiting to see what Apple might offer in a streaming service within the current online music landscape.
7. Video game retail sales dropped significantly in January compared to last year, while social gaming from companies like Zynga, now trying to separate itself from Facebook, is more promising, and kids love the iPad for games.
8. A few weeks ago, I hadn't even heard of Pinterest. Now I could fill a whole WAYM post with links to Pinterest articles alone. Of course, I probably don't need to include them in WAYM because you've heard of nothing but Pinterest lately, but here are a few just in case you've somehow missed out on the Pinterest frenzy: Pinterest's traffic has been huge and user engagement figures are high, especially among women. The service mainly makes money from affiliate links, and there's some question about how much users realize this (and if they would care). Pinterest has been a boon for small businesses, but it perhaps has a porn problem on the horizon.
9. If Pinterest is for women, apparently Google+ is for men. Not that many men, though, as  Google+ continues to languish, unused by most. But some say Google doesn't care if you use Google+ regularly or not. The point is getting you just to sign up so Google can grab your biographical data.
10. Some of the finer News for TV Majors posts from the past few weeks: NBC Wins Sweeps (Sorta), Apple Being Tough, Aereo Streaming Service & Aereo Doomed & Aereo Sued, Fall Pilots & Pilot Analysis, Mad Men Marketing, DVR Use Stats, TV Everywhere,  GOP in HW, Doctor Who Fandom, Google's TV Efforts, Decline of the Episode & More on Episodes, New Comcast Channels, Comcast Going After Netflix, BSkyB's Internet TV Plan.