What Are You Missing? March 4-17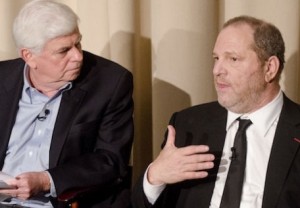 Ten (or more) media industry news items you might have missed recently:
1. The fight over the R rating given to the Weinstein Co.'s Bully is intensifying, and as many rally around the film, it's looking like it will be released without a rating. Getting slightly less attention, as any non-shirtlessness story tied to Matthew McConaughey will, is the NC-17 rating given to Killer Joe for violence and sexuality. Meanwhile, Lionsgate UK (ding!) trimmed seven seconds from The Hunger Games to drop the restricted age limit from 15 to 12.
2. Iran cancelled a planned celebration of Oscar-winning director Asghar Farhadi, with no indication why, but Farhadi still says he loves Iran and will never leave. Well, except maybe to make films, and he thought Paris looked like a good place for that. He might notice while he's there how France has celebrated Oscar-winning actor Jean Dujardin.
3. The Guardian's David Cox says Hollywood is courting older viewers now who don't want special effects-laden blockbusters (ah, so that's why John Carter bombed…or did it?). But theaters are still courting youth and their ever-present mobile phones, and Hollywood is offering any number of ways to watch movies on handheld devices, including wristwatches. (Somehow I don't think a movie-viewing wristwatch is something I should get grandpa for his birthday this year.)
4. Wal-mart announced its "disc to digital" service for Ultraviolet, which could be make-or-break for UltraViolet, but Peter Kafka thinks it will be a tough sell given the various restrictions and inconveniences that come with it. But as a recent ruling against DVD-ripping technology Kaleidescape indicates, restrictions and inconveniences are the rule right now.
5. Nielsen stats say over half of US households have current gaming consoles in the home and gaming on mobile and tablet platforms is on the rise, and it looks like we'll also have a new Xbox as an option by 2013. If we end up unhappy with our Xbox games, apparently we can sue the FTC over them, as gamers frustrated with the ending of Mass Effect 3 have done, though the game's executive producer defends the ending and other perceived failings of the game.
6. More interesting stats courtesy of Nielsen: More women than men are blogging, and just over half of bloggers are parents with under-18 kids in the house. That might be related to why so many are impatient with slow-loading websites. But just imagine how tough it is to be a blogger in one of the Internet Enemies countries.
7. We're not quite sure yet if tablets are hurting e-reader sales, and we're not quite sure yet about how Kindle Singles are selling or how much money authors can make from them exactly, and we're not quite sure yet if the Department of Justice has a case to make against publishers for colluding with Apple, and against Amazon, on e-books prices or even what e-books should cost. But we're getting there.
8. A UK college student is being extradited to the US to face copyright infringement charges for hosting links to pirated media on his website. This is leading to a larger conversation in the UK over extradition laws, reaching all the way to the highest offices in each land.
9. Yahoo is suing Facebook over patents. Facebook says it's disappointed and plans to fight back, though some expect Facebook to eventually settle or outright buy some of Yahoo's patents.
10. Some of the finer News for TV Majors posts from the past few weeks: Luck Cancelled, Community Ratings, 2011 Ad Revenue Down, BBC Downloads, CW Shortens Delay, Return of The Killing, Amazon-Discovery Deal, Viacom Blog, Aereo Countersues, Netflix Branding, Mad Men & Weiner, Pay-As-You-Go Service, Teens Watching More, New UK Channel, Netflix & Apple, Ownership Rule Countered, Death of Cable.