What Are You Missing? March 18-31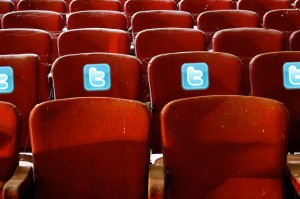 Ten (or more) media industry news items you might have missed recently:
1. The MPAA's 2011 Theatrical Market stats indicate that domestic movie theater attendance continues to decline and not even 3D is helping anymore. Only international attendance offers good news for studios. Theaters are getting desperate, and some are answering some spectators' stated desire to use social media during screenings, even the Alamo Drafthouse (approved screenings only). And live theater is getting into the act by setting aside "tweet seats."
2. DVD rentals are plunging, and internet movie consumption is about to pass DVD consumption, which is a problem for the studios because they don't make as much money online as from DVD yet. Studios insist people still want discs (though different ones for rental and sales), and even though Netflix seems to want DVD to die off, it has just bought the DVD.com domain (perhaps for Rickrolling purposes).
3. Digital magazines are flying off the shelves…er, screens, though digital circulation is still only 1% of total magazine circulation. Unfortunately, some are reporting that magazines look terrible on the new iPad, but people will seemingly keep buying anyway. In the e-book realm, sales are surging, especially among young readers.
4. The RIAA reports that subscription music services are starting to rake in revenue, even as Spotify, whose valuation is growing, extends its free US usage. Indie bands are turning ever more to advertising to bring in revenue, and indie beers are seeking out indie bands. But Weird Al Yankovic is going the old-fashioned route: suing a music label for underpayment.
5. The next Xbox could be a stripped down version, which is interesting in light of the fact that Xboxs are apparently used more now as entertainment centers than game consoles. In terms of mobile gaming, our mobility doesn't go much further than our beds, which means millions are playing Angry Birds Space before bedtime.
6. Racist tweets can land you in jail, profane tweets can get you kicked out of school, Chinese tweets can let you say more (poor Spaniards), and promoted tweets can make people leave Twitter. But movie tweets can't really tell us much of anything.
7. The internet economy now constitutes 4.7% of the US economy, and growing, but a judge ruled that unpaid Huffington Post bloggers don't deserve a cut of any of that. Bots, Democrats, Santorum searches, and stupid AOL sites are clearly vital to the internet economy, though.
8. Nielsen stats and many mobile ad execs say the smartphone race now comes down to Android vs. Apple, with Apple coming on especially strong lately, while RIM (Blackberry) is struggling. We're increasingly using our smartphones, tablets, and computers on airplanes, leading some to call for the FAA to review its gadget policies. Just don't leave your phone in the seat back pocket, or you'll be just another statistic among those who lose $30 billion worth of smartphones each year.
9. Google and Twitter are running into potential censorship issues in the UK in regard to privacy, while thousands of BitTorrent clients are having their identities revealed thanks to a suit against an illegal UK porn site brought by Ben Dover Productions (I couldn't resist adding that detail) and other porn producers. In less dirty (if not sanitary) UK video news, Charlie's family has now banked $500,000 from the viral popularity of Charlie biting his brother's finger (though when you consider that it's the most viewed amateur video on YouTube in the site's history, that doesn't sound like that much).
10. Some of the finer News for TV Majors posts from the past few weeks: Olbermann Out, News Corp Accused of Sabotage, CBC Cuts, Premium Channel Revenue, Dodgers Bill, Cable Ratings Drop, Xbox Update, FX's Risks, End Recaps, Variety For Sale, Smash Will Return, Aereo Likely to Lose, Network News Adds Viewers, Nielsen Measuring TV & Online.