What Are You Missing? April 1-14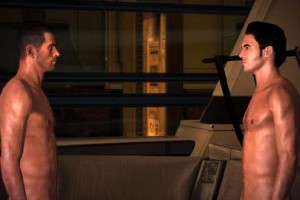 Ten (or more) media industry news items you might have missed recently:
1. EA was voted the worst company in America — even worse than Bank of America! — as gamers perceive it to be greedy — even greedier than Bank of America! This could be Mass Effect ending fallout, or much more than that, and EA is also on the defensive regarding its inclusion of LGBT content in games. The dreaded Family Research Council is partly behind this (actual quote from the group's leader: "In a new Star Wars game, the biggest threat to the empire may be homosexual activists!") But some are accusing EA of exploiting this as a smokescreen to distract from its genuine worst company tactics. I bet Bank of America is happy it merely deals in our money and not our games.
2. Peter Knegt catches us up on how the specialty film box office has done so far this year — in short: not bad, not great — and there's good news in a new indie film distributor joining the ranks called Adopt Films. Adopt foresees revenue ahead in video-on-demand, and those options have just expanded for indies via SnagFilms and Sundance. One just hopes VOD doesn't help indie films online at the expense of local theaters.
3. Dreamworks has hit a rough patch, with Jeffrey Katzenberg losing money, layoffs to 10% of its staff and the resignation of the head of physical production, and the studio hopes a new financing deal with Reliance Entertainment and fewer films under production will make for a smoother road head.
4. DVD rental stores are dying, as we say goodbye to icons like Reel Life South in Brooklyn, while employees at Netflix get to take vacations whenever they want. Netflix has offered info on how its recommendation system works and also revealed it never bothered to use the algorithm it paid $1 million in a contest for because it doesn't really need it, especially in the shift from DVDs to streaming. Poor DVDs.
5. YouTube is becoming a bigger player in online video thanks to a deal with Paramount and a pay-per-view option for live streaming, but Will Richmond questions its future as an online movie rental service. Many are questioning UltraViolet's future, as it may be too late to tame Apple. Meanwhile, Amazon has resorted to juking stats to inflate its streaming reputation.
6. In an era when magazines are struggling and even the mighty NFL could keep one afloat for only four issues, it's interesting to see 52 new magazines start up in the first quarter of this year. A new digital newsstand app could make for a healthy future for magazines on tablets, and newspapers are also getting excited about the tablet revenue model, but there's still a huge gap between print and digital revenue to make up first. One also wonders how USA Today will slip its adaptive mobile app under hotel room doors.
7. 20% of Americans are curling up with e-books, and as many as 67% of libraries are lending them out, yet we've reached a state of uncertainty with the Apple pricing lawsuit. There are also concerns about how Google is treating independent bookstores with its decision to prevent them from selling Google e-books through their websites, and DRM technology isn't helping indies either, while many are still trying to figure out if Amazon is altruistically helping small presses or not.
8. Spotify is stalling in US subscriber growth, but Glenn Peoples says people are disappointed just because their expectations were unfairly high. Plus, despite $60 million in losses, Spotify is expected to rake in nearly a billion dollars this year. It's also looking to spread its influence more widely by offering embed codes for users to put songs on blogs and Tumblrs.
9. At least 20% of American adults are not reading WAYM because they don't use the internet at all. But 61% of US households do have Wifi, so they have no excuse not to be catching up on their media industry news here. If someone were to hack into WAYM, it seems they'd most likely come from China. And Antenna is in good company, because most of the best blogs are on WordPress.
10. Some of the finer News for TV Majors posts from the past few weeks: Execs v. Audiences, More Sitcoms, Freaks & Geeks Walkthrough, Girls Coverage, Sympathy for Showrunners, 2011's Biggest Moneymakers, Pay TV Costs, NEA Cuts Hurt PBS, Connected TVs, YouTube-Viacom Back On, Political Spending, Simon Criticizes Critics, Xbox Xfinity a Go, NBC's Odd Ways, Peabody Awards.