Feminist Media Studies: (In)visible Labor
Over winter break I made fast work of The Larry Sanders Show, which seemed like the kind of program a media studies graduate student should familiarize herself with between semesters. It was an influential program with deep roots in American television history. It shaped the tone and content of HBO's subsequent original programming, as shows like The Comeback and Curb Your Enthusiasm would later use the single-camera sitcom to mock the social foibles of narcissistic entertainers. It also bears its mark on other comedic properties. Much of the talent that appeared on the show were also involved with Saturday Night Live, Mr. Show, The Daily Show, Arrested Development, and The Sarah Silverman Program. There's a throughline between Rip Torn's cantankerous performance as Larry Sanders' producer Artie and 30 Rock's GE CEO Don Geiss. One could also make connections between Jeffrey Tambor's sidekick Hank Kingsley and Ricky Gervais' performance in The Office as vain, needy middle-manager David Brent. And it's no stretch to read both of Bill Carter's books on the war for late-night supremacy and make connections between Sanders, David Letterman, Jay Leno, and Conan O'Brien–the show is in on the conversation.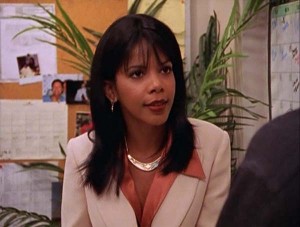 Larry Sanders is also a workplace sitcom, which has its own trajectory that coincides with the development of television as a medium as well as society's shifting identity politics. Thus what resonated with me more was the show's attention toward Beverly Barnes (Penny Johnson), Sanders' efficient, long-suffering personal assistant. Unlike Sanders, who hosts his own show, Barnes' work–which consists of but is not limited to scheduling meetings, booking reservations, intuiting psychological quirks, and mastering interpersonal relations–is invisible. Her success at work is reflected in Sanders' performance, not on its own substantial merits. We can only see how integral she is to the process in her absence or in the instances when the show fixes its attention on her own subjectivity. She's so good at her job that she is often unappreciated by Sanders, who is usually caught up in a personal drama over an ex-wife or social rival to thank her on- or off-screen. The political implications of Barnes' professional invisibility are further exacerbated by being the only black woman in the office, which she occasionally calls out to her employers' (white, male) discomfort. She is also associated with the telephone, technology that often symbolizes women's denigrated labor at home or in the office.
Mad Men–primarily a workplace melodrama that uses advertising as a metaphor for creating television–concluded its fifth season a few weeks ago. SCDP hired its first black administrative assistant after a racist prank backfired and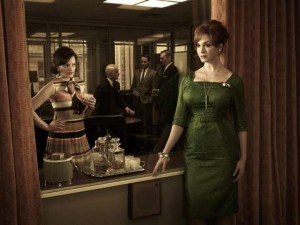 forced the agency to show its hand. Dawn Chambers (Teyonah Parris) may be good at running Don Draper's desk but, in contrast to Barnes and Larry Sanders, even the show (purposely?) has little interest in exploring her acumen or the pride she takes in her work, much less her social life. However, exploring the invisible labor of its white female principals is something the show was interested in from the beginning. In a previous season, copy writer Peggy Olson (Elisabeth Moss) reminds a free-lancer that office manager Joan Harris Holloway (Christina Hendricks) runs the place, which (once again) gets eclipsed by her figure and presumed status as "just" a secretary. Olson fires him for sketching a cartoon of Holloway performing a sex act on someone who essentially shares her job but is assumed to be her boss. Holloway reminds Olson that they can always make another drawing. They can also turn you out if it's decided to be in the company's best interest.
As a feminist media scholar, I am interested in mapping out the professional identities of women who bring music to other mediums as supervisors, licensors, booking agents, and composers. Music became a research interest as it developed out of my own experiences as a fan, musician, deejay, blogger, and Girls Rock Camp volunteer. Though my efforts have been recognized, they have also received a fair amount of derision or condescension (i.e., Rock Camp is "cute")–if they were noticed at all. So I am invigorated by production scholars' tactical explorations of below-the-line labor and production identities that blur the line in an effort to offer up such work for critical inquiry. I am excited to be in a field that takes gender and labor seriously, as evident by Cinema Journal devoting a section of short essays on the subject in a forthcoming issue.
Yet in approaching this work, I am also reminded of a colleague who invoked Foucault in seminar last semester. Borrowing from his musings on the pantopticon, she posited that visibility is a trap. Thus when we go about the work of making production environments, reception practices, texts, and contexts visible and audible, we should be mindful of how we are framing the work behind sight and sound, the political implications behind this work, and the responsibility placed on us to challenge that work rather than essentialize or distort it through our own (mis)perceptions.
I realize the potential clumsiness of using two fictional characters as illustrative examples of invisible media labor. Johnson and Hendricks are actresses and therefore firmly above the line. Studying representation was my way into media studies and watching these characters confront and negotiate racist, sexist, and misogynist workplace behavior while conducting personal lives influenced my research. But the laborers we interview aren't always working from a script. So in designing research projects, conducting interviews, sketching thick descriptions, and preparing manuscripts, we must always remember that in our quest for visibility we must think beyond the page and screen.