Ex-Pat TV: Technologies of TV Away from Home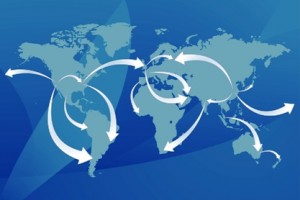 As media scholars, we increasingly find ourselves living abroad for periods of time, either doing research or working in universities outside our home countries. While for some, this can be a thrilling research opportunity, for others it can be frustrating to be separated from both research material and TV pleasure by international licensing agreements that don't seem to be keeping pace with the culture of an on demand global internet. As an American recently moved to Ireland but continuing to study and write about American culture and television, I fall into the latter camp, and thus have been searching for the best technologies to watch Ex-pat TV.
The following is a list of some of the technologies I either researched or tried out. I hope that these either help others connect to the TV they're missing or inspire readers to post their own experiences with or suggestions for getting TV while away from home. A side note: some of the technologies listed below require negotiating ethics and legalities, others less so, although none would likely be greeted with enthusiasm by American television executives.
Bit Torrent—Invented in 2001, this is, by internet standards, an ancient file-sharing service that most readers are probably familiar with. Its advantages are being well tested, having lots of users, and often providing the quickest turnover from airdate to streaming on your computer. The downsides are that relying on file-sharing isn't the safest thing for your computer, and in May 2011, 23,000 BitTorrent users were, according to Wired magazine, the subject of the biggest file-sharing lawsuit to date in the US. Despite the problems, BitTorrent is the best known and most-used of the semi-standard pirating—er… sharing—sites or services.
Streaming Services—Various streaming services from Netflix to iTunes or Amazon have the advantage of being perfectly legal. The downsides are pretty much everything else. iTunes is hugely expensive at $2.99 an episode for current half-hour or hour-long network shows (Modern Family and The Good Wife, for example) or $49.99 for an HD season pass, $38.99 for an SD season pass. Programs from premium channels are only available for past seasons, and there's no guarantee of finding your show if it's more obscure. Amazon.co.uk doesn't offer the streaming services available in the US, and Amazon.com blocks streaming outside the US. Netflix in the UK and Ireland, while having racked up an impressive million users in the short time since its launch in early 2012, has a very limited catalog.
Slingbox—This requires you to have a friend in your home country willing to connect the sling box to his/her TV set. Basically, Slingbox gives you access to your home DVR on your computer or any other device connected to the internet. It works extremely well, and while it's a US company, you could probably connect it to a TV in any country. The boxes cost between $179.99 and $300, and the newest box, while top-of-the-line, mostly looks hard to stack with all the other black boxes that are probably connected to your TV.
AmericanTV2Go—This service essentially charges you a monthly fee for access to a centrally hosted Slingbox. I used the free trial and it was great, but ranging from $49.99-$99.99 a month, too expensive to continue regularly, especially on top of a local cable subscription.
VPN Clients—This is what I've settled on as the best for me. Most U.S. colleges and universities have a virtual private network that you can set up so that you can still log in to your school's server and access your virtual learning environments, shared files and library subscriptions on days you work from home. If you're abroad temporarily, you can use your home university's vpn and connect to the internet in your home country, giving you access to any streaming content available there. If that's not an option, for $7/month, companies like Strong VPN will let you log in to a vpn in another country. Strong only has networks available in the US and the UK right now, but for a bit more per month, PC-Streaming offers networks in Canada, Australia, and several European countries; you could likely find similar services connecting you to wherever your home country is.