Midwifes and Melodrama: Call the Midwife & PBS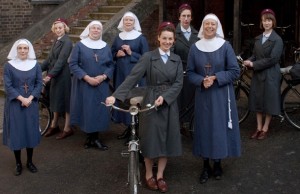 PBS perhaps hoped that BBC1's Call the Midwife could be their next big hit, following on from the success of ITV1's Downton Abbey. After all Midwife was BBC1's biggest new drama in a decade, bringing in nearly 9m viewers a week (more than season 1 of Downton). This 1950s period drama was adapted from Jennifer Worth's popular memoirs of her time as a midwife in the tough post-war East-End of London. These young women worked for the newly-formed National Health Service supporting the community and deploying advances in medical care. Midwife's UK success could be connected to a televisual boom in maternity stories following Channel 4's hugely popular fixed-camera documentary One Born Every Minute. It also offered a rare female ensemble on British TV, with the midwifes working alongside local nuns to supporting the community's women. Not since perhaps Cranford (a BBC period drama also adapted by Midwife's Heidi Thomas) had we had this density of ladies in one drama.
The show turned from the usual Sunday night period travails of the upper classes to chronicle a primarily working-class community living in overcrowded tenements, where children played in bombsites and washing was strung across the streets. However, the community was presented through the eyes of the middle-class midwives, with new arrival Jenny as our protagonist. This world was also served with lashings of sentimentality, the odd quirky nun and comedy pratfalls off bicycles (utilising the comedic skills of sitcom star Miranda Hart as the bumbling, frightfully posh Chummy). This is 1950s poverty spit-shined and filtered through a warm golden glow – even a Catholic home for unwed mothers is all white light and a kindly priest (until they wrench the baby from its hysterical teen prostitute mother). There is abrasiveness alongside the comforting nostalgia – brawls on the street, unwed mothers, rotting housing, deaths in childbirth. But the midwives are our focus, the births and mothers come and go. As Willa Paskin at Salon noted, this is a medical procedural; we deal with the dangerous birth of the week, the midwives move on. But this is also part of its pleasure – these are young women with careers, occasionally saving lives, not sitting around in drawing rooms waiting for someone to marry them.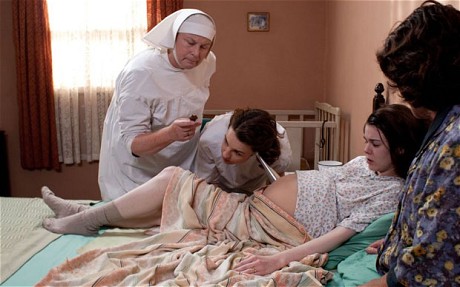 But why didn't Call the Midwife's British success translate to PBS? Though it had solid critical praise, particularly for Hart, the lack of twitter buzz was marked after its decent 1.5 million premiere. I'd like to make a few suggestions, the first being politics. US critics seemed uncomfortable with its depiction of the NHS – Mo Ryan suggested it 'strays into almost comical propaganda now and then', whilst the New York Times felt 'at times the series sounds like a public service ad, extolling the benefits of the system'. Interestingly, Bitch magazine used Midwife as a framework to talk through public health issues in the run up to the election ('What Nuns Know about Reproductive Justice' is perhaps my favourite headline about the series).
For all of Mdiwife's tendency to marginalise the working-class point of view, this is a progressive history demonstrating the gains made by 'socialised medicine', to use the menacing US term. So is there a certain degree of distance, is not a collective history easily transferred for US audiences? (Perhaps its soft-focus post-war urban community also fits awkwardly with the nostalgic US national imaginary of the 1950s as a middle-class small town?). It is useful here to bring Downton Abbey back into the mix, and whisper that maybe America just prefers its British period drama conservative? For all its lip service to progressive stories, Downton maintains a strong conservative ideology and belief in the class system. It may well chronicle the (relatively cushy) lives of Downton's staff, but for its writer Julian Fellowes (married to a duchess, recently made a Lord by the Conservative government, for whom he is a high profile donor) a good, sympathetic working-class person is one who is quiet, loyal and knows their place.
 In addition, the urban setting of Call the Midwife cannot compete with Downton's display of British heritage in a series of dully-composed wide shots (when in doubt, cut to a shot of the house) made possible by co-funding from NBC Universal. I'd also suggest that Call the Midwife lacks the romantic melodrama of Downton – Jennie is a touch dull compared to Lady Mary's repressed yearnings. Yes, melodrama, as underneath its surface veneer of 'quality,' Downton is popular, soapy entertainment from the UK's biggest commercial broadcaster, where it sits next to X-Factor (though Fellowes could learn a lot about dialogue, serial storytelling and trusting your audience from the UK soap operas). At heart it is Gainsborough rather than Austen, with the Guardian episode blog awarding the 'Golden eyebrow award' for the week's best aghast reaction shots. In Midwife the melodrama is focused around the births and deaths, rather than the interpersonal storytelling (though Chummy's tentative romance is a delight). Whilst it offers a more skilled televisual storyteller in Heidi Thomas, Midwife lacks Downton's heightened, messy, soap opera and sumptuous celebration of aristocracy. Poverty, sweat and tears kind of harsh the buzz, no matter how prettily it's turned out.