Half the Battle? Envisioning Citizenship in "Whole Again"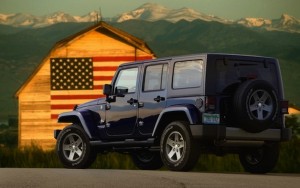 "We wait.  We hope.  We pray."  So promises the title card for Jeep's 2013 Super Bowl ad, "Whole Again."  Featuring Oprah Winfrey's epistolary voiceover to deployed American troops, this 2:00-minute spot vows that America will be and recognize itself as incomplete until all troops have returned.  Although the ad went viral, garnering over 1,000,000 views in the day following the game and more than 7,400,000 to date,  early reports indicated that the advertisement did not achieve its instrumental aim; it did not appreciably increase consumer 'vehicle consideration.'  But while failing to sell SUVs, the commercial offers visions of wartime American citizenship, embodied in three characters: the forlorn dog, the crying wife, and the praying child, with whom spectators are hailed to identify.
Oprah ventriloquizes the sentiments of the American nation ("we") toward its military personnel ("you").  A gauzy montage of domestic scenes that begins during deployment and ends with homecoming, "Whole Again" represents absence through family rituals that are conspicuously incomplete.  One parent seated beside an unoccupied seat watches a school basketball game, dinner is served over an empty chair, a father struggles to button his daughter's sweater, a mother strokes her sleeping child's hair while gazing across the bedroom at her husband's framed photograph.  Everyone seems to be staring sidelong into the distance, beneath Oprah's voiceover and orchestral music.  Jeeps appear only at the end, as the vehicles military personnel drive home to where 'we' wait.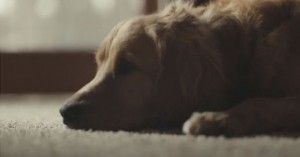 On our behalf, Oprah promises a list of pleasantly quotidian experiences that await the soldier upon returning, like a family dinner and a warm bed.  She vows, "there will be walks to take."  At this, a golden retriever, who had been looking expectantly off-screen drops his head to the floor dejectedly, but determinedly.  Rather than getting up and walking away, the dog enacts a faithful version of citizenship, maintaining a vigil despite being lonely or impatient.  This is a calm, durable loyalty, rather than a frenetic form of grief that might verge on something messy or unwieldy.   The commercial maps the shortest route to our fondest, dogged desire as the deferral of gratification.  Like the dog, we are bereft, but the appropriate expression is not a sadness that might devolve into anger at the state or its foreign policy, but quiet and steady forbearance.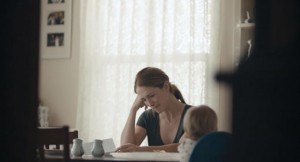 But if lying around on the carpet seems too passive, Oprah also makes clear that other things happened during the soldier's absence.  The happy familial future is guaranteed simply "because in your home, in our hearts, you've been missed, you've been needed, you've been cried for …"  Now, we are a pretty young mother ignoring our toddler in a sunlit kitchen, wiping away our tears while reading a letter.  Contextually, the most obvious explanation for her sadness would be that her husband had been killed in action, but the commercial does not even acknowledge such a possibility.  It promises a safe and happy return, but on the condition that we all do our parts (including crying) at home to ensure it.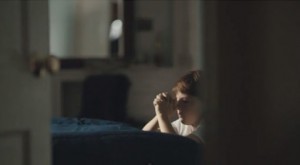 While we are crying as her, we are also praying as a red-headed boy kneeling beside his bed, doing his part to confirm that you've been "prayed for," too.  We are fervent in close-mouthed prayer, and the next time a soldier appears after that, he is looking down at a picture of a pretty woman on his dogtags, sighing; then the door of a Jeep closes, presumably around someone homeward-bound.  The arc of the montage suggests a causal connection between missing / needing / crying / praying and this outcome.  The narrative posits that it would be impossible to do anything more, dangerously tempting of fate to do anything less.  The childish praying that 'we' are doing is, presumably, simply for a safe return of the people that we love, but this, of course, is not a remedy for circumstances that require their absence in the first place, or that might take them away again for another deployment.  Instead, this is citizenship as superstition.   "Whole Again" oscillates wildly between visions of unbounded agency (we, alone, can prayerfully facilitate the return of our loved ones – no mention even of the God to whom we might direct our entreaties) and acknowledgments of radical constraint (all we can do is sit at the table and cry).
Finally, as Jeep-encased service members speed down flag-lined streets to their loving families, Oprah makes a cryptic claim.  "Half the battle," she professes, "is just knowing this is half the battle."  But there is no clear visual referent for what this is; the quick cuts between a Jeep driving along a rural road, uniformed soldiers disembarking a plane, a woman overcome with emotion amount to nothing.  I'm perplexed by this ending, and no one else among the dozens I've shown this to has been able to decipher it either.  Perhaps half of "half the battle" is figuring out what this is.  That inscrutability might explain the failure of "Whole Again" as an advertisement, but it also, if quite accidentally, captures the uncertainty that characterizes this form of wartime citizenship, where so much is nonsensical but also, apparently, necessary.