What Are You Missing? Apr 28 – May 11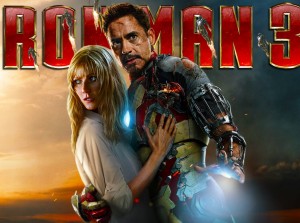 Ten (or more) media industry news items you might have missed recently:
1) This installment starts with news that that I'm sure no one missed. Iron Man 3 made its worldwide debut, but all eyes were on China, which put up a respectable $21.5 million on opening day. In North America, our $68.3 million opening day brought IR3 within striking distance of a half-billion dollar box office after less than two weeks of release. Keeping all of that in mind, can you really blame RDJ?  But life's not all about the Benjamins, friends. Apparently, Tony Stark is doing good business ("business"?) among pirates, who elevated IR3 to #3 on TorrentFreak's list of the most illegally downloaded films. Haven't seen the movie yet? Here are some other ways to enjoy the atmosphere: becoming Iron Man, keeping up with Robert Downey, Jr., on Sina Weibo, or basking in RDJ's charisma.
2) Speculation about NeXtBox – can we make this a thing? – is picking up ahead of a launch event set for May 21. Exact details about the release date, price, and specs are yet to be revealed, but as I get on in years, I find what matters most is that I be allowed — encouraged even — to play alone. What do we know about NeXtBox? Well, apparently it supports a projector system capable of making you wish that you didn't have so much furniture. Don't invest in a blank wall yet, however; Illumiroom may not be ready for Microsoft's next-gen rollout. If you're not on Team Microsoft, there's always the PS4 to look forward to.
3) The future is arriving at the speed of time, and next-gen gaming systems are just the start. San Francisco played host last week to the first NeuroGaming Conference and Expo, where "ineluctable modality" was just a string of cool-sounding syllables. Commercial potential for games that track player heart rate, brain waves, pupil dilation, and a host of other physiological data is still slight, but Google Glass may help start-ups find a direction. We all saw Strange Days, right? Less pie-in-the-sky are developments in controller design. Thalmic Labs' Myo promises "effortless interaction," bringing us all one step closer to living out our childhood fantasies or five steps closer to saying, "Remember when…?" Also, this exists.
4) Let's pretend this is a surprise. Google Glass is coming, presumably for people more interesting than myself, and some of the source code has been released, so developers have been put on notice. What are the possibilities? Where to start: wink-based photography, making Vine videos, making and uploading YouTube videos, ARG gaming (a covert valorization of early adoption?), Facebooking, and updating your software. But it's not all sunshine and rainbows; get a head start on worrying about surveillance, privacy, basic social interactions, keeping expectations realistic, and not looking like a jerk. And you don't have to be excited about the tech itself to enjoy the ad campaign. White Men Wearing Google Glass has made a game of tracking down the instrument's target demographic. So far, though, I'm most concerned about a different set of would-be users. Finally, I'm going on record. Google Glass is still only playing second-fiddle. The Large Hadron Collider (or any particle accelerator) exists; for the rest of us, there's Google Glass.
5) First, some context: The Syrian Electronic Army has been around the digital block a few times, becoming something of a nuisance for high-profile critics of the Assad regime. The group's latest target was The Onion Twitter account, where it posted a number of pro-Assad and anti-Semitic tweets just because they couldn't take a joke. The Onion responded as you'd expect: one news story poking humor at the hack and another announcing tighter security. (When connectivity is a weapon, I feel compelled to point out that feelings of levity should be brief. See the end of the WaPo story for evidence.)
6) How are things at DreamWorks? Awesomeness abounds.  It's overflowing even, so they've sent some to China. But is 'awesome' for DreamWorks 'awesome' for everyone? It may be for a selection of YouTube content providers. Subscription channels are coming. Big Bird may be involved, but WWE isn't biting (for now?).  As much as things change, other things remain the same…unless this happens. That would be a fairly significant development.
7) Netflix's streaming service lost almost 1,000 titles on May 1. Users and the media took to calling the event Streamageddon, but I was partial to Apocaflix. Netflix (see, it's right there in the name!) has begun testing new layouts, which makes me wonder if Facebook has conditioned us to complain. Then again, Netflix has its competitors to think about, and they do seem to be cropping up. If the market gets tight, there's always money in the banana stand.
8) A smattering of stories about trademarks and copyrights… Instagram has the dubious honor of having its name informally tacked to recent British copyright legislation. Do you think Warner Bros. performed a "diligent search" before being sued for its unauthorized use of Keyboard Cat and Nyan Cat? Barry Diller is calling broadcasters' bluffs over Aereo, and Fox is doing its best Shredder impression, claiming the court battles are just beginning. For what it's worth, Aereo is taking steps to keep that from being the case. Also, who has the heart to argue with Harper Lee? If Gregory Peck were still around, I bet he'd get involved.
9) What's killing cinema? Steven Soderbergh has the answer. "[F]ive and a half hours of mayhem," you say? It sounds so Shakespearean, but I expect it signifies more than nothing. Don't worry about Soderbergh, though, he's got a Plan B, available for your enjoyment here.
10) What else is there to talk about? Rest in peace, George Jones, Deanna Durbin, and Ray Harryhausen. In case you're unfamiliar with any of them, here's the greatest country song of all time (by some accounts), an appreciation and analysis of fan appreciation for Durbin, and a primer on Harryhausen's work. (The pay wall won't block the videos, so click on through!) Ender's Game is on the way. To my father's great shame, I've never read it. As for Mr. Card, he depresses me too much to make a joke. Star Wars day happened. Nielsen says welcome to the family. And get ready for some AIP remakes!
11) What?! That's right. ELEVEN! One extra for the art and science that caught my eye. Here's a stop-motion movie using atoms as pixels, meaning there's at least one digital format with resolution superior to 35mm film. Roger probably would have stood his ground on this one. I know people who actively change the typeface of their handwriting every few years. Earth driving is easy. The mysteries of the cosmos are out there to be discovered, but don't forget that people can be pretty gosh darn cool, too.