Inspiring Fans at LeakyCon Portland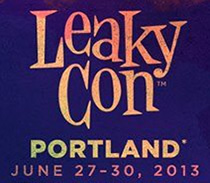 This is the fifth of a seven-part series about the 4th LeakyCon convention held in Portland Oregon June 27-30, 2013.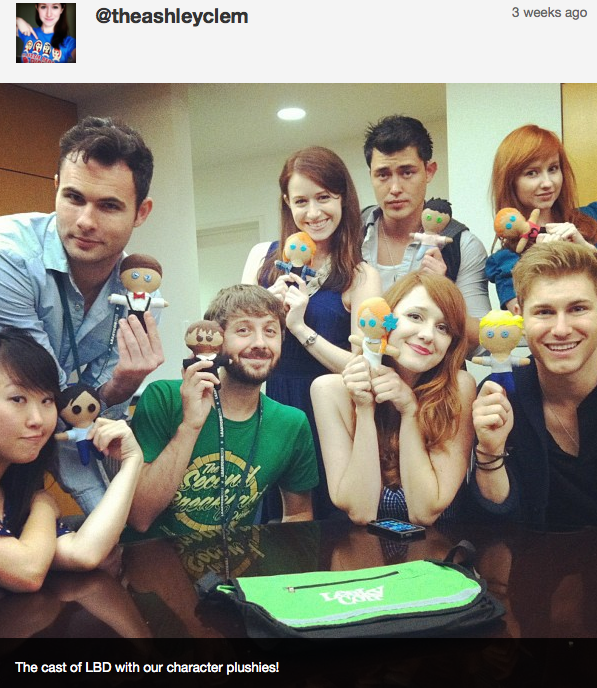 Much of our writing about our LeakyCon experience so far has explored a perceived blurring of previously assumed cultural categories at play in LeakyCon, including a destabilization of identity categories, a merging of fan, geek, and nerd in a general celebration of "awesomeness," and a conflation of niche and mainstream, subcultural, and pop cultural. In my previous post, I spoke specifically about a blurring between celebrity and fan that permeated many of my LeakyCon experiences. I focused primarily on the ways in which stars positioned themselves as fans by demonstrating their fannish cred.
But performing fannishness was not the only ways stars blurred the line between fan and celebrity and destabilized the fan/celebrity relationship. They also frequently expressed their love for and awe of fan creativity and fan investment. They described fan creativity as similar to their own experience as budding artists, and talked about the way in which fan work has inspired and influenced their current creative endeavors. At a panel for press questions, I was able to ask the cast of The Lizzie Bennet Diaries about their responses to the fan creativity elicted by the web series. The cast's replies emphasized the way in which the creative work of fan production felt humbling and awe-inspiring to the actors, and also reflected their own experiences as aspiring cultural participants and artists. Ashley Clements, who plays the series' title character, talked about how she was herself inspired by the creative inspiration fans drew from the web series: "I mean it was always incredible when our show inspired people to make anything, from fan art to fan fiction to videos and to all the dolls and anything. It was just inspiring that we inspired them to make something."
In a similar vein, Daniel Vincent Gordh (William Darcy in The Lizzie Bennet Diaries) talked about the impetus behind fan work as akin in spirit to the type of creative calling that inspired the cast members to be artists.
We all have things like that, art (that)… inspired us at some point during our development… in such an impactful, deep way… that it inspired our creativity, and I think is the reason that we're doing this… I think that this is part of the general nature of art and how it operates in our society. But there was the part of awe that *we* were the ones doing this, it's … a kind of a coming of age, almost, for me as an artist at least to be like "oh, and now I've gotten to a place where we're able to release this and it's continuing the cycle."
Gordh's words cast fans and actors as similarly artistic and creative minded but perhaps at different stages in their realization of (or professionalization of) this creativity. While this might suggest an erasure of the differences between professionalized creative labor and fandom's logics of the gift economy, wherein fan artists don't necessarily strive to become professional artists, I did not sense an overriding assumption that all fans want to be professional artists or are only at the beginning of their path to do so. Rather, fan creativity and professional creativity seemed to be recognized as concurrent and complementary modes of cultural expression in contemporary popular culture.
The most memorable story I heard over the whole Con was in Mary Kate Wiles' response to my question about fan work. (Wiles played Lydia in The Lizzie Bennet Diaries; I've written about Wiles' web series work and relationship with fans here.) She described an instance in which a particular work of fan creativity directly influenced her own performance choices in a key episode in LBD:
My favorite experience, along with seeing fans talk to the characters on twitter or whatever, was that on the morning that we were to shoot the episodes when Lydia finds out about the sex tape and is recovering from that, I found a fan fiction that was about Lydia and Wickham's relationship. And I read it that morning, and it was so much like what I had pictured in my head, and in it Wickham gives her a necklace. And because I had read it that morning and was going to shoot that afternoon, I ended up picking a necklace that was to be from him. And that was such a crazy thing for me to experience, having made work that made someone else make something that then inspired me… how cool is that? That you're getting to interact with your audience in a way that contributes to your own storytelling. I think it's just so beautiful, and it's something that you don't really get to do, ever. You don't get to do that on a movie or TV show. It's wonderful that we've gotten to experience that.
I find myself quite compelled by this story, most especially by the notion that a piece of fan fiction could directly influence a small but significant detail in a source text. We all know of stories of fan fiction premises that have surfaced in official productions, both with and without the consent of the fan authors. But this instance, the way it was framed by Wiles, seems much more a personal response to a piece of fan artwork, in turn embedding a personal detail into a larger production in a way that isn't even necessarily meant to translate to viewers. This anecdote offers a landscape that personalizes fans and actors as creative interpreters working together to weave popular culture, one web series/plot interpretation/wardrobe detail at a time.
For more on LeakyCon 2013, read:
– Part one ("Where the Fangirls Are")
– Part two ("On Wearing Two Badges")
– Part three ("Fans and Stars and Starkids")
– Part four ("From LGBT to GSM: Gender and Sexual Identity among LeakyCon's Queer Youth")
– Part six ("Redefining the Performance of Masculinity")
– Part seven ("Embracing Fan Creativity in Transmedia Storytelling")