What Are You Missing? Aug 5 – Aug 18
Ten (or more) media industry news items you might have missed recently.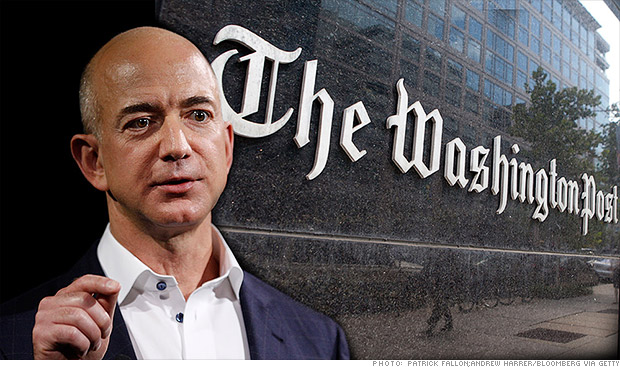 1) Granted, you probably didn't miss our top story, as the news of Amazon founder Jeff Bezos purchasing the Washington Post for $250 million was all over the media. It is important to note this is a personal buy, as the Washington Post will be a part of Bezos's personal portfolio unaffiliated with Amazon.com. The large reaction to the story stems both from the possible creation of a new media tycoon as well as the history of the Washington Post, a family-controlled newspaper with a storied history of investigative journalism, most notably the Watergate scandal. While Bezos has said he will take a hands-off approach in the day-to-day operations, tax incentives and write-offs could force him to take more direct control. With Rex Sox owner John Henry buying the Boston Globe, you might be thinking of buying your own paper; however, The New York Times wants you to know they are not for sale. And from the tales of "Be Careful What You Read," Chinese government-run news agency Xinhua claimed Bezos purchased the Washington Post by accident while browsing the web, a 'story' appearing in The New Yorker's satirical Borowitz Report.
2) Next, our report from the front lines in the never-ending war between Time Warner and CBS over retransmission fees leading to Time Warner's decision to blackout CBS in New York, L.A. and Dallas which could extend into September. TWC threw a PR strike, claiming they offered a new a la carte option for customers wishing to get CBS, an offer CBS CEO Leslie Moonves called a "public relations gesture," a "well-wrought distraction," and finally, a "sham."  Another TWC letter raises issues with what it calls CBS's policy of "coercive bundling" with premium channel Showtime, as well as blacking out access to CBS.com from TWC internet users. The casualties of the blackout for CBS, according to analysts, could range around a loss of $400,000 per day, not bad enough for investors to run away. TWC, on the other hand, is feeling the hurt in the PR war, as their perception score on BrandIndex fell after initiating the blackout. But what about us, the people and our beloved

CBS shows, the collateral damage? Well, a class action suit has been filed by TWC customers in Southern California who are seeking recovery of fees paid for missing Big Brother, Dexter, Ray Donovan, and the PGA Championship. But other would-be victims rise above in times of media strife, as piracy of Under the Dome has seen an increase since the blackout. KEEP CALM AND PIRATE SHOWS. (NOTE: The writer of this post and the folks at Antenna do not condone piracy. This is a joke in the vein of the above wartime metaphor.)
3) Turning to CBS predecessor Viacom, showing that cooperation can be done as they have struck a new tentative deal with Sony for an Internet-TV service. The deal would allow content on an in-development Sony service that streams live television, which could launch as soon as the end of the year. The deal would be a boon for Sony, who is launching their new gaming system, the PlayStation 4, this holiday season in direct competition with Microsoft's XBox One, with its own slew of television-related content. Analysts are seeing this as a possible start to a new era in competition for cable and satellite providers, as consumers are given another option for content, but this time with access to it live.
4) In international news China will resume payments to U.S. film studios from Chinese box office revenues after a dispute over a WTO-violating tax hike. MPAA chairman/CEO Christopher Dodd made the announcement, signaling the end to the dispute as well as the beginning of payments owed by the Chinese government for over a year. So while China is paying U.S. movie studios, there is no word on when the U.S. will start paying China back for that $1 trillion or so from our debt…
5) Speaking of U.S. politics, GOP chair Reince Priebus threatened to deny 2016 debates to both NBC and CNN after it was announced both networks were planning to air programs (a miniseries and documentary, respectively) about Hillary Clinton, he stated in letters sent to both Robert Greenblatt and Jeff Zucker (and reposted to the GOP website). After neither channel budged, the GOP officially voted to ban 2016 primary debates from NBC and CNN, later releasing the text of the resolution. In a related story, it is currently the year 2013.
6) After the NCAA dropped its licensing deal with EA Sports over inclusion in its yearly college football video game, three of the biggest conferences in college sports (SEC, Big Ten, and Pac-12) have announced plans to do the same. Each school, conference, and of course the NCAA itself make personal deals for licensing of team logos, names, and other trademarked material, so although each can make their own decision, many are following the NCAA's and conferences' lead. The moves not to license come as the NCAA and individual schools face mounting litigation from former and current student-athletes over the use of likenesses without compensation, a cost that seems to outweigh the income from licensing.
7) Another quick story from the world of video games, as American Express and popular online game League of Legends  have announced a partnership that will see the release of prepaid credit cards that not only feature imagery and characters from the game, but allow a user to gain in-game currency (called Riot Points) by activating and loading money onto their card, essentially encouraging use of the cards to better one's abilities within the game.
8) A new research report has found an increase in the rate of cord-cutting, noting the "numbers aren't huge, but they are statistically significant." Cable operators Comcast and Time Warner have been hit hardest by deserters as pay-TV subscribers have been shrinking overall. Recent financial results from Canada show the trend happening 'up North,' as well.
9) Following in the footsteps of After Earth and White House Down, Jerry Bruckheimer's The Lone Ranger will join the list of bombs of 2013's summer as Disney is expected to lose up to $190 million on the blockbuster, despite coming out ahead of predictions in overall earnings for the quarter. What makes this news particularly interesting is that stars Johnny Depp and Armie Hammer, as well as Bruckheimer have blamed critics for the film's failure, implicitly making the bold claim that people actually listen to critics, despite Grown Ups 2′s financial success/critical panning.
10) StePhest Colbchella, the annual music celebration on Comedy Central's The Colbert Report hit a snag when scheduled performers Daft Punk cancelled only a day before their scheduled appearance due to a contractual exclusivity agreement with fellow-Viacom channel MTV to (secretly!) appear on the Video Music Awards next week. While some questioned whether this was planned all along, Colbert addressed the controversy with notable aplomb.
11) Finally, a silly story with a headline so perfectly descriptive, I will let it speak for itself: U.S. Battling Dictator's Son for Michael Jackson's Glove.