Change and Continuity on Saturday Night Live
Many regular visitors to this site are likely familiar with the vicissitudes of media scholarship's slow publishing schedule.  What might seem like an incredibly important political or pop cultural happening one week can seem hopelessly outdated by the time it reaches print dozens of months later.  When my co-editors and I were debating the topics around which we would craft the introduction for Saturday Night Live and American TV in the spring of 2012, we agreed that fewer impactful things happen to/on SNL than the departure of stars and a presidential election cycle.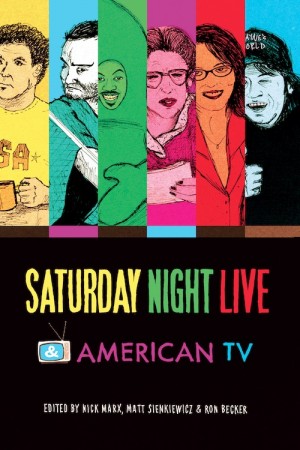 To be sure, Kristen Wiig, Andy Samberg, Barack Obama, and Mitt Romney are not (all?) "Gangnam Style"-irrelevant over a year later, but few could have predicted how much more turbulent the new 2013 season would be for the show. In addition to the above-mentioned, gone are reliable everymen Fred Armisen, Bill Hader, and Jason Sudeikis. And when "Weekend Update" co-anchor Seth Meyers takes over Late Night early next year, as Splitsider notes, the remaining cast members will all have been born after SNL's halcyon premiere year of 1975.
But you know the old saying: the more things change, the more they ObamacareshutdownDrunkUncleMileytwerk. Few television shows are as simultaneously resistant to and reliant upon rapid changes in casting, news cycles, and zeitgeists as Saturday Night Live, an ontological ebb and flow that owes largely to its liveness.  The first two episodes of the show's new season capture this dynamic perfectly.
The season premiere began with a cold open addressing the political theme of the week, a routine the program began at roughly the same time Jon Stewart proved the demographic utility of mixing comedy and news.  Host Tina Fey's subsequent monologue lightly hazed the five new cast members in order to set up that most SNL-iest of sketches, the gameshow whose premise wears thin right after its title card.  "New Cast Member or Arcade Fire?," however, seemed less about further embarrassing freshmen cast members than it was about reminding them (and viewers) of the show's proud place in the American television heritage.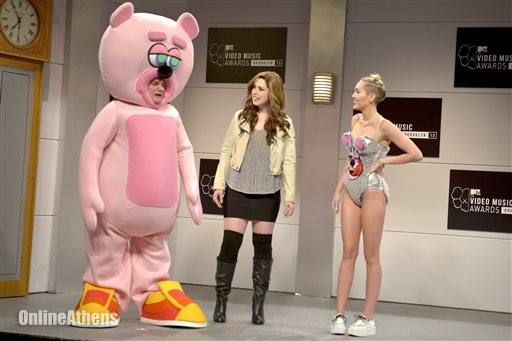 If SNL's season premiere re-asserted its right to self-importantly navel gaze, last week's Miley Cyrus-hosted follow up found the show manically reaching outside its comfort zone for relevance.  With more familiar faces behind the impersonations, sketches like the "50 Shades of Grey Auditions" or the Piers Morgan Live parody might have felt a little less slapdash. Instead, the episode struggled to turn its instantly dated cultural references into a proper showcase for both the veteran and new performers.
Certainly, given the dearth of competition at the timeslot combined with the growing size of its cultural footprint, SNL isn't going anywhere despite a pretty forgettable start to the season.  What is clear from the early returns, though, is that this season marks one of those once-a-decade changings of the guard.  The show will additionally have to find an original way to engage with digital media culture, and it cannot continue to ignore its absurdly high quotient of white dude-ness.  Yet for all these changes, SNL will return this weekend, putting forth an effort very different from, and yet somehow fundamentally similar to, what it has offered for almost 40 years.  Doing so–even in today's time-shifted, cross-platform, demo-obsessed media milieu–continues to make it a key case for understanding American television culture.