Rethinking Media Distribution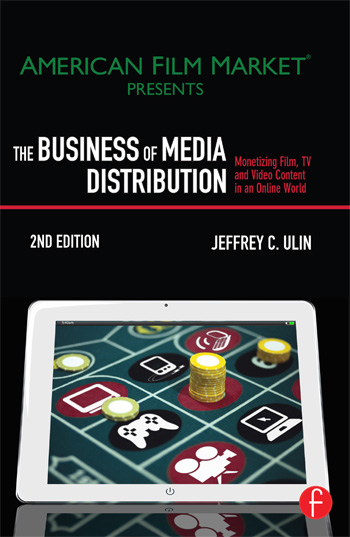 The news that the subscription service Netflix now has more total subscribers than premium cable channel HBO further confirms that media industries are changing rapidly, especially when it comes to the practices of movie and TV distribution. Beyond altering the economics of media distribution, subscription services such as Netflix and Hulu have introduced a whole new vocabulary for both media consumers and industry professionals alike. Activities such as binge watching and "Netflix adultery" were unimaginable just a few short years ago, while more traditional practices—such as the weekly trip to the video store—have practically disappeared. With those changes in mind, Jeff Ulin, a media distribution expert who has worked at Lucasfilm, Paramount, and Universal, has substantially revised his 2009 book, The Business of Media Distribution, for the era of digital delivery, providing a fascinating and engaging road map for both media scholars and industry professionals.
The new edition of the book starts by spelling out how studios and networks manage media properties in order to create value—through managing intellectual property rights, for example—before tracing several different modes of distribution: theatrical, home video, television, and internet. The final sections of the book focus on aspects such as marketing and promotion, especially as those practices have been transformed by the emergence of social media tools. Ulin also reiterates one of the key observations discussed in his first book: the idea that studios are best understood as "financing and distributing machines" that seek to maximize value, in large part by managing the distribution "windows" when movies or TV shows are available through a specific platform. Ulin emphasizes the process by which studios carefully balance when movies are available theatrically, through VOD platforms, on DVD, and eventually through subscription services such as Netflix, in order to maximize the value of a given text.
In his map of the film distribution landscape, Ulin traces several of the key factors that drove the adoption of digital projectors, most notably the role of 3D in serving as a means for justifying surcharges to consumers. But another major factor identified by Ulin is the role of China as a major marketplace for Hollywood theatrical films. Specifically, Ulin points out that the U.S. government negotiated a deal to raise the limit on the number of international films screened annually in China from 20 to 34, with the stipulation that the additional movies be screened in 3D. While Ulin is less explicit on this matter, the clear implication is that China's theatrical market will likely shape the choices studios make when it comes to picking projects for the foreseeable future.
But the strength of Ulin's book is his thorough explanation of the changes in the home video marketplace, especially as online video sources are poised to upset DVD rental and sales. As Ulin points out, the conflicts between physical or bricks-and-mortar retailers and online sources including Amazon are often more complex than they appear, especially given incentives such as using DVDs as "loss-leaders" to draw shoppers into big-box retailers such as Walmart and Target. More crucially, however, subscription video-on-demand (SVOD) services such as Netflix and Hulu and transactional video-on-demand (TVOD) retailers such as Amazon and iTunes have upset traditional revenue streams and the distribution windows that were designed to provide various platforms (theaters, pay cable, basic cable) with periods of exclusivity that allowed studios and exhibitors to protect the value of the movie being distributed. These conflicts have played out in the ongoing debates over day-and-date distribution, especially for independent and low-budget movies, or shorter theatrical windows for studio films. But they also inform how TV shows circulate, especially when the interests of production companies and SVOD services such as Netflix compete with the interests of cable TV channels such as TNT and FX that are currently negotiating to extend their "broadcast window" to encompass the most recent season of a show, rather than just the five most recent episodes. Such battles are likely to persist in our current on-demand culture
One of the challenges that faces any book that focuses on the media distribution landscape is that it changes so rapidly. As I was reading Ulin's book, Blockbuster Video announced that it would be closing its last 300 stores, resulting in the loss of over 3.000 jobs and leaving Redbox as, perhaps, the primary option for DVD rental for most US consumers. However, Ulin's book remains relevant, in large part because he offers several key principles to describe the ongoing evolution of the media industries. With that in mind, we can read all of the recent changes—Netflix's competition with HBO, Blockbuster's closure of its U.S. stores, and China's emergence as a crucial theatrical market—as part of a larger system in which studios and other media institutions use windows in order to generate and retain value for the films and television shows they distribute, no matter how we access them.