Just Too Much: Batkid and the Virality of Affect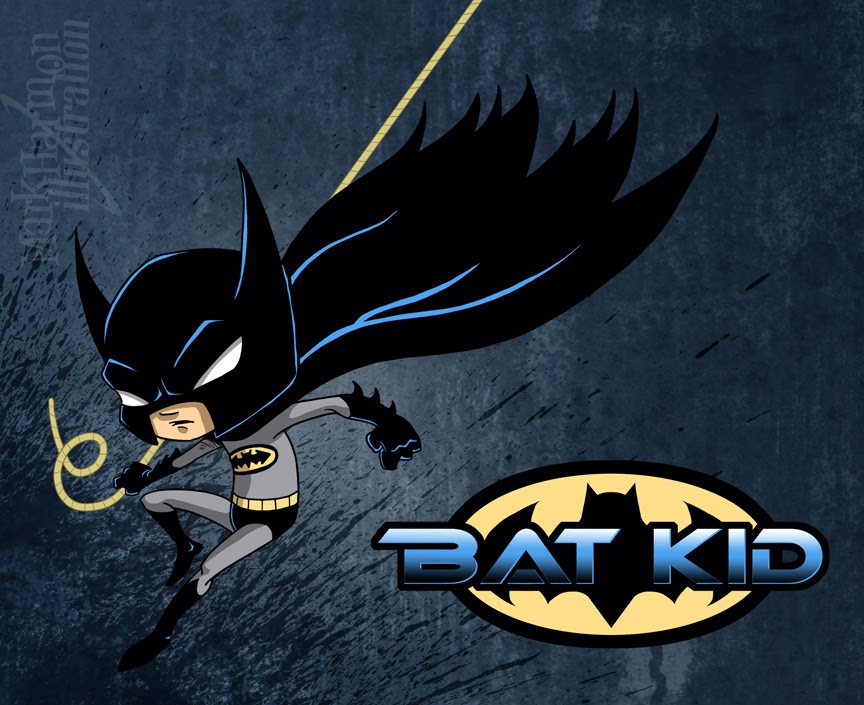 A few weeks ago, I had finished my Friday lecture and retreated to my office in order to get some work done with what was left of my day. As is my ritual, I allowed myself a half hour to check email, Facebook, and other tools of digital sociality. On this day in particular, my Facebook feed was filled with links to different versions of this story.
As most of us know, the academic job market can lead to emotional mood swings. On this day in particular, I was recovering from a crisis of confidence suffered the previous night. I felt better, but was still pretty raw. Luckily, I had the office to myself because Batkid was just too much for me at that moment. The real-life melodrama of Batkid fulfilling a life's dream seemingly so close to the end of his short life (I had not yet read that he was in remission) struck deep. I cried. After catching my breath, I decided that Facebook was not going aid my productivity and I headed over to Reddit, where I saw more Batkid stories. "Alright. . .no more social media this afternoon." Later in the day, after I emerged from my office to interact with people, Batkid again came up in conversation with people who had read about him via Facebook posts. I had to explain that he was "just too much" for me that day. Still, my request to not be made to think about Batkid was not entirely respected.
Hollis Griffin recently wrote about the experience of online dating in an environment of ubiquitous connectivity, noting how thoroughly "the intimacies enabled by technology get braided into the rhythms of everyday life."1 Griffin specifically describes the potential for the hurts associated with love to be "relentlessly" distributed throughout our daily lives. There are distinctions to be drawn between Griffin's cell phone love and my Facebook-inspired empathy. Significantly, Griffin's interactions are, I assume, largely person-to-person, whereas my connection to Batkid was filtered through my relation to a virtual group and a collection of publicly-shared performances. When people shared this story, they invariably added short notes to personalize their connection to Batkid. Some declared civic pride in the city of San Francisco or the state of California, while others simply expressed the emotional impact in personal terms.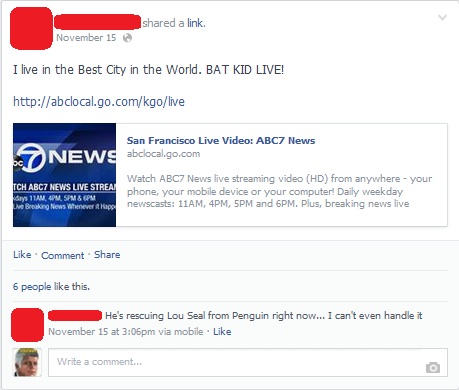 These performances indicate an attempt to mediate between personal experience and the social body that is assumed to be experiencing the Batkid story at the same time. Milan Kundera writes that "Kitsch causes two tears to flow in quick succession. The first tear says: how nice to see children running on the grass! The second tear says: how nice to be moved, together with all mankind, by children running in the grass. It is the second tear that makes kitsch kitsch."2 Setting aside the negative connotations of kitsch, Kundera captures an important aspect of the Batkid story. Not content to simply imagine all of mankind crying together, a number of people within my digital sphere of influence felt the need to actively encourage such reactions. Their desire to share in these feelings was apparently so ubiquitous as to make the story inescapable.
Although Batkid was covered by traditional television and print media, I was not exposed to him through those forums. Instead, it was social media that first made me aware of him and it was my inability to effectively avoid social media (or the social media of others) that made Batkid such an insistent story on that day. Public performances of emotion in relation to mass media events are not particular to online interactions. But Batkid suggests something particular about how and why this story spread the way it did. Strong affect played a particular role in this story's spread through online media. The emotional impact of that story demanded a kind of sharing in search for the tears of "all mankind." That this is a socially acceptable way to share in moments of civic emotion and requires little effort suggests that it was a particularly infectious case of digital virality.
1Hollis Griffin, "Love Hurts: Intimacy in the Age of Pervasive Computing" in Flow, Nov. 18, 2013. http://flowtv.org/2013/11/love-hurts-the-age-of-pervasive-computing/.
2Milan Kundera, The Unbearable Lightness of Being, trans. Michael Henry Heim (New York: Harper & Row, 1984). 248-251. Quoted in Marita Sturken, Tourists of History: Memory, Kitsch, and Consumerism from Oklahoma City to Ground Zero (Durham: Duke University Press, 2007). 22.