Fordian Slip: On the Mayor Rob Ford Scandal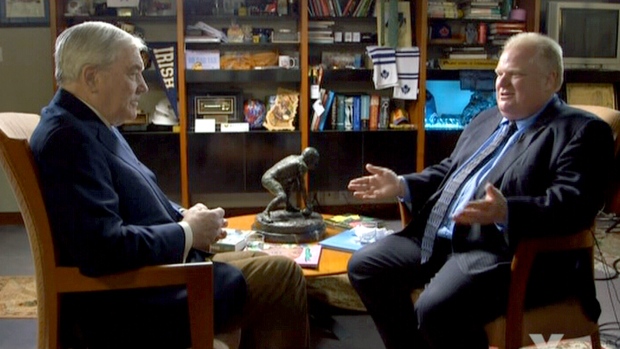 On Monday, December 9, 2013, Canadian television channel Vision TV aired an interview between former media mogul and convicted felon Conrad Black, and embattled Toronto Mayor Rob Ford. The program, Conversations with Conrad is billed as "Conrad chats one-on-one with the finest minds of our age." Is Rob Ford one of 'the finest minds of our age'? Likely not. But as of late, he is certainly one of the most talked-about-public figures.
The interview with Black comes on the heels of Ford's admission to smoking crack cocaine and buying illegal drugs while in office, and making obscene comments about a female member of his staff and his wife. Vision TV had originally planned to air the interview on December 16th but decided to move the segment ahead one week because of "overwhelming interest and demand."
In the promotional clip for the interview Black asserts: "The piling on to Mayor Rob Ford has been excessive. He was elected mayor of Toronto and those who do not like his style will be free to vote against him if he runs again. If there is sufficient evidence to prosecute him with crimes, due process should be followed. But he should be accorded a full presumption of innocence unless he is justly convicted. Beyond that his accusers should put up or shut up." In retrospect, the sound byte intimated the tone the interview would take, which was, as one Toronto newspaper described it, "[t]he media-hating media baron sits down with media-hating mayor to hate on the media."
Black's reference to the 'piling on to Mayor Ford' is a reference to the media scrutiny and critique that continues to engulf Ford. Indeed, media attention on Ford is overwhelming, and increasingly tiresome, but the fact that media hold elected officials accountable for their behavior is hardly sensational. It is in the public interest to do so. Beyond a commitment to the public interest however, the media continue to report on Ford because he continues to generate controversy, which he managed to do, again, during his interview with Black.
First, Ford accused Toronto Police Chief Bill Blair of orchestrating a political vendetta against him. According to Ford, the police probe, which included surveillance on him, was a repayment for budget cuts. "The chief, I have an issue with, I think it's political. He wasn't happy when I told people to find efficiencies." Second, Ford insinuated that a Toronto Star reporter was a pedophile. In Ford's version of the events, the reporter had been peering over his back yard fence and taking photos of his children. "He's taking photos of little kids. I don't want to say that word, but you start thinking 'What's this guy all about.'" In truth, the reporter had been taking photographs of a public lot behind the mayor's house that Ford was interested in purchasing from the city.
Black did not pursue either claim, nor did he press Ford in any manner (or on any matter). The interview is perhaps best described as softball journalism. Black's questions were leading and served as prompts for Ford's stock responses. At one point, Black conceded as much and said: "In effect, I'm leading the witness here, but it's just rank hypocrisy, isn't it?" Hypocrisy indeed.  The interview was an opportunity for Black to share the spotlight, both prior to the airing of the program, and again in the aftermath of Ford's salacious claims.
Playing into Ford's ideological agenda by engaging in the blame game, Black condemned the media as opposed to shifting answerability onto Ford. At the core of this transference, which victimizes Ford and absolves him of accountability (i.e. 'drunken stupor'), is the insinuation that Ford's voting public accepts information at face value. In this equation, the media are great manipulators of truth, and the people are dupes, void of critical faculties when it comes to the media. Someone should break the news to both Black and Ford that the hypodermic needle model was displaced in the 1950s.
The underlying discourse of the interview is that media scrutiny and critique is the modus operandi of liberal/leftist/elitists. But who, exactly, are the elitists? Ford has long played himself against such a grouping. One is left, therefore, to question how a white man born into a wealthy and politically connected family can so easily ignore his own elitism. Perhaps this is, in fact, a marker of such privilege: that one can disestablish privilege at will.