"Mother Daughter Sister Wife": Gender on Comedy Central
Two years ago, Vulture published its "Map of the Comedy Zeitgeist," a labyrinthine diagram drawing connections among many of the most prominent players in American comedy of the last several years.  Familiar names such as Will Ferrell, Ben Stiller, and Judd Apatow appear in large, bolded typeface, with titles like Saturday Night Live, The Office, and Freaks and Geeks emanating from them in all directions.  One of the most notable things about the map is its characterization of comedy as a "zeitgeist," indicating that the genre somehow captures a defining mood of the times shared by many despite (or perhaps because of) the map's many "shrieking white men."  At around the same time, Comedy Central commissioned research that discovered, not unlike Hershey's semi-regular findings about the cancer-fighting power of chocolate, that "[m]ore than music, more than sports, more than 'personal style,' comedy has become essential to how young men view themselves and others."
Whether in the explicit pronouncements of pop culture commentators or in a cursory cruise of off-network, late-night television, there is ample evidence that young men remain both the primary producers and targeted consumers of much mainstream comedic content.  In the two years since the above-mentioned pieces, however, a number of incidents have invigorated offscreen debate about comedy and gender: among them, David Letterman firing his booker for sexist practices and remarks; Daniel Tosh shouting down a female heckler with a rape joke; Seth MacFarlane's embarrassing song-and-dance at the 2013 Oscars; Jerry Seinfeld's curiously tone-deaf take on diversity in comedy; and, perhaps most notoriously, Saturday Night Live's clumsily PR-controlled search for and eventual hiring of African-American female cast member Sasheer Zamata.
Although it may be optimistic to suggest a correlation between those conversations and the recent programming decisions of comedy outlets, such dialogue does affect the discursive context in which we watch and talk about their shows.  In this light, the seemingly necessary belongingness between men and comedy dissipates a bit when considering the representational politics of Comedy Central's spring lineup–namely, Kroll Show, Broad City, and the soon-to-return Inside Amy Schumer.  It isn't just that comediennes star and/or figure prominently in the programs' sketchy stor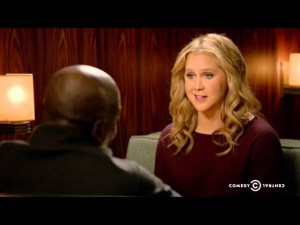 ies, something into which the network has put perfunctory effort in the past with The Sarah Silverman Program and Strangers with Candy.  Discourses of gender and sexuality additionally provide a generative grammar for the shows, imbuing their comedic portrayals of race, class, and homosocial bonding with the kind of polysemy customarily ascribed to Comedy Central's much-lauded news satires.
The most simultaneously silly and insightful segment of Inside Amy Schumer's first season, for instance, was a recurring bit called "Amy Goes Deep" which had the host interviewing, among others, a well-endowed man and a female dominatrix.  To be sure, the segments (like most sketches on Inside) use sexuality as a way to provoke and titillate viewers initially.  As the interviews progress, however, Schumer refrains from the sort of moralizing too-often implicit in portrayals of sexual taboos and instead gestures toward broader discourses about the ways in which we talk about those taboos.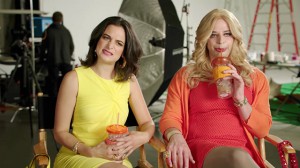 Although nominally starring a male comedian and trafficking in the gendered caricatures so common among male-targeted comedies, Kroll Show is actually a "full-frontal assault on dude culture and the ideologies that support it, but in dickfest drag."  It's also the most cuttingly satirical sketch comedy show about television since Mr. Show.  Kroll's favorite targets are the vapid fame-mongers, low-rent aesthetics, and crass commercialism of reality television.  Instead of merely reproducing and displaying televisual conventions with the lazy referentiality of an after-"Update" SNL-segment, though, recurring sketches like "PubLIZity" and "Rich Dicks" consistently ask viewers to consider the cultural and industrial discourses that construct and make commonsensical certain gendered representations of reality.
Of course, there exists real danger in the potential that viewers will decode the superficially heterosexist humor in these programs with the same unblinking acceptance as they do a show like Tosh.0.  It certainly doesn't help, either, that Comedy Central has a tired habit of promoting its shows with the most memorable, "I'm Rick James, bitch!"-iest of sound bites.  Nevertheless, the infinitely mutable nature of comedy (and of the media infrastructures increasingly invested in it) means that no matter how loudly any one voice shouts, there are always plenty of hecklers.