Bro-Friendly Fandom: The Blue Mountain State Kickstarter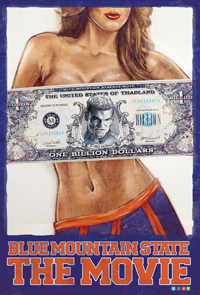 When Veronica Mars launched a Kickstarter campaign, it was immediately legible—the series was well known in critical and academic circles, its fan community had been active both during and after the series concluded its three-season run, and its stars had gone on to further success and remained [semi-]prominent figures in pop culture discourse. The idea of a Kickstarter may have been novel, but it nonetheless made immediate sense discursively, creating a steady stream of engagement from fans, journalists, critics, and scholars alike.
This delicate calculus is not necessarily the case for other television projects with an eye on resurrection. While names like NBC's Chuck or ABC's Pushing Daisies would match Veronica Mars' legibility, a show like Spike's Blue Mountain State is less likely to emerge in the same conversations. And yet the raunchy college football series is technically the first since Veronica Mars to take to Kickstarter to fund a feature film extension of a canceled show, and it comes with built-in contradictions that challenge our understanding of audiences, fans, and crowdfunding alike.
In the abstract, Blue Mountain State makes a strong case for resolution. Debuting in 2010, the series was abruptly canceled after its third season when Spike chose to focus its attention on unscripted content, leaving the characters' college football careers a senior year away from being completed. It was a victim of a changing climate where channels like Spike chose reality programming as the most efficient way to draw audiences and compete for ad dollars. The decision left fans of the series without a conclusion, and the creators have been on the record for the past two years that they intended on trying to make that conclusion a reality.
However, all of this was happening outside of the locations—trade and popular press, critics, etc.—where the Veronica Mars Kickstarter took root, to the point where it's likely some aren't even aware the Blue Mountain State Kickstarter—which is asking for $1.5 million after negotiating for the rights from Lionsgate—exists. Whereas Veronica Mars had been legitimated by its critical acclaim and the success of its cast, Blue Mountain State was marginalized from popular television discourse during its three-season run based on its lowbrow humor and testosterone-fueled Spike's reputation. Although hyper-masculinized dramas are often well regarded, the hyper-masculinized comedy of Blue Mountain State was soundly dismissed by critics; the New York Times called it "dumb even by frat-boy standards," while Variety dubbed it "a mindless torrent of homophobic taunts, bouncing boobs, and…masturbation." The series also drew only solid ratings, performing well in season two but then falling to under a million viewers for its final season (which is less than what COPS reruns are drawing on Spike in 2014).
What this obscures, though, is how Blue Mountain State has connected with young audiences outside of the metrics and discourses most easily visible and counted within the television industry. The series has benefited from its presence on Netflix, where it can connect with young viewers more likely to stream television content than turn on televisions they may or may not own (and which may be a distribution option for the film should it be funded); anecdotally, the series was a surprisingly common presence on a first-day survey of undergraduate Intro to Television students, suggesting the series has connected with audiences that are unlikely to be counted by Nielsen. The Kickstarter would seem to reflect this, creating a "College Contest" where the school whose students donate the most money will get a special cast screening should the campaign be successful.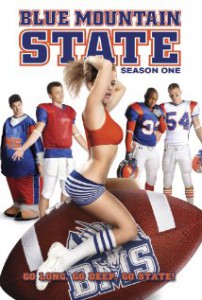 A survey of the comments claiming college affiliation also reveals that the vast majority of the Kickstarter contributors—over 3,200 as of April 16th—are male. This matches the series' demographic appeals, as it relied heavily on scantily-clad women in its marketing and storytelling, but diverges from how we typically imagine fan engagement. Although we often perceive men—particularly the series' key demographic of men 18-34—as a prime advertising target and thus valued by the industry, we rarely consider those audiences as the type of fans who would go so far as to pay to see a series resurrected. That kind of organized fandom has more commonly been associated with women, as part of a broader feminization of fan culture—over half of the Veronica Mars kickstarter backers were women, for instance, despite the fact that Kickstarter's membership is predominantly male.
In much the same way as cable channels like Spike work to engage a young male demographic that has historically been difficult to capture, the Blue Mountain State Kickstarter works to tap into a predominantly male fandom that has been less often asked or expected to express said fandom. If successful, though, it may be because it provides those fans a space in which their connection to a series can be quantified, transformed from emotional or affective engagement with a program to a financial investment in its future. Whereas sending fan letters or attending fan conventions have been discursively feminized, Kickstarter as a platform remains relatively free from such strict gender coding, making it a space that—depending on the gender appeals of the content being Kickstarted—can be framed as welcoming to male audiences like those invested in Blue Mountain State's future (and like the men who make up the majority of Kickstarter's members).
While some labeled the Veronica Mars Kickstarter a "fluke," it was inevitable that another series would attempt to follow its example. However, although ostensibly following in that series' footsteps, Blue Mountain State emphasizes the importance of context when evaluating Kickstarter as a platform, striking a similar appeal to a different audience. Although no series can directly follow Veronica Mars' example and attain the same success, a series like Blue Mountain State can tap into other affordances of the Kickstarter platform to engage its audience in the same way that Rob Thomas and Kristen Bell engaged with theirs. By leveraging Kickstarter as a safe space for masculinized fan engagement, Blue Mountain State has the potential to live on despite lacking the mainstream coverage, critical prestige, and history of formalized fan engagement of its progenitor.
Edit: The Blue Mountain State Kickstarter reached its funding goal on May 11th, 2014.