New York Film Festival, 2014, Part Two: Explicitly, Sex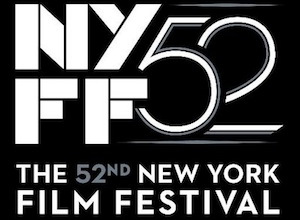 In Alain Resnais' last film, Life of Riley, his adaptation of an Alan Ayckbourn play—on the Main Slate of NYFF 2014 as a fond farewell to one of the French New Wave greats—Riley never appears. It's not that the other characters are waiting for him, a la Beckett's Godot, it's only that we never see the scenes in which the women, all married with the exception of one teen-aged daughter, throw themselves at him, while their husbands, who are abundantly visible, skirmish over trivialities, often regarding a play they are all rehearsing. Riley's invisibility is no mere device; it is the crux of the film.
All we see are the banal performances that constitute everyday life. The characters, three couples "of a certain age," regard the play in rehearsal as theatre. But Resnais clearly indicates that it is their lives that are the playacting. He depicts their homes as facades composed of stage flats. Alternately, between dramatized scenes, we see charming drawings of their houses, of the type that might decorate children's storybooks. There are no doorways, only slit canvas sheets through which the characters make their entrances and exits. All the immediacy and sex remains "off-stage" with Riley. Resnais, who began depicting skin on skin sex scenes in Hiroshima Mon Amour, finishes up with a sense that the only honest representation of sex is one that confesses that the delights of sensual energy are unrepresentable. Riley escapes him—and his audience.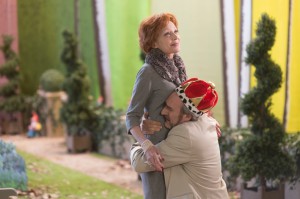 Life of Riley is a charming film. Its characters are mannered but still appealing, filled with the pathos and resignation of maturity, buoyant with the light gallic touch of Max Ophuls' La Ronde (1950), that fearlessly regards romance and sex as deliciously ineffable. But where Ophuls coyly avoids explicit representation as a matter of aesthetic tact, Resnais actively questions the credibility of direct pictorial confrontation of the passions. This, in stark contrast to the revulsion-filled sexual directness of David Cronenberg's Maps to the Stars and Abel Ferrara's Pasolini. They suggest that the demise of the Production Code has not resulted in an evolved American depiction of sex, but rather a more graphic exhibition of America's anxieties about the body.
Cronenberg's Maps is a savage, fully realized portrait of what has become of love and sexuality under the reign of an American culture industry that eats its young, and puts maturity out with the trash. It is not so much a "Hollywood expose," as the use of the narcissistic showiness of Hollywood as a metaphor for a contemporary American self-involvement so complete that the pleasure and fertility of sexuality has withered into a pervasive culture of incest, a sterile turning inward of the energies that have, time out of mind, stood for outgoing connectivity and faith in the future. Cronenberg explicitly displays for us all manner of sexual acts and nakedness, all suffused with disgust and anxiety. Central to Maps is the Weiss family, harshly cut from the ancient Greek marble of tragic drama, on an inevitable downward spiral because of an inadvertent Sophoclean sexual transgression of family ties.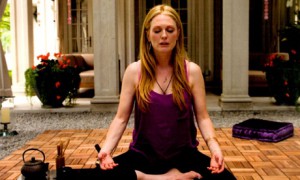 Or is it inadvertent? Maybe at first. However, enlightenment doesn't come in the final act, as in Oedipus, but rather lurks in the backstory, in which knowledge of incest was consciously suppressed to facilitate a frantic struggle for fame and fortune, an acid obsession that dissolves all other concerns. As vicious as the Weiss family story may be, however, with its ruined mansion just below the "HOLLYWOOD" sign, and its stunning modern, subsequently built family abode, in the end it displays more nobility than the stories of the other Hollywood characters, particularly the subplot of which Havana Segrand (Julianne Moore), a star noted for both talent and glamour, is the center. Where the Weisses suffer the consequences of their sins against their own humanity, Havana successfully wallows in the possible incest she may have experienced as a child, and hypocritically embraces mystical fixes to her discontents. Havana resembles nothing so much as a New Age rabid hyena.
Maps is one of the darkest comic films America has yet produced. Yes, comic. The audience at the press screening was often convulsed with laughter at topical references and vicious absurdities. This includes some black humor when, during a visit to the set of a Star Trek-like movie, the scarred face of Agatha (Mia Wasikowska), the 16 year old daughter of the Weiss clan, is mistaken by one of the Assistant Directors for an inadequate alien make-up job. "Get some color on that," he yells at her, "We're filming in a half an hour."
Ferrara's Pasolini, a cultivated and beautifully shot and edited film about the last days of the eponymous Italian director, has a different but equally fearful take on its explicitly depicted man-on-man sex. In Ferrara's film, Pier Paulo Pasolini's gay sexuality is nothing but an undramatic and very small part of a life of a personally sober, if highly imaginative family man, who is primarily concerned with art and philosophy. But Pasolini's gentle cosmopolitanism is no shield from the undercurrent of sexual hysteria around him. Willem Dafoe's magisterial performance of Pasolini seems, for most of the film, to be asexual; only in the last sequences does Pasolini search for a "rent boy," whom he treats with impersonal generosity, an afterthought to a busy and productive day. But, as Pasolini inaugurates sex with the boy on a beach outside Rome, a trio of thugs reduces Pasolini to nothing more than his intended (consensual) copulation through a fatal homophobic attack, the darkness of night standing for the murk of cultural ignorance. True this is Italy, not an isolated road in Utah, but it is an American eye recording the eruption of anonymous violence, once sex is made visible.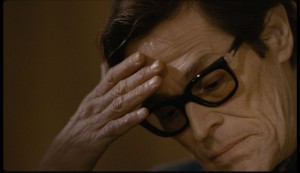 One of the gifts of a film festival of the magnitude of NYFF is the availability in the aggregate of many offerings of a rich context for any individual film; in this case the context highlights a tortured American confusion about our physical natures.
Look for Part Three soon. 

This post is part of an ongoing partnership between Antenna: Responses to Media & Culture and the Society for Cinema & Media
Studies' Cinema Journal.