Radio Studies at SCMS: From Justification to Exploration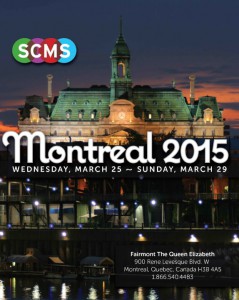 In his SCMS 2015 conference preview, Alex Russo looked at the presence of radio studies in Montreal and suggested that "the seeds planted in past years are beginning to reach fruition." That prediction was more than borne out by the conference itself:  in Montreal, it was clear that radio studies within SCMS is coming (has come?) into its own, and the Society is better for it.
Radio scholars–and I include myself–tend to have a love-hate relationship with their marginalization within cinema and media studies, but that identity is fortunately becoming harder to sustain. This year, instead, I felt a palpable confidence among radio scholars that hasn't been there in years past. That might be because of the Serial-driven "year of podcasting," which helped aural media appear more relevant to a wider range of scholars; the continuing strength of the broader field of sound studies doesn't hurt either.
But most of the credit should go to the hard work of field-building: the conferences and list-servs; the Radio Studies scholarly interest group and the Radio Preservation Task Force; the soon-to-be resurgent Radio Journal; folks like Andrew Bottomley here at Antenna and Brian Fauteux and Jennifer Waits over at Radio Survivor working tirelessly to keep the voices of radio scholars included in the broader media studies conversation; even the growing cohort of young (and decreasingly young) radio scholars finding professional success (however defined for them).
I wasn't able to attend all the radio-themed papers and panels this year, but that's part of the point: a few years ago I could; this year, no one could. (Before anyone reads that as a veiled critique of the conference program, in which a couple of radio-heavy panels were scheduled concurrently, please listen to my interview with SCMS scheduler extraordinaire Bruce Brassell and know that I have only respect and admiration for the folks who put the conference together.) Nonetheless, based on my subjective sampling, it appears that many of the goals that we have for radio studies are clearly being met:
Quantitatively, the number of radio-themed panels (and the audiences for those panels) continues to grow
Papers that consider radio are increasingly found on mixed-media panels
The "donut hole" of scholarship on 1960s-1990s-era radio, which seemed so self-evident in years past, is slowly closing
Radio scholars are increasingly engaging the kinds of broader disciplinary conversations that help move the field beyond justification to exploration
Of course, some goals remain on the horizon for us to continue working toward. For example, I had hoped that the Montreal location might bring more international scholars to the conference, but clearly we still have a lot of work to do if we want expand the conversation significantly beyond North America. There are logistic, linguistic, and disciplinary challenges to overcome, but that must remain a top priority.
The necessity of such work notwithstanding, the 2015 conference was clearly a moment of consolidation and advancement. As I write this on a plane out of Montreal, it is hard not to feel optimistic about the state of radio studies, within both SCMS and the broader field of film and media studies.