Devilish Partners: Daredevil, Netflix, and Exclusive Original Programming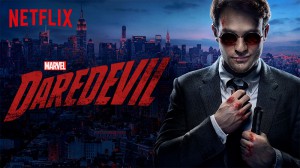 Ahead of Avengers: Age of Ultron (2015) and the summer blockbuster frenzy, a smaller Marvel property, Daredevil, launched April 10 on Netflix. The 13-episode season of Daredevil is the first deliverable of a $200 million, 60-hour deal with Netflix to bring Marvel's "street level" characters to life on the small, streaming screen. This deal includes Daredevil, this fall's AKA Jessica Jones, Luke Cage and Iron Fist in 2016, and an Avengers-esque team-up show, The Defenders, likely targeted for 2017. As the first of its ilk, Daredevil marks not only a milestone for Netflix's original content strategy, but also the expansion of Marvel Television, currently responsible for ABC's Agent's of S.H.I.E.L.D, which has received, at best, mixed responses from fans and mediocre ratings for a network series.
For the uninitiated, Daredevil follows the exploits of Matt Murdock (Charlie Cox)–blind lawyer by day, extrasensory crime fighter by night–as he attempts to reclaim the streets of a retrograde Hell's Kitchen from a criminal syndicate lead by Wilson Fisk (Vincent D'Onofrio). Steven S. DeKnight (executive producer, Spartacus) took over showrunner duties from Drew Goddard (dir. and writer, Cabin in the Woods) after Goddard left the show to pursue a Spider-Man project at Sony Pictures ten weeks before principal photography began. Despite the hiccup, DeKnight was able to keep the ball rolling and Daredevil remained on schedule.
Joining the likes of House of Cards (2012-) and Orange is the New Black (2013-), Daredevil is only the latest example of Netflix's aggressive original content strategy. Owing to increasing competition in the streaming space with Amazon Prime, Hulu, and HBO (including the recently introduced standalone HBO Now), securing exclusive, licensed content has become more difficult and expensive. Opting to fund original programming means Netflix can brand itself not only through its proprietary algorithmic recommendation engine, but also through its original, critically acclaimed series, the latest of which also happens to be set within the astronomically successful Marvel Cinematic Universe (MCU) franchise.
Consisting of films like Iron Man (2008), The Avengers (2012), and Guardians of the Galaxy (2014), the MCU has broken box office records, revitalized the Marvel brand under its current owner Disney, and arguably spearheaded the golden era of comic book movies in Hollywood. And with the release of 2014's Captain America: The Winter Soldier, the MCU has become the highest grossing movie franchise in history, topping the Harry Potter franchise in total box office revenue. Moreover, The Avengers and Iron Man 3 (2013) hold the records for the first and second highest opening weekend box office at $207 and $174 million, respectively. With multiple films releasing every year, and with Marvel expanding its transmedia storytelling to comics and Marvel Television series across networks and platforms, the MCU looks to increase its commercial dominance in the decade to come.
The ascendance of the MCU at the box office and within popular culture is part of a more general superhero zeitgeist in entertainment media. This zeitgeist arguably illustrates the movement of comic book properties from the margins of popular culture to its proverbial center, now prominent not only at the box office, but also increasingly in the living room. The last several years have seen comic book properties invade the television space, led primarily by Warner Bros.-owned DC Comic properties with shows like CW's Arrow (2012-) and Flash (2014-), Fox's Gotham (2014-), and NBC's Constantine (2014-), to say nothing of AMC's runaway hit The Walking Dead (2010-), one of the few successful franchises not under the Marvel or DC umbrella.
Starting with Daredevil, Netflix has joined the comic book hero zeitgeist, choosing to plant its flag squarely within the MCU. By all accounts, Daredevil has proven a critical, if not commercial, success over the first week of its availability. While praise is spread throughout the series, one particular hallway fight scene–an homage to Park Chan-wook's Old Boy (2003) in episode two, "Cut Man"–has proven especially popular among viewers, and has been broadcast across social media and featured in dozens of articles.
Yet while it's easy to scan the Internet for general praise of Daredevil's 13-episode run, the show's actual viewership is more difficult to determine. While Netflix claims over 60 million global subscribers, we do not know what percentage of these watched Daredevil during its first weekend. This is due to Netflix's infamous silence when it comes to ratings for their original programming. Without advertisers, Netflix ascribes very different value to its own internal metrics, placing much more emphasis on shelf-life viewing rather than viewership over any particular period.
Yet one metric pertaining to the program's popularity we do have access to is its estimated piracy numbers. Despite Netflix being available in over 50 countries for around $10 per month, over 2.1 million users illegally downloaded episodes of Daredevil in its first week of availability, according to piracy-tracking firm Excipio, a figure topped only by the reigning champ of pirated programs, HBO's Game of Thrones (2011-).
Early indications suggest Marvel Television and Netflix's 60-hour experiment has so far been a success for both companies. Netflix stock just skyrocketed after a company announcement of higher-than-expected global subscriber gains, making the streaming company now worth more than media giants like CBS and Viacom. Additionally, despite four other Marvel series scheduled to hit Netflix over the next two years, people are already asking about a second season of Daredevil. Owing to the fact Netflix has already renewed OITNB for a fourth season ahead of its June season three launch, one can assume a Daredevil season two announcement is not far off, depending on the particulars of Netflix's deal with Marvel, of course.
In their partnership, Marvel Television (in conjunction with ABC Studios) gains a robust, popular distribution platform for their franchise product, and Netflix strengthens its catalog of original content while providing a corner of the wildly successful MCU not available anywhere else.
Yet in addition to the context of its production and initial reception, Daredevil seems ripe for further critical analysis. For instance: How does the early success of Daredevil further cement the place of comic book heroes within popular film and television, and how long will this genre remain favorable? Also, having emphasized its on-location shooting in New York City, how does Daredevil evoke authenticity in the construction of its narrative spaces, and what value is there in this authenticity? Finally, what does the deal between Marvel Television and Netflix signal for the future of franchise television and transmedia production and distribution?