Digital Tools for Television Historiography, Part III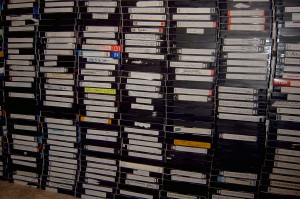 Post by Elana Levine, University of Wisconsin-Milwaukee
This is the third in a series of posts on my use of digital tools for a television history project. See part 1 and part 2.
Many of the digital research and writing needs I have been discussing in previous posts might apply to any historical project. Anyone who is grappling with thousands of sources in multiple formats might find data management and writing software useful to their task. But the work of managing audio-visual sources is more specific to media history. Television historiography, in particular, can be especially challenging in this regard, for series television includes episode after episode and season after season of programming — a lot of material for any researcher to take on.
In the case of my history of American daytime television soap opera from its beginnings in the early 1950s to the present, I face a task even more daunting than most TV history, for the genre I am studying has run 15-minute, half hour, or hour long episodes each weekday, 52 weeks a year, with individual series continuing this schedule for more than 50 years. Of course there is no way to watch all of it, or even to sample it in some representative way. Much of it no longer exists, for all soaps were broadcast live initially and many of those that started to be shot on video in the 1960s did not preserve the episodes — producers erased the tapes on an established rotation schedule. As far as I know, no public archive anywhere has all of the episodes of any US soap, although some of the shorter-lived ones do exist in complete form in the hands of media distribution companies or fan collectors. Fan archivists have preserved and uploaded to user-generated streaming video sites a massive amount of their private collections, taped off-air from the beginnings of the home VCR era to the present — there is more than one researcher could ever consume from the post-'80s era alone.
But my point here is not to marvel at the voluminous output of soap creators and soap fans (although, wow!), nor to lament the disappearance or inaccessibility of so much of this crucial form of American popular culture (although, what a loss!). Instead I'd like to explain what I watch and, more specifically, how I watch, for that is entirely dependent on digital tools.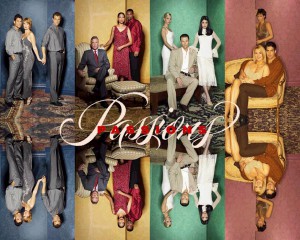 For the past 7 years, I have been integrating the viewing of past soap episodes into my daily routine. My choices of what to watch have been directed largely by availability. Other than episodes I have been able to see in museums and archives, my viewing has been focused on the limited numbers of soaps I have access to otherwise, of which I have tried to watch as many episodes as are available. Because I have been a soap viewer since the early 1980s, I have been less concerned with seeing programs from my own viewing history, although I am gradually integrating more material from the user-generated streaming archive over time. Instead, I have focused on the one soap that has been released in its entirety on DVD, Dark Shadows, and on soaps that have been rerun in recent years on cable channels, mostly the now-defunct SOAPnet, and on the broadcast network, RetroTV, which is carried primarily by local affiliates' digital sub-channels.
In addition to daily reruns of just-aired soaps, SOAPnet reran select past episodes from a number of programs, but also aired a full run of ABC's Ryan's Hope from its 1975 debut through 1981 (the show aired originally until 1989). It also reran several years' worth of Another World episodes from the late 1980s and early '90s, and Port Charles' telenovela-style 13-week arcs of the early 2000s. There have been other such instances, as in Sci-Fi's rerun of Passions' first few months in 2006. These repeats began airing around 2000, so I started recording them well before I was actively working on this project. As these repeats aired, I saved them first to VHS and then, once I abandoned those clunky old tapes, to DVD. DVD is a poor archival medium. But when I started doing this there were not the digital recording and storage options we now have. As with many other technological tools, what I did worked for me so I kept doing it.
I've watched much of this material over the past 7 years and am watching more every day. The recent addition of RetroTV's rerun of the Colgate-Palmolive NBC soap, The Doctors, beginning with the late 1967 episodes, has further contributed to my archive. But how I do my viewing is where I employ digital video tools.
Because most of my episode archive is on DVD-Rs I have burned over the years, my process is to convert these DVDs to mp4 files. Software like Handbrake accomplishes this on my Mac, as did the now-defunct VisualHub. For content I access through user-generated streaming sites, I use downloading software, some of which is available for free online. I also use iSkysoft iTube Studio for its ability to download from a range of different such sites, and to convert those files to iPad-ready mp4s. Managing the files through iTunes, I transfer them to my iPad in week-long viewing chunks, moving them off my limited-capacity first generation iPad after I watch. This multi-step process can be a bit cumbersome, but it achieves some key goals that have allowed me to watch a lot of content over time.
One goal was that my episodes be viewable in an off-line and mobile capacity to increase my ability to watch any time and anywhere (such as airplanes and my community fitness center gym, which did not have wifi until the past few years). Another goal was for the episodes to be on a screen separate from my main computer screen not only for portability but so that I could multitask as I watch. My pattern for years has been to watch three episodes of half-hour soaps or two of hour-long soaps each working weekday. Skipping commercials, this means spending 1–1 ½ hours of my day watching. I rarely take the time to do that in a concentrated way. Instead, I watch the episodes each day while dealing with email or other lower-attention work tasks, and in a host of other times when I find pockets for viewing — doing my hair, making dinner, cleaning a bathroom, waiting for a kid to fall asleep — these, I assure you, are all excellent times to watch soaps. I also watch at the gym and occasionally in the living room, with earbuds, when someone in my household is watching something else (e.g., Teen Titans Go!) on the "big" TV.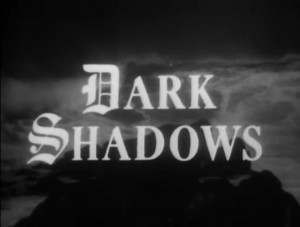 I take notes on the shows when I notice revealing moments (in DevonThink), but daytime soaps were not made for one's full attention at all times. They are excellent at using audio and video cues to signal narrative significance. When I was watching Dark Shadows (perhaps the slowest of the soaps despite vampires, werewolves, and time travel) I knew exactly when to pay close attention because of the predictable music cues. Each of the soaps I watch has its own such patterns, which I have picked up through my regular viewing.
The work of television historiography is distinct in multiple respects, but surely the volume of content one might consider is especially notable. While watching the programs one studies is a central part of our research, cultural studies has helped us to understand that processes of production and reception are equally significant. Still, this de-centering of the text may be puzzling to those more accustomed to traditional forms of cultural analysis. For my soap research, my often-partial attention to the text has become an unintentionally revealing experience. I've come to understand my viewing as the 21st century digital version of the 1960s housewife glancing back and forth at the set as she irons, starts dinner, or moderates between squabbling siblings, an experience hilariously portrayed in a 1960 TV Guide Awards sketch. There may be no more fitting research strategy for a TV genre that has long served as a daily companion to its audience's lives.