Fall Premieres 2015: Cable (Scripted)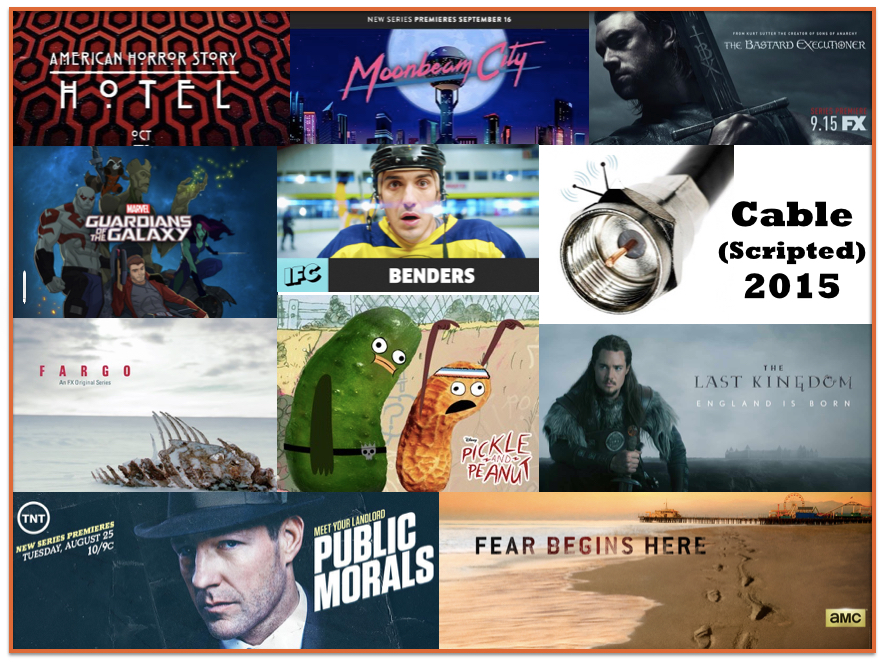 Fear the Walking Dead (AMC, premiered August 23 @ 8/7) trailer here
A spinoff of The Walking Dead follows a family in LA at the beginning of the outbreak, Fear begins with a six episode season, but already has an order for a second season of fifteen episodes, guaranteeing many more deltoids will be eaten, and many more "don't go out there" commands will be ignored.
note: see Amanda Keeler's full-length review here
~~~

Public Morals (TNT, premiered August 25 @ 10/9) trailer here
Another police drama set in New York City, this one focuses on the Public Morals Division and hence lots of vice. Star-executive producer-writer-director Edward Burns is joined by Justified bad guys Michael Rapaport and Neal McDonough, 30 Rock's Cecie, Katrina Bowden, and Elizabeth Masucci.
*
At first sight, Public Morals looks great: strong actors giving great performances; a morally ambiguous setting at a moment in time when things are changing rapidly; and enough of a family plus job plus crime story to keep us entertained. So why is Public Morals releasing all its episodes shortly after the premiere simultaneously? Part of the answer needs to dig deep into current changes in audience demands through the Netflix/Amazon model. Part of the answer needs to address the way TV shows have become so much more complex and experiment with forms of pacing that are not conducive to the 45 minutes a week format.
But as I was watching the first episode of Public Morals, I wondered if we've finally simply hit the point where we're tired of watching white dudes being white dudes yet again. It feels like all too many cop stories we've seen—albeit with possibly better zeitgeist awareness and better characterizations. Yet I can't help but wonder whether we deserve a different story in 2015. In fact, I kept on waiting for scenes in which Muldoon's wife showed up, because her awareness of how the world is changing around them was a breath of fresh air amidst all the pretty young prostitutes. I'll give it a few more episodes but I, for one, would like to hear someone else's story and maybe look at this time period through someone else's point of view for a change.
Kristina Busse (independent scholar) studies fan fiction and fan communities and is co-editor of Transformative Works and Cultures.

Pickle and Peanut (Disney XD, premiered September 7 @ 9/8) sneak peek here
Jon Heder is a pickle, Johnny Pemberton is a peanut, and they are friends. Of course they are. This new animated offering comes from Fish Hook and Almost Naked Animals' Noah Z. Jones.
*
Pickle and Peanut isn't very good. It might also prove to be the bro-iest cartoon on TV right now. Both of these things are a pity, as it's probably the most forward-looking cartoon on Disney XD aesthetically speaking, drawing from such sources as vaporwave, hipster rap, the doodle-like artwork of such programs as Regular Show and the surreal, VHS-like graphics of Tim and Eric Awesome Show Great Job. I want to get my hands on its credit music. Above all else though, this show about a pair of slacker best bud supermarket employees owes its existence to the cultural impact of Adult Swim on the adult (and now, children's) animation landscape. Pickle and Peanut might be the first show on Disney XD to be actively fostering a stoner demographic.
Perhaps more importantly, it might be the first time I've seen a show that's trying to be a stoner comedy on training-wheels, affecting the same detached (yet nostalgic) pop culture saturated white-boy sensibilities that can so often be seen in Adult Swim shows and skewing them towards a younger audience. That is to say, they remove the swears and deflect the sexuality entirely onto codified "no-homo" rituals and the broad construction of female characters as entirely vapid objects of attraction. The phrase "Yoga Pants" is repeated as something of a mantra at one point. It's early days still, and I'm prepared to give this one a chance (both the aforementioned Regular Show and the wonderful Adventure Time began with similar buddy comedy formulas), but this first pairing of episodes is a shaky start. The prospect of grandma jails and zit monsters should really deliver more, if only in terms of creativity. Indeed, I would grant more credit to the idea of a humongous pimple bringing sudden popularity to its host if I hadn't already seen it done much better on Invader Zim, or indeed just two seasons ago on Bob's Burgers.
Camilo Diaz Pino (U of Wisconsin Madison) studies animation cultures with a focus on transnational circulation.

Bastard Executioner (FX, premiered September 15 @ 10/9) trailer here
Sons of Anarchy showrunner-actor-director Kurt Sutter and partner in life / partner in SoA crime Katey Sagal's next outing should feed Sutter's ample taste for blood, set in Medieval England, and focusing on a warrior who can't seem to lay down his sword as much as he'd like to do so. True Blood's Stephen Moyer joins Sagal, Sutter, and star Lee Jones.
*
Bastard Executioner begins with a lengthy crawl, a history that may function primarily as realist motivation for mayhem. BE asks for comparison to Game of Thrones and also evokes Middle Earth – see the happy couple gamboling along the village street. In his New York Times review (15 September 2015), James Poniewozik finds BE to be "thin" as drama, "one turkey leg away from a Renaissance Faire."
Gendered violence is a foundation of BE's story setting. It establishes a man's cruel nature. A sex scene appears seven minutes into the pilot — older man and much younger woman; "a barren hole with swollen meat," he complains. It motivates the vengeance that will work toward an independent nation-state. BE calls upon an established inspiration for rebellion against British overlords. Offscreen violence energizes rebels in Braveheart (Mel Gibson, 1995) and The Patriot (Roland Emmerich, 2000). In BE, wretched cruelty visited upon women and children is piled on taxation that supports the lifestyle and power of the 1%.
It is a cruel world. BE has lots of on-screen violence and close-ups of body parts being violated accompanied by squishy sounds. In the novel The Mists of Avalon (Marion Zimmer Bradley, 1983), the story of Arthur and company remains with the women while the men are off fighting. Staying in the domestic space of the castle saves reading pages of descriptions of hand-to-hand combat and dismemberment on bloodied fields. Instead, a paragraph or two summary of the battle suffices.
By the end of the pilot, three women – the mysterious healer, the newly widowed Baroness (oriented to social justice and with a mystical connection to the land), and the newly widowed executioner's wife — appear to have agency. Two have been liberated from sadistic husbands. With BE, one can fast-forward through the mayhem to follow the womanly power.
Mary Beth Harolovich (University of Arizona) is a film and television historian, and a founder of Console-ing Passions.
*
Within the first ten minutes of The Bastard Executioner, the plot for the first hour becomes clear to any longtime viewer of television—from the moment you see our protagonist's beautiful, young, blonde, and super pregnant wife appear, you recognize (yet dread) that she's never going to make it. Our hero gets vengeance, yet that scene of brutality left me as unsatisfied as it did the hero—must the audience be forced repeatedly to glimpse a dead baby's tiny body in order to experience the slight (but unsettling) schadenfreude of the bad buy Baron getting his comeuppance?
There is a lot of gore in this pilot—an arm is hacked off, a head is separated from its body, at least two people have daggers/swords thrust through their skulls—yet my chief complaint about this program is not its violence, nor its predictability. Rather, I was disappointed by the lack of character development. For some reason, medieval dramas seem to forget that folks who lived in the past were just as human as we are. The character who becomes most intriguing is one who lives largely in the background of the two-hour opener. The wife of a "punisher" is called upon to expose that another man has taken on the identity of her (deceased) husband; instead, after a rather touching apology from the stranger, she accepts the stranger as her new mate and father of her children. What an interesting moment and choice! There is a mysticism that runs through the pilot that offers some mystery—why do our hero and "the witch" character share visions?—but largely this program opts for cliché and empty shock over character distinction and growth.
Karen Petruska (Gonzaga University) studies the media industries, television history, and media policy.

Moonbeam City (Comedy Central, premiered September 16 @ 10.30/9.30) trailer here
Parodying Miami Vice and its ilk, though looking a lot like the stills for Grand Theft Auto: Vice City and also looking and sounding very Archerian, Moonbeam City unites Elizabeth Banks, Will Forte, Rob Lowe, and Kate Mara in an animated show about Moonbeam City PD.
*
First draft: Whatever. [switches over to You're the Worst]
…
Second draft: Elizabeth Banks is better than this. This year, she's reprised her part in Wet Hot American Summer, hit a home run with Magic Mike XXL, and directed Pitch Perfect 2. Kate Mara is better than this too. In a better version of Hollywood, she'd star opposite Ellen Page in True Detective instead of getting boxed out of Fant4stic.
The "this" in question is Moonbeam City. The animated series was created by Scott Gairdner and riffs on Miami Vice as Archer does with James Bond (a dog whistle I can't hear, though obviously Comedy Central would want some version of that for itself). Banks and Mara play beleaguered police chief Pizzaz Miller and by-the-book detective Chrysalis Tate to grossly incompetent "loose cannon" Dazzle Novak, voiced by Rob Lowe. Will Forte kills time as Novak's professional rival, Rad Cunningham.
Moonbeam City apes Patrick Nagel's geometric sensuality and synth pop outfit Night Club offers an atmospheric score. But by the end of the pilot, I was as fed up as Miller and Tate. Novak is the butt of the joke, but the show never indicts his boorishness. Instead, strippers orbit him and he beds a singer of indeterminate Middle Eastern descent whose name he can't pronounce. Finally, the comedic flatness Moonbeam City tries to purloin from Archer requires a straight man who doesn't realize he's crazy. Rob Lowe was a walking Nagel painting in 1985, but he's no H. Jon Benjamin. Television doesn't need more programs like this, but Jon Hamm would have been a better choice (also what better way to take the heat off your last Mad Men Emmy nomination than parody @80sDonDraper?). Moonbeam City is falling apart; the better show would focus on Banks and Mara reassembling it.
Alyxandra Vesey (University of Wisconsin-Madison) studies the relationship between identity politics, music culture, and media labor and her dissertation analyzes recording artists' contributions to post-network television.

Marvel's Guardians of the Galaxy (Disney XD, premiered September 26 @ 9.30/8.30) trailer here
Hoping to capitalize on the success of the film, this animated offering also aims to pick up where the film left off. No Chris Pratt, but probably lots of Disney's good will and hopes for success.
*
The Guardians of the Galaxy animated series answers the age old question: if someone farts in space, will anyone laugh? And although I'm glad I can finally sleep at night knowing the answer (and I won't give it away here), I did expect more from this extension of the Marvel Universe.
On a basic level the series is fine — perhaps better than fine (I must admit my exposure to the current animation landscape is limited). The animation is super sleek, and the series relies on a team of experienced voice actors who all do their part to keep things interesting. However, although the show is full of wise cracks and one liners, it feels more akin to typical animation banter we've seen a million times than the delightfully irreverent humor of the movie.
It's also worth noting that the story of a misfit crew of scoundrels roaming the galaxy is almost identical to Disney's other new series, Star War: Rebels. This is unfortunate for Guardians considering Rebels is a far superior animated series on every single level. Where Rebels pulls you in using interesting re-occurring themes and relatively complex and evolving character relationships, Guardians leans heavy on plot lines to get us hooked, and seems content to allow the movie to do the heavy lifting in the character development department.
The bottom line is, for being based on a movie that was a breath of fresh air to the Marvel cinematic universe, the series isn't breaking any new ground for animated television. That being said, if you like loud laser battles every 5 – 8 minutes and really thought what the movie needed was more space farting, tune into Disney XD on Saturday nights at 9:30 eastern!
Nicholas Benson (University of Wisconsin-Madison) is a media and cultural studies scholar with a focus on production cultures, media franchising and failure.
*
Donning his trusty Walkman, Peter-Quill (Starlord) danced onto the screen of DisneyXD this weekend in the new animated series Marvel's Guardians of the Galaxy. The series is an adaptation of one of the Marvel film series' most interesting films, characterized by a strong ensemble, its morally ambiguous characters, and distinct sense of humor. Retaining the tone from a blockbuster film in an animated tv series is extremely difficult and Marvel's Guardians of the Galaxy succeeds admirably in this goal. In its first episode the series found its characters often torn between their heroic and mercenary influences and while the somewhat extreme distillation of each of their character traits for the pilot left much of the humor on Quill's and Rocket's shoulders, that humor was consistently strong.
The film's greatest strength was in the complex but ultimately supportive dynamic of its central team and the series exploits this dynamic well. At first the extent to which the voice acting and physical features, some of which seemed troublingly more Caucasian, of the characters diverged from the original was jarring. However, I found it easy to adapt as the new variants of key characters kept the essence of the original personalities and dynamics effectively. As suggested by the series roll-out, which included the release of animated shorts exploring the background of each character, Guardians of the Galaxy is not just invested in the space adventure of the moment but in the mysteries of its characters' pasts and their evolution as a team. I am neither a committed Marvel fan nor a franchise purist, and so the adaptation to the new format may bother others more; but, for me, the television series has managed to keep much of the film's magic and made me into a future viewer. Besides, who can say no to baby groot?
Kyra Hunting (University of Kentucky) studies genre, representation and children's media.

Indian Summers (PBS, premiered September 27 @ 9/8) trailer here
"New" only inasmuch as it's new to American TV, this show follows a group of socialites at the foot of the Himalayas in the age of the British Raj. Julie Walters stars.
*
If anyone has the right to tell the story of India's fight for independence, it is British television makers. This story begins with the white British perspective of main character Alice arriving on a train. One of the main characters in this show is Indian, but we literally don't hear him talk for the first 15 minutes, and the POV is decidedly white British. Thus, the stiff-upper-lip motif abounds. "Oh no, a home rule terrorist has vandalized a portrait of Queen Victoria. Tea time anyone?" The show seems self-aware and reflexive about colonial oppression, but there seems to be a winking ambivalence here. Yes, one of the earliest shots is a close-up of an Indian servant washing the door sign on the elite British Simla Club that reads "No Dogs or Indians." Evidence of colonial oppression, check. But the camera invites us to relish and appreciate how fun imperialism was for the white people, as we see them glammed out in lavish period costumes singing, dancing and fucking in their elitist clubs and mansions, drinking champagne and being called sahib (or mam sahib for the lady colonists) by their native servants. This is all to say that Indian Summers seems to want to complicate Britain's colonial history, as if to argue, see, things were not as black and white as you may think. Those Indian activists were cold-hearted killers, see? Plus we've cast a lot of hot Indian actors for all the interracial affairs! And there are strong female characters! I am going to keep watching, because I'll watch any historical melodrama that promises plenty of sex scenes. I'm interested to see how race, gender and national identity are complicated as the show progresses, but I remain skeptical that this show can transcend the imperialist past it seeks to interrogate.
Eleanor Patterson (University of Wisconsin-Madison) studies the cultural politics of post-network broadcasting.

Benders (IFC, premiered October 1 @ 10/9) trailer here
A comedy examining God's chosen sport, hockey, and a bunch of guys in an amateur league.
*
I was hopeful about Benders, especially after last week's "sneak preview" episode. That episode had a hockey-centric plot, some solid jokes, good character dynamics, and was only slightly offensive. Goon (2011) it was not, but it wasn't bad. The official premier episode, however, shuttled hockey to the episode's bookends for the real plot of the episode: The main character, Paul, is asked by his grandfather to kill him, and Paul agrees to do it. This is not It's Always Sunny in Philadelphia; these characters do not lack empathy. So why would you introduce them to an audience by having one choke his grandfather to near-death? Even more difficult to understand than this plot of ante-patricide is the episode's continuous homophobic dialogue. It may originate from the show's Rescue Me lineage or as an attempt to represent how men police masculinity, but it creates an atmosphere of aggressive homophobia that is antiquated and alienating. This line of joking is so pronounced within this episode but almost entirely absent in the preview episode. Maybe they grew up and realized that "no homo" is not the fount of humor they thought it was, but I doubt it. You're better off watching Goon and Sirens and thinking of what might have been.
Charlotte E. Howell (University of Texas-Austin) is researching religion on television dramas from an industrial perspective.

American Horror Story: Hotel (FX, October 7 @ 10/9) teaser here
Lady Gaga joins the cast for this season's outing, which takes its inspiration from numerous haunted hotel horror films, and from the Hotel Cecil and Elaine Lam's death that went viral. Everyone involved has promised it will be darker, which is good, because psycho clowns who rip off their masks to reveal festering wounds was just way too breezy.
*
To understand why he is not thrilled with tv's current horror shows (including AHS), tv critic Neil Genzlinger turned to Stephen King's "three types of scariness" from Danse Macabre (1981): revulsion, coming face-to-face with a monster, and the dread (NYT, 7 September 2015).
AHS: Hotel certainly has revolting images as well as verbal descriptions of revolting images. Viewers are invited to come F2F with monsters and oddities – sometimes fleetingly but also in extended scenes of sexual torture of men. An observation: AHS appears to avoid visual exploitation of female victims.
In AHS, one can see how style intends to produce dread and/or perhaps an awareness of the conventions. This is much better articulated in Fear the Walking Dead as its characters explore darkened houses or hallways unaware that they are at the verge of the zombie apocalypse. Similarly, the AHS seduction scene at the outdoor screening of Nosferatu (F.W. Murnau, 1922) was weak. One could see the intent of the gazes but the style did not deliver lusting with the eyes as well as it might have.
In the credit sequence, the Ten Commandments flash by but not in numerical order. Perhaps this invites fans to engage the text, to see if the ordering of the commandments is suggestive of story development. The commandments writ in neon horror red suggests the debauchery that will take place in the hotel. Were I a talent show judge, I would say "good song choice" for the vampiric blood and sex orgy that plays out over more than five minutes to the hard sex anthem from the band She Wants Revenge – "maybe this is danger and you just don't know … I want to tear you apart."
While AHS: Hotel builds visual/aural energy through lurid sexuality, the show presents a story foundation about families that are emotionally tortured. AHS enjoys the sex, but the parent-child relationship should provide the enduring melodrama for the season.
Mary Beth Harolovich (University of Arizona) is a film and television historian, and a founder of Console-ing Passions.
*
Is horror meant to be a seductive sheen of velvet red, petite blonde, emblazoned gold? An unstitched embroidery of retrograde modernity tropes? Blanched to the cross, cut off from sons, powdered by a central elevator, shifted by eerie hallways? Lipstick and a wayward kiss, monsters hogging warts, sushi with radiation, neighing carnival carousels?
Majestic 1920s trying to pass as a disfigured 2010s is not horror. The vacant exposition of a mother needing to protect a junkie son is not horror. Perfect bodies barely connecting is not horror. American Horror Story: Hotel is seductive enough in its first thirty minutes, but whatever it lapses into as an entirety of an episode is not horror.
I'm not looking for more than five minutes of my fix of American beauty (which stodgily remains white, if also queer). I'm not looking for more than ten minutes of Gaga-ing over a pride of celebrities and their "jawlines for days." I'm not looking for more than twenty minutes of entering and exiting stunningly staged horrendous rooms. I am looking for more than a hat tip to the Best Exotic Budapest Hotel California.
Bring me to a hotel whose abandoned dilapidation I can use to critique the tongued luxury of capitalism. Dress me a Los Angeles that doesn't know the terrifying paradox of a void fashion mecca. Infuse fresh blood—real warts, internalized crucifixion—into the tired mother-son emblem. Give me a reason to be scared for, not by, the characters.
I've only seen the first season of AHS, but recently I've seen some good horror, especially in film. This installment of AHS, or at least its first episode, is all color palette but no muse. Emptied hotels can be such potent portrayals along the ruin porn genre. AHS: Hotel sort of gets the porn but misses the ruin.
Ritesh Mehta is a recent PhD in Communication from USC, and studies popular entertainment and production culture.
*
I am an enormous fan of American Horror Story's first two seasons. In both of these seasons, the narrative centered on strong central characters, allowing the ensemble to orbit with limited intrusion. The last two seasons suffered in part from a lack of focus, jumping from character to character in endless false starts and wasted opportunities. Though I can't ring the funeral toll on this season yet, I worry about the number of seemingly disconnected storylines and important characters offered in episode one. Although nominally connected, the pilot episode already presents two strong narrative poles as well as a number of as-yet largely disconnected side plots. American Horror Story works best when constructed like a solar system. This is an asteroid field.
But in other ways, this season appears set to surpass the high marks of previous American Horror Stor[ies]. Though to varying degrees, formal artistry has remained consistently strong. To my taste, it reached a zenith exploring the temporal disorientation of its main characters' subjectivity within the claustrophically too-unified space of confinement in a mental institution. This season appears to double down on its already-impressive style and, incidentally, engages with spatial and temporal disorientation comparable to its best efforts. The most notable aspect of the first episode was set design with costuming arriving a close second. Center framing and symmetrical staging perfectly displays the geometric complexity of the art-deco interior design. In being too balanced, shot composition paradoxically offers an uncanny sense of unbalance hidden just below the aging carpet in the hallways. The richly saturated colors are equally well-suited to denote the luxurious setting, the eccentric costuming, and horrific set pieces.
Taken as visual art, this season appears headed to its highest achievement yet. I hope it can deliver a narrative worth caring about, but I'm not optimistic.
Philip Scepanski (Vassar College) studies television history, media theory, and comedy.

The Last Kingdom (BBC America, October 10 @ 10/9) trailer here
BBC America (and BBC 2) gets in on the Game of Thrones action with this tale of the founding of England in the ninth century, complete with swordplay, bodice ripping, and warring tribes, adapted from Bernard Cromwell's best-selling Saxon Stories novels.
*
The Last Kingdom arrives on BBC America courtesy of a co-production with Carnival Films, the production company that brought you ITV's Downton Abbey, and it was commissioned by and will air on BBC Two later this month. ITV saw its reputation burnished by Downton Abbey's success in the U.S., and the BBC is surely hoping for the same from The Last Kingdom, as the corporation fights off Tory marauders trying to plunder its license fee funding and ransack its public service orientation. BBC director general Tony Hall (presumably) won't take on Conservative culture secretary John Whittingdale swinging a sword fiercely while fully engulfed in flames like Last Kingdom's Viking warlord Earl Rangar, but spectacular images like that do help to make this an engaging opening hour and bolster the BBC's case that its system can foster enthralling drama that keeps up with the likes of HBO's Game of Thrones. If you do like the "macho dudes with beards and heavy furs gore each other to achieve supremacy in period times" genre, this series seems likely to engage you, as its first episode offers an intriguing and shifting set of "good guys" and "bad guys" in detailing late-Ninth Century battles to control England. Unfortunately, the opening episode does overwhelmingly feature guys, outside of a few women there to be sexually assaulted, gutted, or wooed as the plot needs. Critics have seen four episodes, and a number of reviews (like this and this) contend that the series gets more thematically complex and character-rich as it goes along, so I will keep watching in hopes of seeing it get there. I also will keep an eye out to see how Tony Hall and his band of public service broadcasting warriors try to capitalize on the likely critical praise for this series in their own fierce battles over the future of England.
Christine Becker (University of Notre Dame) is currently working on a research project investigating cultural hierarchies in contemporary American and British TV.
*
If you seek a moodier, grey-toned knock off of Game of Thrones with less humor and fantasy and more animal skins, then look no further than The Last Kingdom. Real British will have to wait until October 22 to watch their own history on BBC 2, making it clear who this show is primarily for: Americans. TLK is also produced by Carnival Studio, known for packaging lavish British heritage for hungry American viewers in the past with Downtown Abbey. This show doesn't have much exposition; while GoT built up to the conflict between warring factions with a first season of intrigue, replete with graphic violence and lots of sexposition, The Last Kingdom gets right down to business. Within the first fifteen minutes we are knee deep in gritty battle scenes. And, while rape and beheadings and sword fighting are present in TLK, I will say that it is refreshing to see that this show does not fixate on these elements in the same way that GoT seems in delight in gore and rape and general ultraviolence from a voyeuristic gaze that makes me, for one, feel complicit in objectifying suffering as pleasure. The Last Kingdom is also more straightforward in supplying us with a clear cut central protagonist named Uhtred (say it ten times fast and you have 50% of this episode's dialogue… Uhtred Uhtred Uhtred Oh no Danes! Uhtred Uhtred!). Extra points if you recognize Rutger Hauer among the wrinkle-faced dirty characters that populate this show; shame on them for killing him off in the first episode. TLK's obvious preoccupation with a hypermasculine warrior narrative makes me wish this show had more of GoT's ambivalent gender politics. But I have high hopes for Uhtred's sidekick/lover Brida, so I'll stay tuned to see what happens.
Eleanor Patterson (University of Wisconsin-Madison) studies the cultural politics of post-network broadcasting.

Fargo (FX, October 12 @ 10/9) trailer here
How will Fargo follow up on an amazing first season of dark comedy, murder, and deceit in the snow? The new cast for a new story includes Patrick Wilson, Kirsten Dunst, Jean Smart, Jesse Plemens, Brad Garret, Bokeem Woodbine, Ted Danson, Nick Offerman, Cristin Milioti, Adam Arkin, and for the oddity factor, Kieran Culkin.
*
I realized that all three of the reviews I've done this cycle for Antenna have been for shows that are based on other things. Minority Report is a sequel to the film; Heroes Reborn is an extension to the original show; Fargo is based on the film of the same name. While there are things to like in each of these shows (well, maybe not Heroes), it's really only Fargo that I'm tempted to continue watching, and it's interesting that Fargo is also the show that deviates the most from the original in terms of plot. But in terms of tone and subject matter, it is a dead ringer.
Despite being incredibly violent, there's a subtle beauty to Fargo. In the shoot-out in the diner, for example, a quick image serves as a metaphor for the series as a whole: blood mixes with milkshake; violence splashing against innocence; red and white spilling onto the floor. The everyday banalities of life mix with shocking violence.
I like this sort of imagery because it's not overt. The camera doesn't linger over it. There's no reference to it. No one comments on the mixture dribbling onto the floor. But it's there and it reflects the way simplicity is often the most subtle of all storytelling.
Watching this new season of Fargo unfold, I experienced something I haven't experienced for a very long time—the sheer delight of having no idea what to expect. I love laughing as we go to commercial break because I literally have no idea what's going to happen next. Last year I binge-watched the first season of Fargo; this season I'm eager for those pauses so I can reflect, learn, and be surprised.
Paul Booth (DePaul University) studies fandom, time travel, and digital technology and is the author most recently of Playing Fans and Game Play.
*
Season One of Fargo started small and, thanks to a host of poor decisions made by selfish characters trying to save their own skins, sprawled out to lots of bloodshed and death. This season starts much bigger, with machinations of an organized crime family and a future president lurking about the edges. The cast of characters, though, is still filled with peppy Midwesterners quick with poorly conceived crimes and an "All right, then," and as a result, Fargo feels kitschy and delightfully macabre.
The show's inciting incident – a triple murder at the Waffle Hut – illustrates its tone. Fargo is darkly funny, poking at the characters' provincial regionalisms and in the retro glory of its 1979 setting. At the same time, the violence is no joke; the premiere alone features five deaths, four of which are quite bloody, even if they are also a bit bumbling.
While the cast is a parade of recognizable faces (some made barely recognizable by creative facial hair and a liberal use of hair feathering) who comprise a strong ensemble already going interesting places, the show may feel the loss of its central villain. In the previous season, Billy Bob Thornton's Lorne Malvo was an ominous, malevolent force of reckoning. His evil was both competent and compelling, providing a necessary foil to the cheery façade of the setting. Season Two thus far has lots of criminals and blood, but no black hole around which the action can swirl.
Fargo will get to "the Sioux Falls incident" mentioned in Season One, and the premiere sets up Midwestern mob revenge and a presidential campaign. If the narration balances these sweeping stories with the tiny details that made the first season (and the film) work so beautifully, it should be well worth the ride.
Anne Gilbert (University of Kansas) studies fans, digital culture, and media industries.