A New Brand of Tea Leaves?: The 2015 Emmy Awards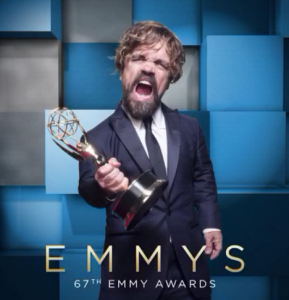 Predicting the Emmy Awards is a fool's errand, even in the grand scheme of the fallibility of award predictions: whereas the Oscars have precursor awards (primarily the Guilds) with voting base overlap, the Emmys have no such preview, leaving experts to effectively read tea leaves.
However, this year came with a new brand of tea leaves, brought on by a significant change: whereas past years have seen winners determined by a limited blue-ribbon panel of voters in a given peer group, this year the voting was opened up to all members of said groups, meaning the voting pool increased exponentially. Reporting speculated that this could dramatically alter the winners, skewing toward populist series and diminishing the impact of the episode submissions that were typically considered crucial variables in the blue-ribbon panels' decisions.
Accordingly, this year's predictions narrative had more weight than usual, pushing those who were following the story to see each early win as a marker of a given narrative. And it didn't take long for such a narrative to emerge, even if I joked about it being premature when I called it early on: HBO swept through the broadcast like the behemoth it once was, laying waste to numerous records in the process. Game of Thrones shattered the record for most wins by a series in a single year well before it won for Outstanding Drama Series, and Veep won three awards—including the fourth consecutive win for Julia Louis-Dreyfus and second for Tony Hale—before it emerged to dethrone Modern Family and take HBO's second-ever win for Outstanding Comedy Series. Combine with Olive Kitteridge's near-sweep of the Limited Series category—losing only Supporting Actress—and you have the most dominant performance for a single channel or network in recent Emmys history. It's the first time that a single channel has taken home the TV Movie (Bessie), Limited Series (or Miniseries), Drama, and Comedy awards in the same year since the TV Movie category was added in 1980.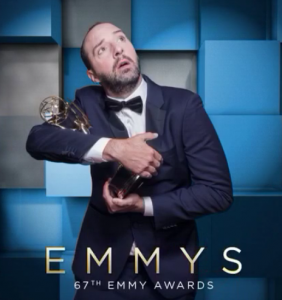 There are a large number of conclusions we could make based on this. We could discuss how the opening up of the voting pool privileged a show like Game of Thrones that has both large viewership and strength in the creative arts categories whose voters were previously unlikely to vote in the program awards. We might ask if the accessibility of HBO programming—both through elaborate screener DVD boxes sent to voters and through the ease of HBO Go/HBO Now—makes it more likely that voters have seen shows on the channel, versus some of the competition. We can ponder how the potential dilution of submitted episodes' importance to the process privileged past winners and nominees with whom voters were familiar (thus giving Veep an advantage over newcomer Transparent, which won Lead Actor and Directing Emmys for Amazon Studios).
And yet here's the thing about awards: we'll never know. Although the social media consensus on my feed seems to be that Game of Thrones would have been more deserving in earlier seasons, or that Transparent was breaking more ground in comedy than Veep's political satire, there's every possibility Emmy voters felt Game of Thrones had its strongest year yet and Transparent was a drama masquerading as a comedy and dragged down by Maura's unlikeable children. It becomes easy to forget in efforts to "solve" the Emmy voting process by turning it into an objective process that it is an inherently subjective one. And while I am an advocate for contextualizing the specific subjectivities that shape each year's winners lest we accept the prestige they've come to represent as an asterisk-free marker of television greatness, this year's awards reminded me and everyone else who follows the Emmys too closely that there will never be evidence to support any of our conclusions. We will never know exactly why a given series or performer or writer or director won an Emmy award. It is beyond our reach.
And yet lest the above read as an outright rejection of Emmys narratives, this was nonetheless a night that reinforced how the swirling subjectivity of industry awards can transform such that objective consensus emerges. Fitting given the night's controversial spoiler-laden montage of series finales—which would've been harmless with fewer climactic moments chosen in editing—this was a night where two actors had their last chance to win an Emmy for a role that will define their career. And whereas Parks and Recreation's Amy Poehler had her chance swept away by the HBO tide, Mad Men's Jon Hamm emerged victorious, winning his first Emmy—and the first acting Emmy for any actor on the AMC series, inconceivably—and earning a standing ovation in the process.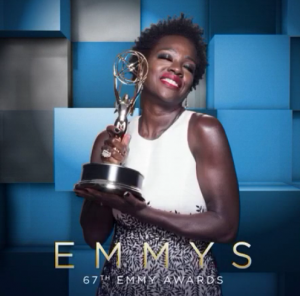 Technically, that win inspires just as many questions. Had the tape system and limited voting pools held an often-reprehensible character back in previous years? Did all those HBO-happy voters feel about The Newsroom the way I felt about The Newsroom? And yet those questions don't matter as much when the victory feels just, as was also the case when Viola Davis—the clear standout of the uneven How To Get Away With Murder—took to the stage after winning Lead Actress in a Drama Series and spoke eloquently and righteously about the struggle facing actresses of color when you don't see people like you standing on that stage winning Emmys. It doesn't matter if this new voting system was responsible for Davis' win, because it was both a deserving performance—although there's that subjectivity again—and because it represents a small step toward addressing the Academy's longstanding struggle with diversity.
You could argue that "it doesn't matter" describes the whole evening, and not just the various procedures that preceded it: it is very possible to overstate the importance of the Emmy Awards, as HBO publicity will helpfully—if deservedly—demonstrate over the next 24-72 hours. But Davis' win stands out as an example of an Emmys moment that unquestionably matters, and pushes a deeper consideration into not simply who wins Emmys, but how they win them, and how that remains an area where greater work in diversity and representation can and should be explored by the Television Academy. And perhaps here we can make a distinction, then: it may be impossible to safely predict the Emmys, but it's very possible to investigate that process with a critical eye, one that hopefully with move beyond procedures to the politics that underlie them in the years that follow.