Fall Premieres 2015: ABC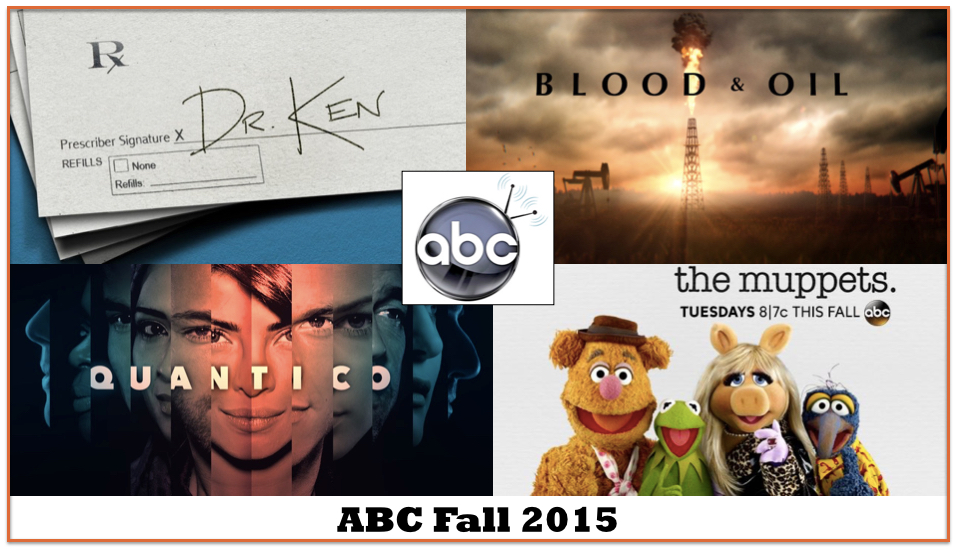 The Muppets (premiered September 22 @ 8/7) trailer here
Surely one of the most anticipated new shows of the season, The Muppets returns Kermit, Fozzie, Piggie, Gonzo, and company to prime time 17 years after Muppets Tonight was cancelled, and 34 years after The Muppet Show ended. Filmed in Office confessional reality style, it follows our multiple leads as they produce Up Late with Miss Piggy. Start polishing Gonzo's Emmy.
*
Showrunner Bill Prady claims that when people learn that he is the force behind ABC's The Muppets, they say the same thing to him: "Listen, the Muppets were a really important part of my childhood. Don't fuck this up!" I haven't met Bill Prady, but I'm one of those people. The Muppet Show on CBS (1976-1981) was a much-anticipated event in my home, enjoyed by adults and kids alike. I've introduced my own kids to the show on DVD, and watching it as an adult has reinforced my appreciation for the show's clever writing, multi-layered humor, and engagement with current events.
I was excited to hear the show was being updated and reworked for ABC, and hoped it would build on the success of the 2011 The Muppets movie, which received strong reviews and did well at the box office. But I was also worried that the reboot, shot in mockumentary style and made to be "more adult," would fail to capture the essence of its predecessor. While I respect that Jim Henson meant The Muppets to be more an "adult property" than a kids' property, after watching the pilot, I won't be watching The Muppets with my kids. I don't agree with One Million Moms' claim that the show is "perverted," but I did find the humor to be a little too straightforwardly and immaturely adult, and I felt the characters were a bit more jaded and dysfunctional than I'd like them to be. ABC sees The Muppets' long-lived popularity as a guarantee that the new series will lure audiences, but the 13-episode venture does risk negatively impacting the relationships fans have already built with the characters. I'll keep watching, but if Bill Prady steers too far from the characters I love, he may be hearing from me!
Melissa A. Click (University of Missouri) studies media audiences and loves the fall TV season!
*
Turning on the The Muppets felt immediately familiar: the characters, the rhythm, the back-stage business. But that feeling soon wore off and what was left felt a little too much like a preamble – like the web-series roll-out to the next movie. Like Life in Pieces it suffered from under-development of its characters and premise. One might think that the characters' familiarity removed the need for such introduction but these iterations were so different from the originals (Kermit without Piggy? Fonzy without jokes?) that I needed more narrative than this first episode offered to adjust. The series' over-reliance on the mockumentary format also added a feeling of distance that hampered the need to connect us to these new muppets (Donald Trump would be very concerned about their low energy).
Despite these challenges, The Muppets had its moments. Some of its behind the scenes humor favorably reminded me of some of 30 Rock's media-savvy humor. (I will already be using its opening scene in class this week). While, in this episode, trying to balance peeks at the Muppets' social lives, the labor of putting on Miss Piggy's show, and moments of the show itself was simply too much, the premise of the set-up, which allows for a wealth of guest stars and bands for the Muppets to play off, has a great deal of potential. While some have remarked on the way in which making the Muppets more "adult" took from their sweetness and warmth, that base point has seemed to keep The Muppets blessedly free from some of the race to the bottom humor that has cropped up in other series. In what has struck me as a sparse fall season, The Muppets has potential but will badly need to improve its focus and pacing to capture that Muppet Magic.
Kyra Hunting (University of Kentucky) studies genre, representation and children's media.
*
The Muppets' narrative format is well adapted to the small screen in this newest iteration of the 1976-1981 The Muppet Show. Unlike Muppets Tonight!, which aired in 1996, The (current) Muppets may benefit from network audiences' recent memory of NBC's docu-comedy hits The Office, 30 Rock, etc. This format also allows for classic Muppet antics, such as the writing team segment where the Muppet crew cannot be effectively corralled by showrunner Kermit.
My favorite plotline, though, was Fozzie's brief relationship with a human, played by actress Riki Lindhome, and the inevitably disastrous introduction to her parents, Jere Burns and Meagan Fay. Unfortunately, the plot ended with Fozzie initiating a breakup, and so we return to the primary Muppet cast.
The Muppets pilot was fine, and perhaps even promising in terms of what a pilot tries to achieve—some modicum of character interest and plot tension. The question, for me, will always be: why the Muppets? The disappointing answer is: money. While I try not to defame the idea of remakes and relaunches—these endeavors have been rewarding elsewhere—the Muppets feel outdated, not nostalgic, to this super fan. Maybe it's the psychedelic ravings of Dr. Teeth and his stoned band members or Rizzo's slimy pick-up lines, but the 1970s ethos doesn't translate.
I also can't shake the fact that Disney seems desperate to squeeze money out of the franchise, which undoubtedly has cost them millions in marketing. Their purchase of the Muppets (2004) came 15 years after initial sales talks with the late Jim Henson. Today, The Muppets relies on transgenerational fandom to pick up decades of slack; adults who watched the Muppets at their zenith in the 1980s will introduce their kids to the characters. However, for this obsessed fan, the show will always be 25 years too late.
Caroline Leader (University of Wisconsin-Madison) studies family media and franchising.

Blood & Oil (premiered September 27 @ 9/8) trailer here
Following the largest oil discovery in American history, a young couple move to North Dakotan to get rich. Think Dallas, though it's probably best they didn't call it Williston. Don Johnson plays the big oil tycoon, with a large cast of others including Gossip Girl's Chace Crawford, Revenge's Amber Valetta, and Delroy Lindo. This primetime soap has been in the trades a lot due to a rocky production history including dumped showrunners, a move from USA Network, and more.
*
If you're old enough to remember Don Johnson sporting a pink T-shirt under a shoulder-padded linen jacket, then seeing him in plaid flannel and a cowboy hat (as the oil baron and domineering dad Hap Briggs) in ABC's new nighttime drama, Blood & Oil, may be a little jarring. If you're even older, and pining for J. R. Ewing's bad old good old Dallas and its oil-fueled rivalries, you may be disappointed. The cowboy hats are smaller here in North Dakota, and the Bakken is no Miami or Dallas.
There is plenty of drama in the first episode. All roads lead to Rock Springs, it appears, as the little town is in the midst of a major oil boom. Recently wed Cody and Billy LeFever (Rebecca Rittenhouse and Gossip Girl's Chace Crawford) are following the crowd, planning to set up a laundromat and make an honest living. When that fails out of the starting gate, they set their sights on land. Trouble is, that land is coveted by Briggs, the "baron of the Bakken," and his devious wife, Darla (Amber Valletta). Plot twists ensue, covering more ground than one might think possible in a 42-minute pilot: pregnancy, extortion, jail time, an oil fire, a rig crash, even a dead moose. All the elements of your typical prime time drama.
But in the drive to stuff the show with as many soap opera-style scandals as possible, some key elements get left out. The issues that for many are the real stuff of drama in the North American oil boom, like the infrastructure strain, the toll on immigrant families (for an important take on this, see J. Christian Jensen's 2014 documentary White Earth), and — the oil-soaked elephant in the room — the impact on the environment and climate – are not uttered. Neither is the word fracking. The show also feels a little dated, given the recent impact of the global decline in oil prices. But cheap oil isn't very dramatic.
Melissa Aronczyk (Rutgers University) writes about representations of oil and the climate in popular media.
*
…
"I get it. I'm pretty sure I get it."
"You don't get it. If you got it, we'd be talking season 2 already."
"It's a metaphor, right? Like a visual sort of a metaphor."
"It's more than a metaphor. Let me spell it out, again. So, the oil drill thing. You know the pointy thing on the end of the seesaw kind of thing? That thing. It goes in and out, up and down, like, over and over, all rhythmic like."
"Uh huh."
"And, when it, well, when it hits the spot, so to speak, there's this big gush."
"Of oil."
"Right, of oil. And then everyone's all in ecstasy or whatever. Just like…"
"Sex, yes, it's sort of like sex."
"And the characters sometimes pay a lot of money for the oil and they lie to get it and it makes them feel powerful and stuff."
"Also, like sex. I guess?"
"You've got it. So we're greenlit?"
"I mean, I like the metaphor. It's a good metaphor. I'm just not sure it's going to sustain a whole network series"
"What do you need?"
"Well, could we possibly do this so it premieres at the worst possible time?"
"So, wait until oil prices have plummeted and North Dakota is shutting down rigs, undermining the whole conceit of the show?"
"Yes. That. Love it. Oh, could you also have Don Johnson do an unplaceable accent?"
"That's actually a really good note. Yes."
"And, well, this is delicate, but, are there going to be any people who aren't of the fair skinned variety?"
"Well, we were going to have a Native American woman."
"Hmm."
"How about we just have her talk about spirit animals then disappear?"
"That works."
"Oh, and an African guy."
"But he's just the cook who takes care of the handsome white people right?"
"Look, we're professionals. Of course he's just the cook for the white people. Do we have a deal?"
"If I say no, are you just going to explain the metaphor again?"
"I am."
"Fine. Deal."
…
Matt Sienkiewicz (Boston College) teaches and writes about global media, politics, and comedy.

Quantico (premiered September 27 @ 10/9) trailer here
Priyanka Chopra is at the center of this thriller focusing on the lives of several FBI Training Academy recruits, told in flashbacks, leading up to a massive terrorist attack that incriminates one or more of them.
*
Perhaps because I watched Blood and Oil—an abandoned, smoldering oil-well-fire of a disaster—right before Quantico, the latter show held my begrudging interest—at least for a while. Using an academy exercise for exposition and character description exposed as much about our interviewers as our interviewees by showing-not-telling (rather unlike the "remember-I'm-not-your-partner-or-your-girlfriend-anymore" conversations between Liam and Miranda). This modicum of cleverness, however, was easily overwhelmed by the show's overly-telegraphed reveals (Nimah's twin, Alex shot her father), its silly Breakfast Club montage of Arrow shirt models misfits coming in on a Saturday for the "toughest boot camp and hardest grad school," the FBI's apparently terrible accountability for monitoring their gun inventory and conducting background checks, and the shockingly weird ending in which the Quantico director hijacks an FBI van to free n00b Alex "only you can fix it" Parrish.
My two principle complaints against the show, however, are these:
the glib use of terrorism as a plot device. The preview for the next episode describes the attacks as a "riveting whodunit mystery," reinforcing the pilot's treatment of a pernicious and debilitating mode of contemporary warfare as nothing more than an inciting incident for clever plotting. Indeed, given the emotional weight ascribed the bombing, Quantico could just as easily be about a bank heist (but then, as the broadcast logics go, how would they "realistically" incorporate so many people of color while smugly teaching their audience about "tolerance" when we finally learn [just a guess] the attacks were carried out by a [more narratively central] white person.)
No one ever puts their hand up to the brim of their baseball cap and keeps it there while going through a crowd unless they definitely just did something and are nonchalantly trying to blend in (just fyi, FBI).
Kit Hughes (Miami University) is writing an alternative history of television, taking into account its development and use within the American workplace.
*
My first thought on completing Quantico was that the episode seemed to have twice the time that the other pilots of the week had. In its hour long slot it successfully drew an image of the distinct world of Quantico, introduced a relatively large ensemble, and set up a substantial ongoing mystery. While a season/series long mystery has become almost requisite for this year's drama premieres (Blindspot, Minority Report, Scream Queens, The Player, Heroes Reborn etc.), Quantico was the first series that effectively made me feel invested in the outcome of its story arc.
Much of this investment comes from the excellent performance of Priyanka Chopra as FBI agent, Quantico student, and terrorism suspect Alex Parrish. But the credit goes not only to Chopra's performance but also to the writers for giving sufficient time to her development as a character. Smart and confident, haunted by her past (her father was an FBI agent who she killed for attacking her mother) and sexually adventurous, her character (and her dynamic with fellow female Quantico candidates) reminded me, favorably, of the women of Grey's Anatomy in its early seasons. (A connection I am sure ABC hopes more of its audience will make.)
It is hard to imagine many of the other over-stuffed pilots this season taking the time to watch a character jog, but Quantico showed a strong understanding of when to give itself space. The series takes place in two time periods – the "present" aftermath of a terrorist attack that Alex has been framed for ,and Alex's time in Quantico a few months earlier where she worked alongside the real culprit of the attack. Quantico uses this conceit to allow for a tremendous amount of narrative information without feeling either slow or chaotic. How all these elements (serial mystery, FBI training, past and present) will interact over the long term is yet to be seen and I am not sure what the series' second or third episode will look like. But in this case, I think that is a good thing.
Kyra Hunting (University of Kentucky) studies genre, representation and children's media.
*
This was fun, although it was hard not to detect a little flop sweat from a show trying this desperately to grab and keep your attention. Creator Joshua Safran's "Gray's Anatomy meets Homeland" tag is apt, with a bunch of young, hot FBI trainees under suspicion for executing a post 9/11 terror attack on Grand Central Station.
One narrative gimmick is nested within another. We get a flashback structure, seemingly obligatory in high concept dramas today, where Alex Parrish (played by preternaturally good-looking Bollywood superstar Priyanka Chopra) is compelled to recall her FBI training in order to discover who is framing her for the attack. This is all very loose, since most of the FBI scenes use omniscient narration and aren't connected to Alex's point-of-view at all. But the show has so many narrative threads to introduce, it would be impossible to stick to the subjective flashbacks it nevertheless wants to employ in places. Within the flashback the trainees are assigned to dig up revealing information about one another, allowing the show to quickly get to the hidden motivation of each character, which in most cases appears to be some kind of family trauma. Doesn't anybody want to join the FBI out of a sense of civic duty anymore?
Quantico has a lot going for it. Chopra's star quality is off the charts, and a few supporting actors stood out as well, like Tate Ellington as the friendly (maybe TOO friendly??) gay trainee Simon. And if you're bored with what's happening at any one instant, just wait ten seconds. Hopefully, with the pilot out of the way, the show will be willing to put on the brakes just a bit, without sacrificing its frenetic appeal.
Bradley Schauer (University of Arizona) writes about the American film industry, past and present.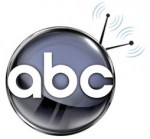 Dr. Ken (premieres October 2 @ 8.30/7.30) trailer here
Ken Jeong gets his own sitcom. Starring alongside Trophy Wife's breakout awesome Albert Tsai, and Dave Foley and Suzy Nakamura, Jeong is a doctor (in case the title didn't cue you in) and a dad. ABC's second sitcom focusing on an Asian-American family in as many seasons sounds good, till you see it placed ominously in the graveyard that is a Friday night slot.
*
Ken Jeong's memorable roles as Senor Chang in Community and Mr. Chow in the Hangover gave him the star power to helm his own sitcom, but there's little trace of his trademark unexpected, off-the-wall antics in Dr. Ken. Here Jeong is toned down, particularly since he starts out the episode a bit edgy but ultimately must be understood to be a good doctor and a good dad. His therapist wife and two kids are cute (perhaps not Black-ish adorable, but that seems like an impossibly high bar at this point) and their conflicts are familiar, in a good way. I like them all. I'm a little worried that audiences won't stick around to see what hijinks this cranky doctor gets himself into (and then out of) for the rest of the season. It's also unfortunate that the show is stuck in the format of the multi-camera family sitcom shot in front of a live studio audience—it literally feels dated already, particularly when compared to family sitcoms like Modern Family that can no longer be said to be pushing any boundaries.
That said, I'll keep watching, hoping it gets quirkier and less formulaic as the season progresses. Fingers crossed that there will be a scene to rival Jeong as the doctor in Knocked Up, yelling at Katherine Heigl about how her cervix is like a soggy peach. Also, let's be real, I'll support this sitcom because it's Asian American, and the only way we can alleviate the burden of representation is by allowing room for 90s-era immigrant dads AND cranky doctor dads; Indian American gynecologists AND overseas call center workers. I may have gotten a bad case of the "rep sweats" while watching this pilot, but I think the proper diagnosis is just to stay the course and hope that relief is on the way.
Lori Kido Lopez (University of Wisconsin-Madison) studies Asian Americans and media and is the author of Asian American Media Activism: Fighting for Cultural Citizenship.
*
Watching Dr. Ken is like an acid trip back to 1990s sitcom hell without the high. Replete a storyline about raves and ecstasy, and 1990s sitcom stars Tisha Campbell-Martin and Dave Foley. Wait, is that a reference to Circuit City? Non-funny '90s nostalgia overkill. I can smell the gin he needs to drink just to deliver these lines seeping out of Dave Foley's pores through the screen. But I still love that girl drink drunk. I love Ken Jeong too. And yes, for the first time in American history, there are TWO sitcoms on TV that boast Asian American casts. With Ken Jeong writing and producing Dr. Ken, he is also heightening the visibility of non-white creative labor within LA's very white male sitcom production community. Although I am reluctant to analyze Dr. Ken from a critical race studies perspective, because every sitcom is engaging with race and the work of representation, and it is unfair to make Dr. Ken bear the burden of responsible complex nuanced depictions of non-whites. We should expect that from every sitcom. And wouldn't it be nice if there was an interracial marriage and we could step away from segregating sitcom families by ethnic/racial categories? Technically Ken and his wife Allison are at least somewhat interracial, as Jeong is the child of Korean immigrants and TV veteran character Suzy Nakamura is Japanese American. Although I doubt this show will attend to cultural specificity, and rather, continue to portray the Parks as pan-Asian implicitly Korean Americans. I want to give this show time to hit its stride and find a voice. I know it's not fair to judge a sitcom based on pilot alone, and Margaret Cho is going to be a future guest star. But I also want to watch a comedy that is funny. So step it up Señor Chang.
Eleanor Patterson (University of Wisconsin-Madison) studies the cultural politics of post-network broadcasting.
*
Dr. Ken is a challenging show for me. Even though the number of Asian American family sitcoms has increased 100% —we now have 2!—the limited, but growing, AA roles still create the sense that we must root for any visibility, especially when we are leads on both sides of the camera (it took 20 years for another AA family to appear after Margaret Cho's All American Girl!). But while watching Dr. Ken being amazingly unfunny and generic, I question if any visibility is good visibility because the show is bad. And I feel guilty and sad for typing that because it'll probably be canceled and AA family sitcoms will decrease by 100%. But the show is really bad…
Dr. Ken is mostly colorblind and that's a problem for me. I like Fresh Off the Boat because I feel it has insider humor that I can giggle about with AA/POC, but broader humor that won't completely alienate other viewers. Dr. Ken doesn't have either. If anything, it is an argument that using colorblindness to "normalize" us (read: make us White) doesn't work on any level; the family is interchangeable and I personally don't relate to anything as an Asian American.
When the show does "address" race, it's the racist boss who gives away vacation days in lieu of not being racist. Of course, the mostly minority cast, in colorblind fashion, happily accepts like racism isn't a big thing. Hah? And what a waste of supporting characters. I'm glad the show has such a diverse cast, which makes it sadder when you end up with a sassy/"urban"-accented Black nurse and a nerdy South Asian doctor. And while Constance Wu plays a vital part in FOB, Suzy Nakamura (and all of the women) barely register behind Jeong's character. One word review: Sad.
Tony Tran (University of Wisconsin-Madison) researches Vietnamese diaspora and new media in urban spaces.