Disrupt San Francisco: TechCrunch Puts Startups Onstage
Post by Li Cornfeld, McGill University
Meet Tracy: an interior designer who can't find a good house painter. Meet Bob: a wine store proprietor whose retail staff is unreliable. Meet Seth: a valet driver losing tips in an increasingly cashless culture.
Tracy is a founder of EasyPaint, a startup that matches house painters with individuals and companies seeking their services. Bob sells wine to Bjorn and Marissa Ovick, whose startup Staffly supplies retail workers to independent shops. Seth is a client of Bravo, which lets customers tip electronically.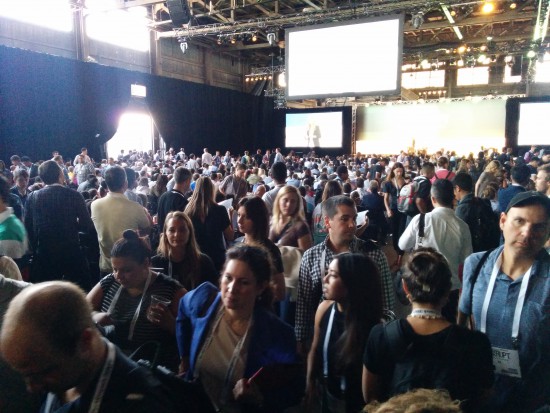 Last week, each of these companies participated in the Startup Battlefield competition at TechCrunch Disrupt San Fransisco, the annual convention hosted by TechCrunch, AOL's tech journalism site. The September 2015 Disrupt marked the thirteenth iteration of the event, which began in New York in 2012, and which now takes place each year on both coasts as well as in an overseas city. Each event features an exhibition hall, where software and hardware companies display newly launching products, panel discussions and "fireside chats" with executives whose companies lead the technology industry, and a hackathon that asks teams of coders to build something new over the course of twenty-four hours. Yet Disrupt's main event, the centerpiece of the convention, is the Startup Battlefield. Billed as "the very heart of TechCrunch Disrupt," the Startup Battlefield is a competition for investment capital and press attention. To win the competition's $50,000 prize, preselected contestants must deliver a compelling pitch before an assembly hall of industry insiders, including investors and press, followed by a question and answer session with a panel of industry judges.
Disruption, a favorite Silicon Valley buzzword, signals the end of business as usual—yet the modes of engagement employed this week at TechCrunch Disrupt replicate, rather than rupture, industry norms. In their Startup Battlefield presentations, EasyPaint, Staffly, and Bravo took care to emphasize that the protagonists of their product narratives are real-life individuals affiliated with each company. Still other contestants opened their pitches with (presumably) archetypal or composite characters, imagined individuals whose struggles are solvable with the right company's technology. In other words, each company set up its product's desirability by introducing a person ("meet so-and-so") who faces an obstacle ("so-and-so requires X but can't have it because Y") which the company's technologies will remove ("I'm here to tell you about Z.")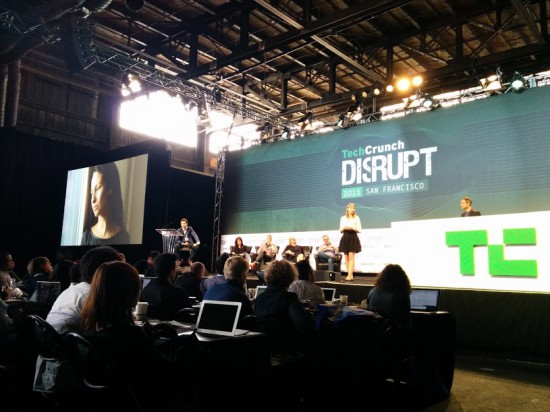 About half of the Startup Battlefield contestants invoked this presentational formula, which fits a range of industrial verticals: Emily wants to get pregnant but doesn't know her fertility window. Abby needs school lunches but hates bananas. Scott needs medical care but hospital communication confuses him. Sam owns a car dealership but 401ks overwhelm him. Susie wants a divorce but lawyers are expensive. Tom grows peppers but can't analyze his farming data. Gillian has asthma but can't keep up with her treatment regimen. Kendall loves art and manicures but can't customize her fingernails. Alex needs to notarize his will but must bring a full stack of paper to a notary public, and who prints anything anymore?
Having presented these protagonists' perils on the TechCrunch Disrupt stage, the startup founders quickly came to their rescue. Ava makes a smart bracelet that tracks its wearer's menstrual cycle. Scrumpt lets parents order their children preselected lunches. Stitch streamlines communication between medical providers. Money Intel automates 401k administration. Separate.us helps divorce petitioners manage their own filing. Agrilyst, winner of the Startup Battlefield, analyzes the agricultural data produced by individual indoor farms. Cohero Health tracks asthma patients' treatment adherence and lung function through a mobile app that syncs with a smart inhaler and spirometer. Preemadonna prints customized images from a smartphone onto users' fingernails. Stampery provides digital document certification.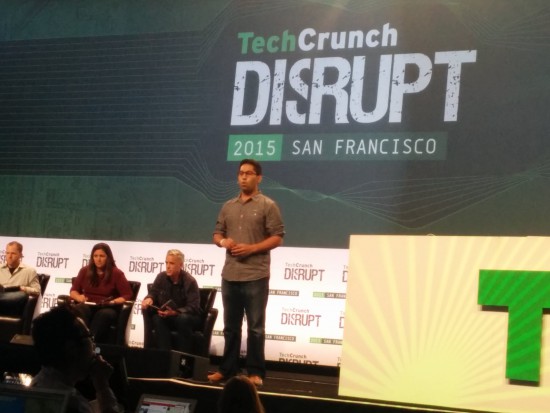 If there is a neoliberal logic undergirding the move to locate a would-be revolutionary technology within the life of a particular person, a narrative logic is also at play in these presentations. An irony of the Startup Battlefield is that the broader the implications of a given technology, the more difficult it is to explain in a matter of minutes. The plight of the pepper farmer highlights the revolutionary potential of Agrilyst for an audience likely unfamiliar with indoor farming on a broad scale.
Still, it's worth considering what it means when, in the name of disruption, one of the tech industry's most celebrated events for new, innovative technologies proposes the transformation of industrial sectors as diverse as agriculture, healthcare, and business administration using identical presentational paradigms. Sometimes "breaking shit"–to use another of the tech industry's favored terms for innovation–means remaking it in Silicon Valley's image.